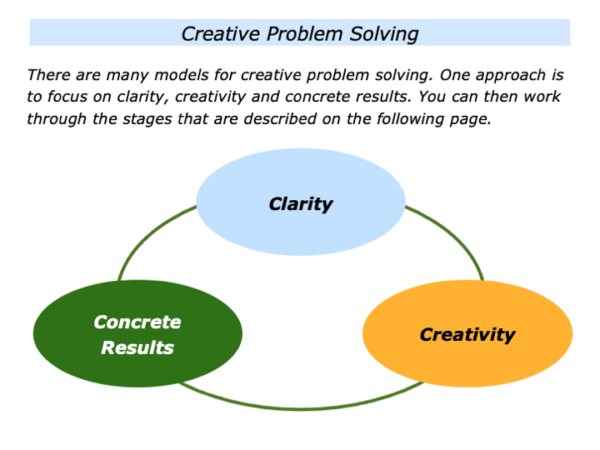 There are many models for helping people to find solutions to challenges and achieve their picture of success. This article explores the creative problem solving approach
Imagine that somebody has asked for your help in tackling a particular challenge. They may want to change their career, take greater care of their health, turnaround a team, develop an organisation's culture or whatever.
The first step will be to create a safe environment in which they can feel calm and make considered decisions. Let's assume that you have created such an environment. You can then help the person to work through the following steps.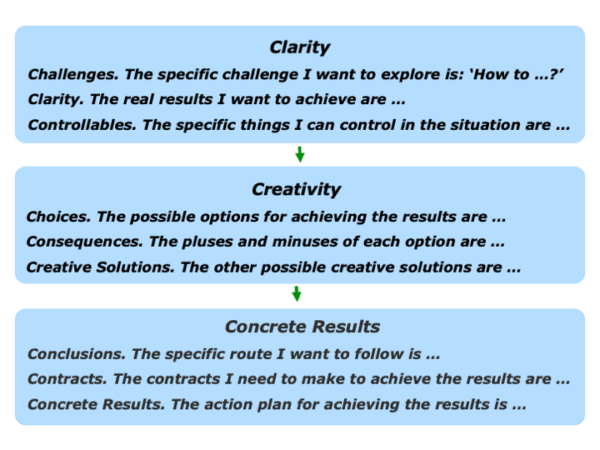 Clarity
Clarity is crucial to creative problem solving. A person is more likely to succeed if they clarify the real results they want to achieve – the 'What' – before embarking on the 'How'.
You can go through the following stages to help a person establish clarity.
Challenges
Invite the person to start by listing the various challenges they face. Then focus on the specific issue they want to tackle.
Invite the person to frame it in positive terms. For example: "How to stay healthy?" rather than "How to stop smoking?"
It can also be useful to frame the challenge in terms of: "How to …?" For example: "How to do fulfilling work?" rather than: "I want to change my career."
The "How to …?" phrase often encourages them to use their imagination to begin generating solutions.
If appropriate, you can also invite the person to give more background about the situation. This can help when focusing on their priorities.
Bearing this in mind, invite the person to complete the following sentence.
Clarity
Looking at the challenge the person wants to tackle, ask them:
"What are the real results you want to achieve?"
Sometimes this process takes a little time, but it is a vital step in creative problem solving.
Let's explore one example of how this works in practice. Imagine your client is a leader. One of the key challenges they face is:
"How to motivate difficult people in the organisation?"
Looking beyond this issue, however, what are the real results they want to achieve? After some exploration, they may eventually conclude that the real 'What' is:
"How to build a successful organisation."
The strategies for achieving this goal may be much more extensive – and effective – than those involved in tackling the first issue.
"But surely you have to turnaround difficult people in an organisation," somebody may say.
Not necessarily. Great leaders communicate the story, strategy and road to success. They say:
"This is the future culture that is required if we are to achieve success."
They then invite people: a) To decide if they would like to opt-into the future culture; b) To show how they want to contribute to achieving the picture of success.
People can choose whether they want to be part of making it happen. Great leaders keep focusing on the key strategies for enabling the organisation to achieve success.
Let's consider another example. During one session a father asked how to help Tom, his son, to be better at passing school exams.
Both of Tom's parents had been good at school and believed in paper qualifications.
Tom had other gifts, however, such as being a Trader. He did a paper-round, plus had a Saturday job in a music store.
So was the goal to help Tom to pass exams or to enable him to develop a fulfilling career? The father eventually decided to encourage Tom to build on his strengths and pursue his route as a Trader.
Let's return to the specific challenge the person wants to explore. Invite them to do two things.
First, to clarify the real results they want to achieve. If appropriate, brainstorm all these goals.
Second, to list these results in order of priority. Invite them to complete the following sentences.
Controllables
Let's assume the person is clear on the results they want to achieve. Before pitching into finding solutions, however, it is good to do a reality check.
Peak performers control the controllables. They build on what they can control and manage what they can't control. The same rule applies to your client.
Imagine that they want to build a good relationship with their manager. They can control their own attitude and try to make clear working contracts. But they cannot control their manager's behaviour or what the manager says about them.
Bearing this in mind, they can aim to act as a total professional. Things may or may not work out, but they will have done their best.
Returning to the results your client wants to achieve, invite them to describe the things they can control in the situation.
So far the person has clarified the challenge, the results to achieve and the controllables. It's now time to move on to the possible creative solutions.
Creativity
Let's return to one of the challenges mentioned earlier. Imagine your client is a leader who has been charged with turning around an organisation.
At first the issue seemed to be: "How to motivate difficult people in the organisation?" But they concluded that the real 'What' was:
"How to build a successful organisation."
Let's assume they are also crystal clear on what will be happening by a certain date. They have clear targets regarding the profits, products and people. For example, they may say:
"The profits will be … The product quality – including customer satisfaction ratings – will be … The people morale ratings will be …"
They will then move onto finding imaginative ways to achieve the goals. This often involves going through the process of exploring the choices, consequences and creative solutions. Let's consider these stages.