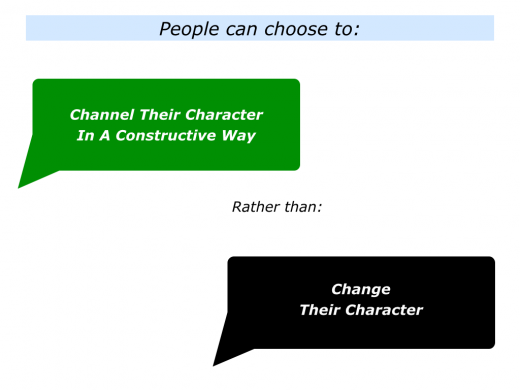 There are many views about how people develop. One approach is to help a person to channel their character in a constructive way rather than change their character. Let's explore how this works in action.
During the early 1970s I took over a therapeutic community for young people. Toni was a 16-year-old who was seen as a leader by the residents. She had grown up in institutions, but wanted to avoid going to prison in the future.
Young people often follow the leader they admire in a group, so I wanted to enlist Toni as an aide. Bearing this in mind, I gave her the following messages.
You are a strong person who has overcome lots in your life. You are very bright, honest and are seen as a leader by others in the community.  
As you know, you have a choice regarding which route you take in the future. You can be positive, stay healthy and help other people. Or you can end up in prison.  
As far as I know, you want to stay healthy and live a happy life. That is something we want to help others to do here in the community.  
I would like your help in making this happen. I would like to give you more responsibility in helping to run the community.
As you know, people here see you as a model. If you act in a positive and responsible way, then others are more likely to take that route.
It is, of course, up to you. But taking this route would, I believe, help you and other people. Let me know if this is something you would like to do, then we can go into the details.
Toni said she was prepared to take more responsibility. Together with several other young leaders, she took over running more of the day-to-day activities in the community.
Sue was another young leader. Many years later she described how she and others intervened to maintain the community guidelines. She wrote the following piece.
Looking back at my time in the community, I am so happy that I was given the opportunity to meet people who taught me it was okay to talk about things.
So much pain was bottled up inside me from the years spent in care and the abuse that I and my sisters suffered. I was one of the lucky ones. I found a way to confront my demons, talk about them and they stopped hurting.  
About 10 years ago my sisters and I were contacted by the police about the abuse we experienced in children's homes. The police came to my house and met with me and my sisters and asked if we were victims of abuse.
I stood up, faced the policeman and said: "NO, I AM A SURVIVOR OF ABUSE."
The community made us feel safe and we never betrayed that trust. Some newcomers once tried to bring drugs into the house, but we said: 'Don't bring that stuff here. If you want to take drugs, leave the community.'  
Sometimes we had fantastic talks. There would be 8 of us sitting in a bedroom till midnight, just sharing thoughts we had never discussed with anybody before.  
Every young person in the community had suffered problems. We encouraged each other to talk about the past, but didn't allow each other to use it as an excuse for behaving badly.  
If I said, 'My mother left me in the park when I was two,' somebody else said: 'I can top that. How can you use that bad experience to help others in the future?'
Toni and Sue channelled their personalities. They used their character traits – such as having fighting spirit – to help others rather than hurt others.
Looking back on your life, can you recall a time when you channelled your character in a constructive way? This may have been in your personal or professional life.
If you wish, try tackling the exercise on this theme. This invites you to do the following things.
Describe a specific situation in the past when you channelled your character in a constructive way.
Describe the specific things you did to channel your character in a constructive way.
Describe the specific things that happened as a result of taking these steps.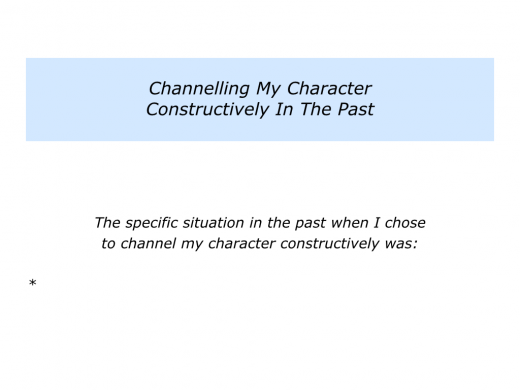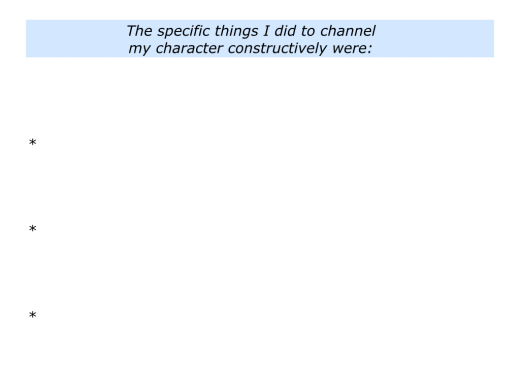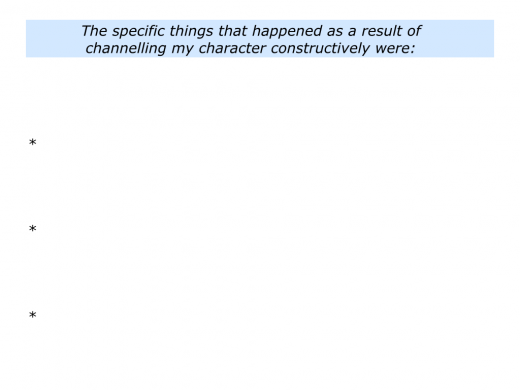 Max was an adrenalin-driven sales person I worked with many years ago. He loved the thrill of travelling, making sales pitches and winning business. Addicted to exercise, he always seemed to be training for the next triathlon.
He got restless when in the office. This showed itself in meetings, when he sometimes got angry. Max was addicted to excitement. If he couldn't get it in a positive way, then he got it in a negative way by starting arguments.
Max's company got sold and I stopped working with him. Two years later I got a phone call from the leader of the UK arm of a US based company.
They were considering hiring Max to lead their sales team. What did I think? The messages I gave were along the following lines.
Max is a superb sales person. He is driven, will always deliver the numbers and can give inspiring speeches to employees. He can get impatient at times and this can cause difficulties, but there are solutions to this challenge.
He will be an asset to your organisation, providing you set up things to play to his strengths. Here are some suggestions you may wish to consider.  
Max enjoys striving to achieve goals. So agree with him on a stimulating and stretching sales target. Put him on a plane and make sure he spends most of his time with customers.
At the same time, make sure he gets enough time to rejuvenate himself. He will probably do this by training for marathons.
Max needs to play to his strengths. He can build on where he delivers As, whilst finding ways to compensate for his Bs and Cs. 
As the work of Tom Rath and others tells us, great leaders are not well-rounded, but great leadership teams are well-rounded. Max can be helped to achieve peak performance by taking the following steps.  
Agree on the picture of success and
the required professional standards
Meet Max and agree with him on the specific results he must deliver to the company. This can be put in terms of profitability, product quality – such as customer satisfaction – and people morale in his team.
Explain the professional standards that will be required – the Dos and Don'ts – to deliver the picture of success. Explain the reasons for these standards. 
You may, for example, require people to show professional respect to others, even if they disagree. People will be expected to behave in a constructive way and find positive solutions rather than get angry.
Invite Max to decide if he wants to follow these professional standards. 
Play to his strengths and build a
good leadership team around him
Max can be encouraged to sell and also act as a standard bearer for the sales team. At the same time, however, he may need help in other areas. 
Many visionary leaders work best when they have a good co-ordinator. They need somebody who can translate their ideas into action and make things happen.
Max is such a leader. He will inspire the other sales people, but he needs somebody who can run the department for him. He will still be accountable, but the co-ordinator will make sure that things work properly.  
Encourage him to use his trusted advisor
skills internally as well as externally
Max is superb with clients. Whilst he is energetic and enthusiastic with them, he sometimes moves into the role of being their trusted advisor.
He then listens to the client, clarifies their business goals and describes the possible strategies for moving forward.  Max becomes calmer. It is as if he does not have to prove himself any more. He slows down, outlines the options and, when appropriate, makes recommendations.
Max can learn how to transfer these trusted advisor principles to his behaviour inside the company, especially in board meetings. He can learn how to treat his bosses as if they are external clients.  
Looking at a specific challenge facing the company, for example, he can share his views on the possible strategic ways forwards. He sometimes takes this approach with clients, so he can do it internally.  
Max needs to see that his internal clients are as important as his external clients. He may need help in channelling his personality in this way, but he already has the skills.  
The company hired Max. Three years later he was promoted to a role in the US. One year after that he became the worldwide VP for sales.
During those years Max learned how to build on what he did best, but also build a good leadership team around him. His first act when going to the US was to get a great co-ordinator.
Max still has an enormous drive to burst his sales targets. Building on the trusted advisor traits, he has built a reputation for providing strategic input inside the company and with clients. He continues to embark on even more challenging Iron Man events.
There are many approaches to helping people to develop. One approach is to help a person to channel their character traits in a positive way rather than a negative way.
Building on their strengths, they can be who they are, only more so. At the same time, however, they may need to learn how to manage the consequences of their weaknesses.
Let's return to your own life and work. What are some of your character traits? You may sometimes show humility, anger, empathy, drive, caring, toughness, ambition, encouragement, resilience or whatever.
You may also have certain talents in particular fields. You may be able to make complicated things simple, make good decisions, perform superb work, demonstrate leadership or whatever.
Looking ahead, how can you channel some of these characteristics in a positive way? What are the specific things you can do to make this happen? What may be the results of taking these steps?
If you wish, try tackling the exercise on this theme. This invites you to do the following things.
Describe the specific character traits you have that you would like to channel in a constructive way in the future.
Describe the specific things you can do to channel these character traits in a constructive way.  
Describe the specific things that may happen as a result of taking these steps.