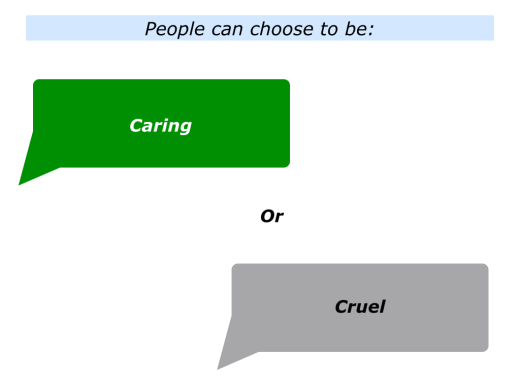 People make choices every moment. They can choose to be caring or to be cruel, to help people or to hurt people. The choices they make have consequences, both for themselves and for other people.
People who show caring for others often get benefits. Sometimes they experience what is called the helpers high. Putting themselves into the caring circle, they are also more likely to reap what they sow.
Those who are cruel to others may also experience a temporary high. They may pay later, however, by those they hurt taking revenge on them, their loved ones or other people. Sometimes it is also the innocent who suffer.
People who make far-reaching decisions in society sometimes need to think through the consequences. How can they show caring to all people? How can they create an encouraging environment for people and the planet? How can they enable people to flourish?
Warren Buffet is sometimes quoted in this regard when referring to what he calls The Ovarian Lottery. He believes that he and his children won such a lottery, because they born into a society that gave them opportunities.
Based on the theory of justice outlined by John Rawls, Warren invites people to design their ideal society. There are many versions of the story he tells and one is shown below. You can find an excellent version on Simone Joyaux's website via the following link.
http://www.simonejoyaux.com/learning-center/quotations/justice/
People now recognise that it is possible for individuals to get into a cycle of caring or a cycle of cruelty. Children who experience caring in the family and school, for example, are more likely to encourage others.
Caring also involves giving consistent messages about helping – rather than hurting – other people. Hence there is now a movement towards emphasising the importance of character in schools, as well as academic grades.
There are many approaches to encouraging young people to follow the Golden Rule. One is embodied in the work of Values-based Education in schools.
Here is an introduction from the organisation's website. You can discover more via the following link.
http://www.valuesbasededucation.com/index.html
Values-based Education is an approach to teaching that works with values. It creates a strong learning environment that enhances academic attainment, and develops students' social and relationship skills that last throughout their lives.
The positive learning environment is achieved through the positive values modelled by staff throughout the school. It quickly liberates teachers and students from the stress of confrontational relationships, which frees up substantial teaching and learning time.
It also provides social capacity to students, equipping them with social and relationship skills, intelligences and attitudes to succeed at school and throughout their lives. 
The school is a microcosm of the world. VbE is an approach that nourishes, and enables learners to flourish, making a difference to the world through who and how they are.
When we actively engage with values we start to understand their implications for making choices about our attitudes and responses.  
A Values-based approach encourages reflective and aspirational attributes and attitudes.
These can be nurtured to help people discover the very best of themselves, which enables them to be good citizens and prepare them for the life of work.

The caring approach is also underlined by the popularity of the famous THINK poster that is exhibited in many classrooms. Here is one of the websites that encourages educators to download and print the poster.
http://www.teachjunkie.com/management/think-before-you-speak-printable-posters/
People who choose to be caring want to help others to grow. They choose to spread happiness, rather than harm.
Generous by choice, they love to give to people. They recognise it is important to take care of themselves, however, so they refuse to become victims.
Such people have few regrets in life. The regrets they do have sometimes mirror those described by George Saunders in his famous Commencement Speech at Syracuse University He said:
What I regret most in my life are failures of kindness.
Those moments when another human being was there, in front of me, suffering, and I responded . . . sensibly. Reservedly. Mildly.
Or, to look at it from the other end of the telescope:
Who, in your life, do you remember most fondly, with the most undeniable feelings of warmth?
Those who were kindest to you, I bet.
It's a little facile, maybe, and certainly hard to implement, but I'd say, as a goal in life, you could do worse than: Try to be kinder.
You will, of course, have your own approach to encouraging people. If you wish, try tackling the exercise on this theme. Looking to the future, this invites you to do the following things.
Describe the specific things you can do to choose to be caring and translate this into action.  
Describe the specific things that may happen as a result of choosing to be caring and translating this into action.