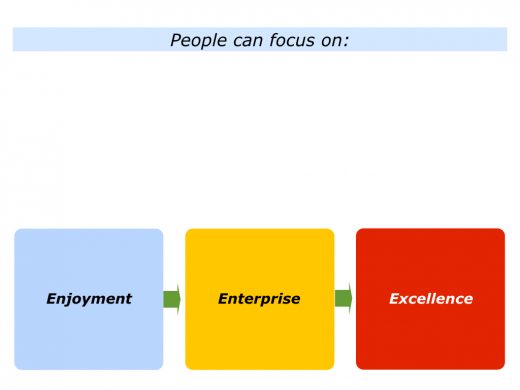 There are many models for doing fine work. One approach is to focus on enjoyment, enterprise and excellence. Looking back, when have you gone through these steps in your own way?
You may have started by doing an activity you enjoyed in which you could achieve excellence. You may have been doing a creative project, playing a sport, writing an article, developing a skill, leading a team or pursuing another activity.
You showed lots of energy when doing the activity and also found it gave you positive energy. This helped you to maintain the momentum and deal with challenges on the road towards reaching the goals.
You showed enterprise when doing the activity. Bearing in mind your picture of success, you clarified the most effective way to reach your goals. You were proactive when pursuing these strategies, looked ahead and aimed to make things happen. You also showed imagination when working towards your goals.
You aimed to achieve excellence. You kept doing the basics and, when appropriate, added the brilliance. On some occasions you may have reached your goals by adding that touch of class. You may then have gone into another dimension and done work that was extraordinary.
If you wish, try tackling the exercise on this theme. This invites you to do the following things.
Describe a specific situation in the past when you focused on enjoyment, enterprise and excellence.
Describe the specific things you did then to focus on these steps. 
Describe the specific things that happened as a result.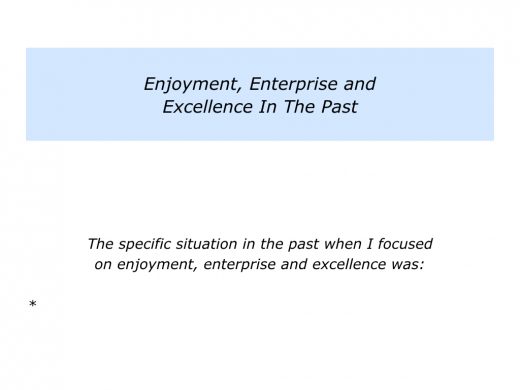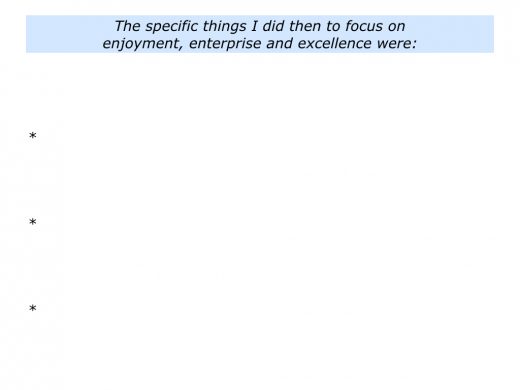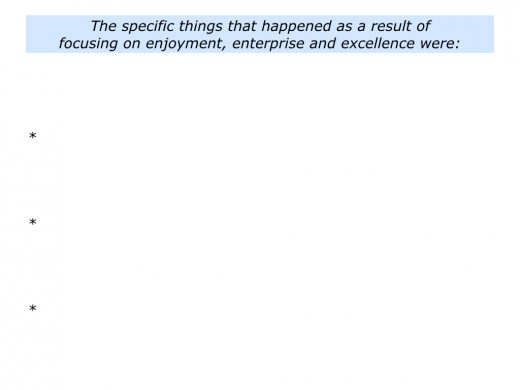 This is a model that can also be used to encourage other people. It was an approach I used when running courses during the 1970s. The aim was to help people to build on their strengths, do satisfying work and achieve their picture of success.
Bearing this in mind, it was important to focus on when people displayed enjoyment, enterprise and excellence. Let's look at these steps.
Enjoyment
During the course we did exercises in which people described what they enjoyed doing. The next step was to clarify how they could do more of these things and, if appropriate, make a living doing what they enjoyed.
How can you spot when people may display these qualities? One approach is to ask the classic questions.
When do they come alive? When are they in their element – at ease and yet able to excel? What are the specific activities in which they deliver As, rather than Bs or Cs?
When do they see the destination quickly? When do they go 'A, B .. and then leap to … Z'? What are the activities in which they score highly on drive, discipline and delivery?
When have they done satisfying projects and achieved success? What were the principles they followed? How can they follow these principles – plus add other skills – to do superb work in the future?
Peter Benson, the author of Sparks, took a similar approach and looked for when people came alive. He had a profound influence on the way many people learned to support children, teenagers and adults. Much of his work was around the theme of sparks. He wrote:
A spark is something that gives your life meaning and purpose. It's an interest, a passion, or a gift.
Children want to be known for their sparks, said Peter. When you see these sparks, affirm them. He maintained that:
You shall know them by their sparks.
Peter died at the age of 65 in 2011, but his work lives on through colleagues at the Search Institute. You can discover more at the official web site. Below is a video of Peter talking at TED.
http://www.search-institute.org/
Enterprise
Enjoyment is a good starting point, but people also need to show other qualities. Looking at the specific activity they want to pursue, it is good if they demonstrate the following characteristics.
They show enterprise, are proactive and take initiatives. They aim to make things happen on the way towards achieving their goals. 
They take control, see the big picture and identify patterns. They clarify the most effective strategies for achieving their goals.
They are dedicated, disciplined and, when appropriate, they are daring. They use their imagination to find creative solutions on the way towards achieving their goals.
How to spot when a person demonstrates these qualities? One approach is to give them the opportunity to do things they enjoy and express these in different ways.
This is an approach that can be applied in different fields. It is one I used during the 1980s, for example, when working as a Youth Development Officer for a soccer club. My role was to manage the youth team, yet also help the players to grow as people.
During training matches I would move players around to find their best positions. One clue was to find a position they enjoyed where they showed enterprise and were effective.
James, for example, came to the club as a forward, but during one training session I moved him to play as a central defender. He immediately took control and began to marshall the defence.
He quickly saw the whole picture and directed the defence to cut off danger. Suddenly he was in his element, at ease and yet able to excel. He went on to become the team captain and play at a high level.
James and I went separate ways, but 30 years later I came across him via a web link. He was head of logistics for a large organisation. He continued to use his ability to make things work effectively and guide people towards achieving success.
Excellence
There are many views on what constitutes excellence. Some of the dictionary definitions include the following.
The quality of being outstanding or extremely good … An outstanding feature or quality.
Tom Peters and Robert Waterman spread the gospel of excellence in 1982 with their book In Search Of Excellence. This inspired many individuals and companies to focus on how they could deliver excellence. These approaches often drew on ancient wisdom contained in the following quotes from Confucius and Aristotle.
The will to win, the desire to succeed, the urge to reach your full potential… these are the keys that will unlock the door to personal excellence. 

Confucius 
Excellence is an art won by training and habituation. We do not act rightly because we have virtue or excellence, but we rather have those because we have acted rightly. We are what we repeatedly do. Excellence, then, is not an act but a habit. 
Aristotle 
Excellence is something that can make your soul sing. You may recognise it when watching a superb athlete, seeing a wonderful piece of work or even experiencing great customer service.
Imagine you are tackling a piece of work. You want to move from doing the basics to adding the brilliance. The desire to deliver great work comes from within, so how can you take this step?
One approach is to start by doing what you enjoy, being enterprising and being effective. You can then move on to adding that touch of class. Different people do this in different ways.
Nelson Mandela, for example, had the ability to make people feel special. Departing one hotel at 6.00 a.m. one morning, he took the time to say goodbye to each of the staff on duty. Giving each person his famous two-handed handshake, he looked them in the eyes and said:
Thank you for looking after me. 
Another approach to excellence is aiming to become the best kind of person, artist, athlete, engineer or whatever you want to be. It is to aim to achieve personal or professional excellence.
John Wooden, the basketball coach, espoused this approach in his work with young players. He never mentioned 'winning', but his teams won more titles than any other in College basketball history. He defined success in the following way.
Success is peace of mind which is a direct result of self-satisfaction in knowing you did your best to become the best you are capable of becoming.
During his early career John began developing what later became known as his famous Pyramid of Success. This consisted of guiding principles that athletes could follow both on and off the court. You can discover more via the following link.
The base of the Pyramid consists of phrases such as: Industriousness; Friendship: Loyalty; Cooperation; Enthusiasm. Behind each of these words is an explanation.
The word Industriousness, for example, is explained in detail. This includes the following phrases.
In plain language, I mean you have to work – and work hard. There is no substitute for hard work. None. Worthwhile things come only from real work.
There are several levels to the Pyramid of Success. It culminates in the principle of Competitive Greatness. This is explained as:
Perform at your best when your best is required. Your best is required each day.
John built teams that aimed to live these values, rather than just laminate them. He reinforced the Pyramid of Success by using certain maxims to remind people of their responsibilities. These included the following.
Be true to yourself … Be more interested in character than reputation … Help others … Make friendship a fine art … There is a no substitute for hard work and careful planning … Make each day your masterpiece.
Let's return to your own life and work. Looking ahead, can you think of a specific situation in which you want to focus on enjoyment, enterprise and excellence? How can you take these steps in your own way?
If you wish, try tackling the exercise on theme. This invites you to do the following things.
Describe a specific situation in the future when you may want to focus on enjoyment, enterprise and excellence. 
Describe the specific things you can do to focus on these steps.
Describe the specific things that may happen as a result of focusing on these steps.