"There's an academic tradition called the 'Last Lecture.'
"Hypothetically, if you knew you were going to die and you had one last lecture, what would you say to your students?  
"Well, for me, there's an elephant in the room. And the elephant in the room, for me, it wasn't hypothetical."
 Randy Pausch
The Last Lecture tradition has had a profound effect on many people. One of the most watched videos on this theme was the lecture given by Randy in 2007.
Gabriel Robins has since created a site about The Legacy of Randy Pausch. You can discover more via the following link.
http://www.cs.virginia.edu/~robins/Randy/
Over the years many places of learning have invited a key figure to give their Last Lecture. They invite the person to pass on knowledge and wisdom they may have learned during their life.
Sometimes students nominate such a person; sometimes an institution will simply invite an eminent speaker. Here, for example, is how the Utah State University describes the concept to its students.
Initiated in 1976, the Last Lecture has become an important Honors tradition at Utah State University.  
Honors students have the opportunity to nominate an outstanding professor who has made a noteworthy contribution to the education and mentorship of undergraduates, both inside and outside of the classroom.   
A committee of Honors students selects the winner each year, giving one exceptional professor the opportunity to speak to students as if it were his or her final lecture at USU.  
If one of your professors has made a major impact on your education – whether through teaching or mentoring of contracts and thesis work – please nominate him or her for the next Last Lecture!
You can find a wide variety of Last Lectures on YouTube. Here is the link.
https://www.youtube.com/results?search_query=last+lecture
Clarifying what you
might say in a Last Lecture
Sometimes I have used an adaption of the Last Lecture format when running certain kinds of workshops. On some occasions, for example, people have wanted to clarify their values and what they believe is important in life.
There are many exercises on these themes. One approach is to invite individuals to prepare and then present a ten-minute version of their Last Lecture.
This is a challenging task. Many people have found it rewarding to share their own ideas, however, and also listen to others give their presentations.
Here is the exercise that people have been given. You can, of course, adapt it in your own way. The exercise invites individuals to do the following things.
To give a title to their Last Lecture. 
To outline three key themes or messages they want to share with people – together with examples that bring these to life – in their Last Lecture. 
To conclude by summarising their Last Lecture.
As mentioned above, people are invited to bring each message to life with concrete examples. This encourages them to go beyond simply saying, for example: "Be true to yourself."
Such headlines might provide good advice. But giving examples of how these can be translated into daily life can have a much greater effect. Here is the exercise.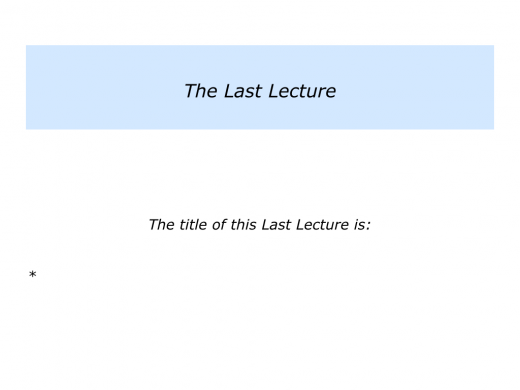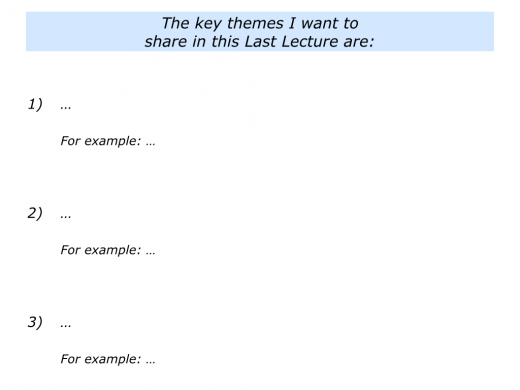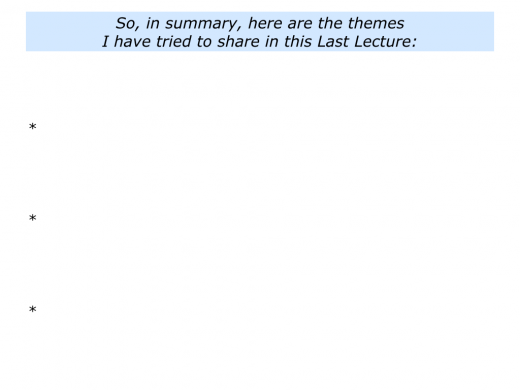 The Last Lecture approach springs from an academic tradition. The video below provides an excellent example of this genre.
In it Mary Joe Hughes mixes elements of literature and life to pass on wisdom to people. Here is the official introduction to the presentation.
Mary Joe Hughes is an adjunct professor in the Arts & Sciences Honors Program at Boston College. In this 'last lecture' she discusses thoughts prompted by the recent death of her husband.  
Grief is a universal experience, and yet, it is intensely private, she says. What bridges that gap between the soul's profound solitude on one hand and the human community on the other? That's the question I want to explore.