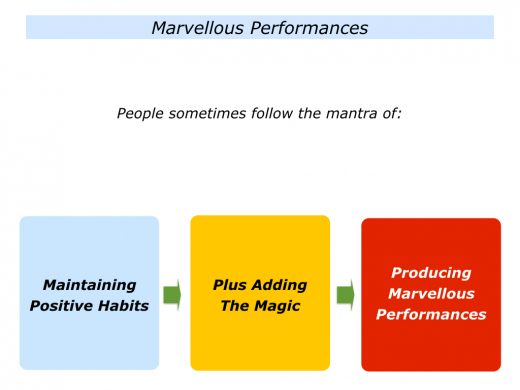 There are many models for doing fine work. One approach is to maintain good habits and sometimes add the magic on the way towards producing marvellous performances.
Good habits form the basis. People who aim to be healthy and happy, for example, keep doing things that help other people and themselves to feel good. People who aim to do fine work keep doing things that lay the groundwork for getting good results.
One sports psychologist explained how they took this approach to help athletes. They described this in the following way.
The people I see are often considered to be super stars. They are ordinary people, however, who have an extraordinary talent. At the same time, they face challenges that most people don't experience in their daily lives.
Before a big competition, for example, the athlete may feel that their whole career will be defined by whether they win or lose. This can lead to anxiety, sleeplessness and feeling out of control. How to help them feel calm?
My approach is to encourage them to keep maintaining good habits. They can keep doing the right things in the right way up to and during the competition.
The athletes often feel more comfortable with this approach. They are then focusing on something they can control.
Maintaining these good habits provides the platform. They can then, when appropriate, use their talents to deliver peak performances.
Can you think of a person who followed some of these steps to give marvellous performances? They may have done superb work as an artist, actor, singer, educator, coach, chef, writer or whatever. What do you believe they did right to follow such steps?
If you wish, try tackling the exercises on this theme. This invites you to do the following things.
Describe a person who you believe maintained good habits and added the magic to produce marvellous performances.
Describe the specific things they did to make this happen.
Describe the specific things that happened as a result of them taking these steps.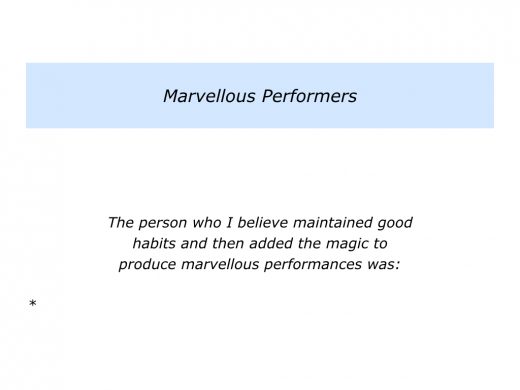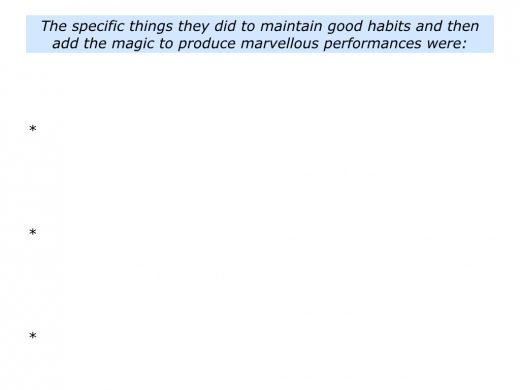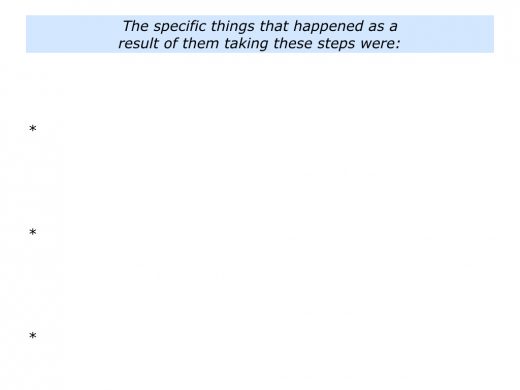 Maintaining Good Habits
Great workers continue to follow good habits, even when under pressure. There are many ways to help people to develop such disciplines. One approach is to for them to study what works and follow certain principles to achieve their goals.
Looking at my own work, for example, I spent some time mentoring singers. Other mentors helped them technically. My contribution was to help them to rise to the occasion when it mattered.
Looking ahead to their performance, I invited
them to explore the following questions.
Looking back, when have you have tackled a similar challenge successfully in the past? When have you given a performance that was deeply satisfying and successful? What did you do right then – what were the principles you followed – to achieve success? Bearing these principles in mind, let's move on to the next stage.
Looking ahead to the performance, what are the real results you want to achieve? What is your picture of success? What are the key principles you can follow to give yourself the greatest chance of success?
How can you translate these principles into specific actions to achieve success? What is your specific action plan for taking these steps? How can you then follow good habits to do your best to achieve your picture of success?
Different singers used different words when answering these questions, but several common themes emerged. These were embodied in the answer given by one singer. She said:
My best performance came during an audition when I chose to serve the song. 
I was nervous before the session because I had a history of being turned down for parts. Partly that was because I often tried too hard and my voice sounded scratchy 
On this occasion, however, I chose to put my heart into the song, rather than worry about people's judgement. I rehearsed properly and then took several deep breaths before stepping on stage. 
After introducing myself, I took another breath and then launched into the song. Singing with my whole being, I tried to do justice to the song, rather than be concerned about the outcome.
The timbre in my voice seemed deeper yet more vulnerable. At one point I almost started crying as the music and words flowed through my veins.  
As I mentioned early, my energy was devoted to doing justice to the song and leaving everything on the stage. At the end there was a short silence, then the three judges broke into applause.  
Looking back, I was proud of doing my best to serve the song. As a result, I was also given the part.
Looking ahead, the singer then mentally rehearsed her next performance. This involved breathing deeply and then clicking into action when walking onto stage.
The words of the song were easy to remember, but she wanted to convey the real emotion. She kept going until everything fell into place. She then felt ready to relax, follow her routine and rise to the occasion.
Imagine that you are helping a person to plan ahead and then translate their ideas into action. This process can involve them finding and following their successful patterns. If appropriate, they can also study and learn from others who have achieved success. Here are some of the steps it may be worth exploring.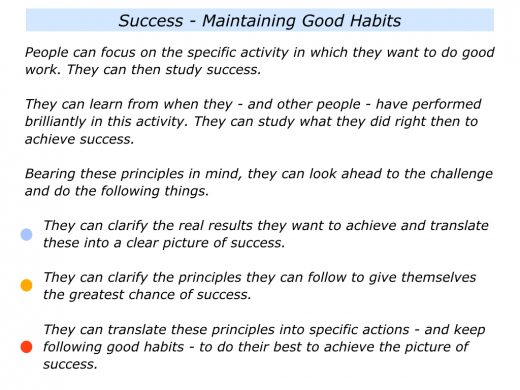 Magic 
Great workers keep following good habits. They then sometimes go into another dimension and use their talent to make magic when it matters. The way they do this depends on the field in which they are performing.
The soccer player may score a marvellous goal. The chef may produce a superb meal. The singer may perform a remarkable encore that provides people with a memory for life.
The sprinter may lead the field and then flow, focus and finish to go beyond the tape. The negotiator may stay calm under pressure and then create a breakthrough solution that ensures all parties get a win-win.
Michael Murphy gives many examples of such moments in the book he co-wrote with Rhea White called In The Zone: Transcendent experiences in sports. The book goes beyond sports and explores how people perform great work in other fields.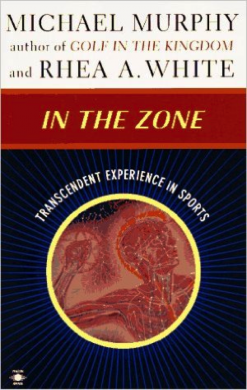 He quotes Margherita Duncan writing about Isadora Duncan's work in the following way.
When she danced the Blue Danube, her simple waltzing forward and back, like the oncoming and receding waves on the shore, had such ecstasy of rhythm that the audience became frenzied with the contagion of it, and could not contain themselves, but rose from their seats, cheering, applauding, laughing and crying.
Michael describes how peak performers enter another dimension and make time stand still. He quotes Herbert Saal, the ballet reporter, describing this quality in Mikhail Baryshnikov. Herbert wrote:
The most exquisitely chilling weapon in the arsenal of this complete dancer was his ballon, his ability to ascend in the air and stay there, defying gravity, especially in the double tour en l'air, in which the male dancer revolves two full times before landing.  
The Stuttgart Ballet's Richard Cragun can turn three times in a blur of motion. But Baryshnikov did it in slow motion. And it was unbelievable.
 He blasted off with the hesitation and majesty of a space ship. He turned – once, twice – and every thread on his costume was plainly visible as he soared high above the audience like an astronaut looking back at earth.
Marvellous Performances
Chris Hoy is somebody who produced marvellous performances. Later we will look at how he translated his talent into winning Gold Medals. Before then, here is some background from his website. You can discover more via the following link.
http://www.chrishoy.com/profile/
Sir Chris Hoy MBE is one of Great Britain's most successful Olympic athletes of all time, with six gold medals and one silver.
Chris won his first Olympic gold medal in Athens 2004 in the Kilo – an event that was dropped from the programme for Beijing 2008. 
Chris took this in his stride and switched his focus to three other track sprint events – the Keirin, Sprint and Team Sprint. He went on to win a gold medal in all three at the Beijing Olympics, cementing his name in the history books. 
Following his historic hat-trick of gold medals at the Beijing Olympics, Chris was voted 2008 BBC Sports Personality of the Year.
He was also awarded a Knighthood in the 2009 New Year Honours list, capping an extraordinary year for the track cyclist from Edinburgh.
In 2012 at his home Olympic Games in London, Chris won his fifth and sixth gold medals – in the Keirin and Team Sprint – becoming Great Britain's most successful Olympic athlete of all time with six gold medals and one silver. 
How did he make this happen? Chris explained some of the steps he took in the video below, which was produced by the London Business Forum.
Peak performers start from their destination and work backwards. Chris adopted this approach. He began by setting a big goal, which sometimes was four years in the future.
He then set goals to achieve each year, month, week and day. Taking this approach, Chris followed daily disciplines to get successes each day.
Great workers aim to do the right things in the right way every day. They develop a rhythm of following good habits. When blown off-course, they re-centre by saying something like:
Let's go back to basics.
The first small goal I want to achieve to get back on course is …
The specific things I can do to achieve this goal are …
Chris Hoy followed elements of this approach to keep on track. This meant he encouraged himself by getting wins on the way towards achieving the big goal.
As he got closer to the destination, however, he began visualising the end game. Looking ahead, he focused on what he could control during the competition.
This involved mentally rehearsing the perfect race. He concentrated on the process to follow, however, rather than worrying about the result.
Part of the rehearsal meant anticipating and managing any challenges. This stood him in good stead during the final when other competitors set world records.
Chris simply returned to following his process. He completed his perfect race and, as a by-product, won the Olympic Gold.
Let's return to your own life and work. Looking ahead, can you think of a situation where you may want to do fine work?
Bearing in mind the goal you want to achieve, how can you maintain good habits? How can you, if appropriate, add that touch of magic? How can you do you best to produce a marvellous performance?
If you wish, try tackling the exercise on this theme. This invites you to do the following things.
Describe the specific situation in which you would like to deliver a marvellous performance.
Describe the specific things you can do then to maintain good habits, add that touch of magic and produce a marvellous performance.
Describe the specific things that may happen as a result of taking these steps.