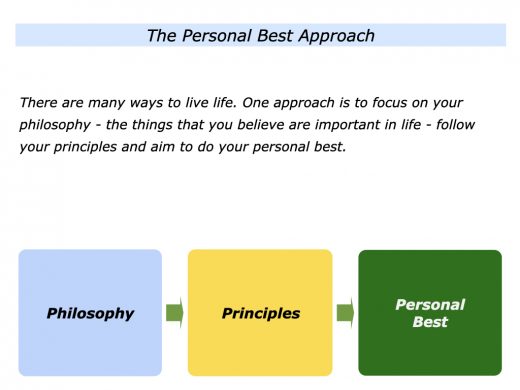 There are now many approaches to encouraging people to do their personal best. These are used in programmes for young people, athletes, creative workers and people who want to achieve peak performance.
Imagine that you want to take this route. The approach encourages you:
To focus on doing your personal best rather than comparing yourself to other people;
To aim to be the best you can be rather than worry about always being the best;
To follow your philosophy and principles rather than be concerned by outside prizes. 
This is an approach that is often used with athletes. It invites them to do the following things.
To put their energy into doing their personal best rather than worrying about outside pressures; 
To focus on what they can control rather than what they can't control; 
To be committed to continuous development and improving their personal best.
Olivia Hurley, an assistant professor and sports psychologist, described elements of this approach her article What We Can Learn About Resilience From Elite Athletes. Here is an excerpt from the article.
Have the courage to be imperfect
Too often in life, we aim for 'perfection'.  
As sport psychologists we should not recommend athletes use this term. 
Instead we should work together to help them to produce Personal Bests (BPs), helping them to aim for performance excellence, but not expecting perfection.  
Such PB targets should not stop anyone from giving one hundred per cent effort to their performances.
But, by not feeling the need to be perfect, they are more likely to 'have a go', which often leads to the most effective performances.
This approach can also be valuable in many walks of life. It can be particularly helpful when it is geared to helping a person:
To keep focusing on their philosophy – because this provides an inner compass they can keep returning to and from which they can also gain strength;   
To keep focusing on their principles – because these provide lifetime guidelines they can follow and apply in many different situations; 
To keep focusing on doing their personal best – because this provides a framework they can use to keep developing as people and as professionals.
Imagine that you want to take this approach in your life and work. This involves focusing on the following themes.
Philosophy
What is your philosophy? What are the things you believe are important to do in life? Different people give different answers to this question. Here are some of the answers they give.
My Philosophy
The things I believe are
important to do in life are:
To be kind … To care for my loved ones … To give everybody a fair chance in life … To be grateful … To be generous… To be respectful … To help other people.
To do your best in life … To leave a good legacy … To respect nature … To protect diversity … To help both present and future generations … To take care of the planet.
Different people translate their philosophy into action in different ways. They often do this by following certain principles. The following section describes one person who took this approach.
Sue's Story – Aiming
To Be A Good Parent
Sue Carter chose to shape her life in a positive way. In 1970 she came to the therapeutic community I was running for young people. Abandoned by her mother at the age of 2, she had grown up suffering abuse in institutions.
The community gave young people the chance to shape their futures. Sue recognised she was at a crossroads and began pursuing her chosen route.
In 2005, quite out of the blue, she emailed me to describe her journey over the past three decades. Sue was always feisty, which shines through her story.
Visited later in life by the Essex police who were investigating events at the children's homes, the police asked if she was a victim of abuse. Sue declared:
"No, I am a survivor of abuse."
Here is the piece she wrote about her journey.
My Aim To Be A Good Parent
My mother abandoned me and my two sisters in the park when I was two. During the next 14 years I moved from one children's home to another.  
Sometimes I was abused but I did not know anything else, so I thought it was normal. One housefather kept hitting me with his belt, so I yelled:
"Why are you hitting me?"
He said it was because I needed to show him respect. I yelled back:
"I'm not going to respect you if you keep hitting me."
So he hit me harder.
One day I found myself in an institution that was famous for holding a girl who had killed a child. Looking back, I now realize that the only way I had kept my sanity was by rebelling, but it had got me into trouble.  
Things looked bad, but then I got the chance to go to a community where young people like me had the opportunity to change their lives.
Over 30 years later I now have three sons and a wonderful granddaughter, who is the apple of my eye. The 30 years in-between have sometimes been difficult, but never dull.  
After leaving the community I met a man and travelled around the world. Returning home, I began working in a children's home.
Growing-up in institutions myself, I knew what the children needed and tried to help them to feel safe and loved. Even if I say it myself, I found that I was good with children.
During my twenties I had several long relationships and eventually got married. Unfortunately my husband tried to control me.  
Even if I was going to Sainsbury's, he wanted to know what I was doing. I was never one to let anyone control me, so end of marriage.  
Eventually I realised that I didn't have good relationships with men because I tested them to the limit. So I wasn't shocked when they didn't reach my expectations.  
And, of course, I also made some bad choices.  
My greatest fear as a parent was that my kids could end up in care. So I then decided to be the best single parent I could be.  
This meant relationships with men were out. I stayed on my own with the boys for the next 18 years.  
Then I met a good man with whom I had a child. Even though the man and I have now parted, we are still good friends and he is a good father. 
Looking back at my time in the community, I am so happy that I was given the opportunity to meet people who taught me it was okay to talk about things.  
So much pain was bottled up inside me from the years spent in care and the abuse that I and my sisters suffered. I was one of the lucky ones.
I found a way to confront my demons, talk about them and they stopped hurting.  
About 10 years ago my sisters and I were contacted by the police about the abuse we experienced in children's homes.  
The police came to my house and met with me and my sisters and asked if we were victims of abuse. I stood up, faced the policeman and said: 
 "NO, I AM A SURVIVOR OF ABUSE." 
Then I realised I had got rid of my demons. Some people never get the chance to rid themselves of past problems.
Looking back, the community showed there were people who could look after kids, value their opinions and not resort to abuse. 
 The community made us feel safe and we never betrayed that trust. Some newcomers tried to bring drugs into the house, but we said:
'Don't bring that stuff here. If you want to take drugs, leave the community.'  
Sometimes we had fantastic talks. There would be 8 of us sitting in a bedroom till midnight, just sharing thoughts we had never discussed with anybody before.  
Every young person in the community had suffered problems. We encouraged each other to talk about the past, but didn't allow each other to use it as an excuse for behaving badly.
If I said, 'My mother left me in the park when I was two,' somebody else said:
'I can top that. How can you use that bad experience to help others in the future?' 
Suddenly I realised that I didn't have to go on the path I was hurtling along, which would probably have led to drugs or prison.  
The people in the community believed in us and my feelings mattered. Someone listened when I was screaming. What could be more wonderful than that?
Nowadays I try to help other people by volunteering to work at the local hospice. But the thing I am most proud of is being a good parent to my children.
You will have your own view about the things you believe are important to do in life. If you wish, try tackling the exercise on this theme. This invites you to complete the following sentence.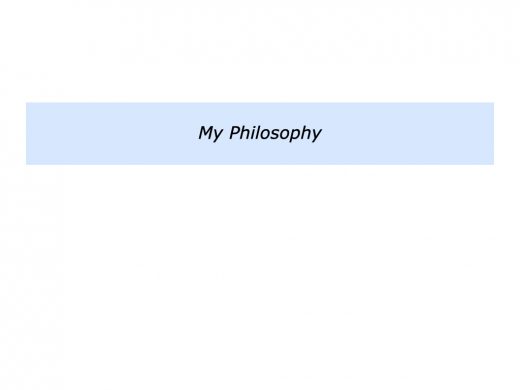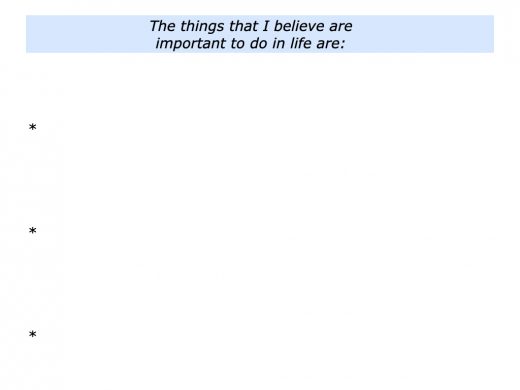 Principles
People often translate their philosophy into action by following certain principles. Different people will do this in different ways.
Imagine, for example, that a person wants to encourage people during their life. They may begin to translate their philosophy into action by using the following framework.
The specific actions they take will depend on several things. These will be influenced by their attitude, their abilities and the things they want to achieve in life.
Bearing these in mind, the person may begin formulating their principles by going through the following steps.
My Philosophy Is:
I want to encourage people in my life.
My Principles
The principles I want to follow to
translate this into action are these.
* I want to encourage people in my daily life and work. 
The specific things I can to do
translate principle this into action are: 
I can …
I can … 
I can …
* I want to use my strengths to do work that encourages people.
The specific things I can to do
translate principle this into action are: 
I can …
I can … 
I can …
* I want to be generous and pass on knowledge that encourages both present and future generations.
The specific things I can to do
translate principle this into action are: 
I can …
I can …
I can …
Let's look at one person who takes this approach. Her name is Jacqui Smith. She is kind, generous and uses her talents to create interior design for houses, care homes and other places.
The following piece is one that Jacqui wrote many years ago. She and I met on a career development programme I ran for a travel company during the 1990s.
During our meetings we focused on her vocation. This was to create enriching environments. We then explored how she could make a living doing work she loved.
The following section was written by Jacqui during the early days of the business. It describes how she moved from the marketing role she was doing to co-founding Homesmiths with her husband David.
They started by doing work for friends and family on the weekends before going full-time. Homesmiths has now been going for 20 years and moves from strength to strength. Jacqui is now also a Regional Director for The Society of British & International Interior Design.
Jacqui Smith – The
Birth of 'HomeSmiths'
As a child I could spend hours creating room sets for my dolls, fiddling with doll's house furniture, making camps for my brother to play in or rearranging my bedroom.
Whilst I followed art and excelled at it through my childhood and teens, my school was fiercely academic. So when it came to 'A' Level choices, Art was dropped in favour of Economics, Maths and German!   
University followed and I gained a degree in Economics and Maths.  Having little clue of what I wanted to do, I found myself in sales and marketing, which is where I stayed for some years.   
Feeling unfulfilled with my work, job changes ensued but I was never really addressing the root problem.  Sales and marketing were not playing to my strengths.
This left a whole host of skills and, more importantly, passions untapped.  Outside work I was continuing with more creative pursuits, such as designing room schemes for myself as well as friends and family.  But I never thought of doing this for a living, telling myself:  
"I'm not trained in Interior Design – how could I make money from this and why would anyone take me seriously?"  
Despite constant encouragement from friends, I remained unhappy in the corporate world. I then attended a two day workshop aimed at helping people to make a living doing what they loved.
Focusing on my passions, talents, dreams and goals threw up a common theme which simply read as: 
'Creating enriching environments.'  
I then met my now husband David, a cabinet maker.  He had always wanted to run his own business – yet possessed none of the required sales, marketing or organisational skills.
Within months of meeting, we were engaged. We also knew then that we would one day set up on our own. 
David continued to design and make furniture in the short to medium term. In the longer term, however, he wanted to get more involved in bigger interior design projects.
I wanted to help people enrich their living environments with colour and texture—plus take on the challenge of running a business.  A brainstorm and a bottle of wine later 'HomeSmiths' was born.
The name offers so much flexibility in terms of what we offer our clients – from furniture making and interior design, through to anything that enhances ones living environment.
The response from our immediate network was tremendous. Not only did people believe in the proposition, but truly believed in David and my ability, through our combined talents, to deliver.   
Starting the business when our first child was 4 months old, people thought we were mad – but staying in our old roles was so much more frightening!  It has been hard work and we are still a young business, but we are building our reputation.
We work together incredibly well. Some projects involve both of us designing the furniture as well as the overall room scheme; other clients simply want to commission a piece of furniture.   
We pride ourselves on our quality of product and service. Although bespoke furniture it not exactly a regular purchase, we have already had three clients return to us for further work.  
One lesson I learned on the workshop was to network but, most of all, to give something back to people in your network.  So true and such a simple and cost effective way to grow a business!
I am evangelical about doing work you love and as a mother will certainly encourage my children to follow their natural paths in life and work.
Below is a recommendation from one of Homesmiths' clients. It describes how they helped with the design of a Dementia Unit.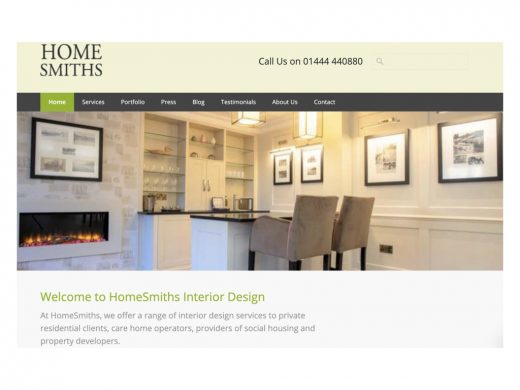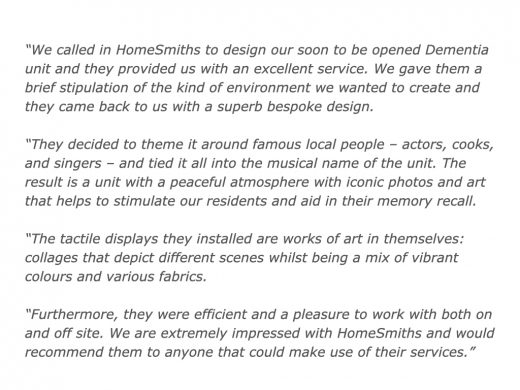 Following The Principles
In A Challenging Situation
Great workers, teams and organisations believe in following their principles. This can be relatively easy when things are calm.
The hard part is following them in stormy weather. It can therefore be useful to test how to follow the principles in challenging situations.
One company I worked with took this approach. The senior team began by involving key people across the business in agreeing on the principles to follow in the future. These included the following:
Take Responsibility … Be Professional … Help People Succeed … Deliver Great Results
The company also held employee workshops where people explored how to translate these principles into action. The sessions included doing following exercise.
The Principles Challenge
Choose a situation where it may be challenging to follow the principles.
Clarify the possible options for tackling the challenge together with the pluses and minuses of each option.   
Clarify which of these possible options is the one where we can – as far as possible – follow our principles and translate these into action.
The employees threw themselves into the exercise and produced plans for tackling most scenarios. They did not consider one scenario, however, that soon presented the leader with a dilemma.
The Actual Challenge
One month after the workshop two senior staff members behaved in a way that violated the professional guidelines that had been communicated to staff.
The story about their behaviour  – which was disrespectful, hurtful and extremely unprofessional – spread throughout the company. People began to wonder if the company was serious about following the stated principles.
The CEO had several options in the situation. Each option had pluses and minuses.
They could ignore the errant behaviour; 
They could give the senior staff members a warning and hope it was a one-off;
They could show they were serious about following the principles and replace the senior staff members.
The CEO chose the third option. This surprised many people and created some short term shocks, but it was beneficial in the medium to long-term. It showed they were serious about building and maintaining a positive and professional company.
This highlight a key point. Good organisations keep going back to their principles – which act as a guiding compass – especially during times of crises. They ask the following questions.
What are the principles we want to follow in our work?  How can we follow these principles in the present situation? How can we translate these into action and do our best to deliver positive results?
Let's return to your own life and work. Imagine that you have settled on your philosophy. What are the principles you want to follow to translate this into action?
If you wish, try to tackle the exercise on this theme. This invites you to complete the following sentences.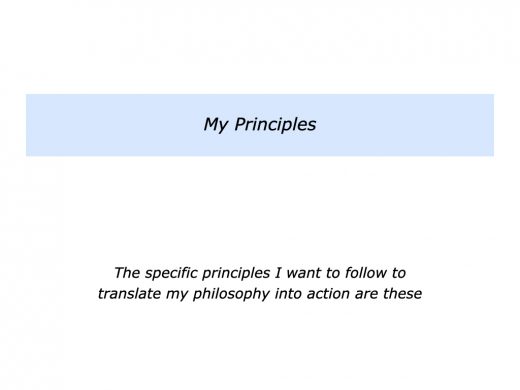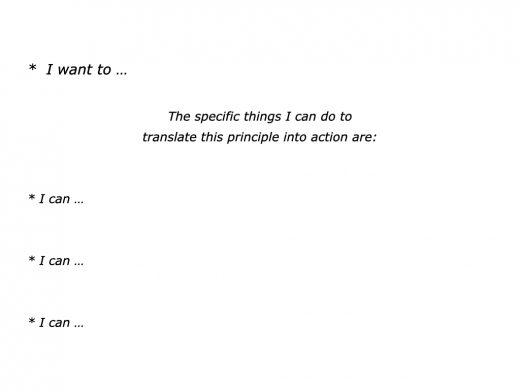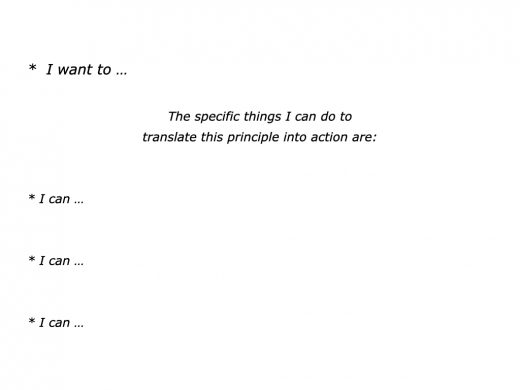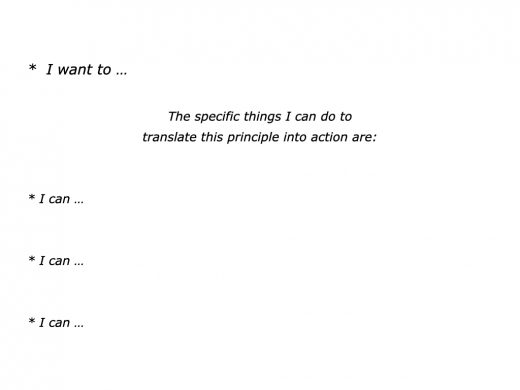 Personal Best
Looking ahead, can you think of a situation where you want to follow these principles and aim to do your personal best?
You may want to do this when encouraging a person, running a workshop, coaching a sports team, pursuing a project or doing another activity. You may want to do this as a parent, partner, mentor, leader, trusted advisor or in another role.
Looking ahead, how can you prepare properly? How can you move into action and follow your chosen principles? How can you check what is working and what can be improved? How can you do your personal best to achieve the picture of success?
Let's return to the field of sports. As mentioned earlier, this is one where many athletes drive themselves hard. They often need to reach a certain point where they can relax in order to deliver their best performances.
Jeremy Snape, a sports psychologist, described how it is important to be fully committed than worrying about being perfect. He explained this in the following way.
"Perfectionism can be good for driving your work ethic and your attention to detail. But it can also cause stress, procrastination and even avoidance – because you're afraid of not achieving it.  
"The really great sportspeople have the courage to throw themselves into any endeavour with 100% commitment, knowing that it's going to be imperfect."
John Wooden, the legendary American College basketball coach, was somebody who encouraged his players to always do their best. He never mentioned winning, but his teams won more titles than any other in College basketball history.
During his early career he began developing his famous Pyramid of Success. This consisted of guiding principles that athletes could put into practice both on and off the court.
The base of the Pyramid consists of phrases such as: Industriousness; Friendship: Loyalty; Cooperation; Enthusiasm. Behind each of these words is an explanation. The word Industriousness, for example, is explained in detail. This includes the phrases:
"In plain language, I mean you have to work – and work hard. There is no substitute for hard work. None. Worthwhile things come only from real work."
There are several levels to the Pyramid of Success. It culminates in the principle of Competitive Greatness. This is explained as:
"Perform at your best when your best is required. Your best is required each day."
John Wooden built teams that aimed to live these values rather than just laminate them. He reinforced the Pyramid of Success by using certain maxims to remind people of their responsibilities. These included the following.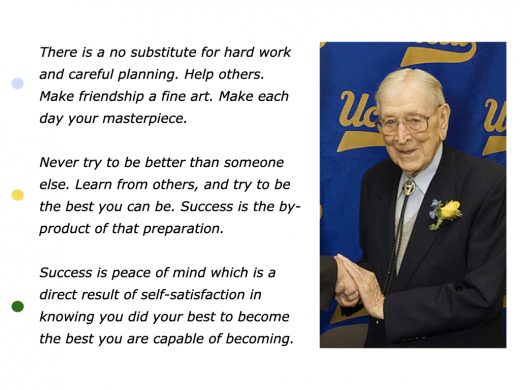 Many players, commentators and others were influenced by his work. Here are two quotes about Coach Wooden. The first is from Bill Walton, a former player.
"(He) has a heart, brain and soul that have enabled him to inspire others to reach levels of success and peace of mind that they might never have dreamed possible on their own."
The second is from Alan Castel, UCLA assistant professor of psychology, who interviewed Wooden about aging and memory during the summer 2008
"Wooden was a role model, not just as a coach and a wise man, but also for his modesty and character, and on how to age successfully.
"He was a legend in ways that go far beyond basketball. His personality, positivity, wisdom and attitude toward aging played important roles in his cognitive vitality."
Let's return to your own life and work. Looking ahead, think of a specific situation where you want to do superb work. This could be in your personal or professional life.
How can you do everything possible to prepare properly? How can you do your personal best in the situation? How can you give everything to make sure that afterwards you may be able to feel a sense of peace?
If you wish, try tackling the exercise on this theme. This invites you to complete the following sentences.