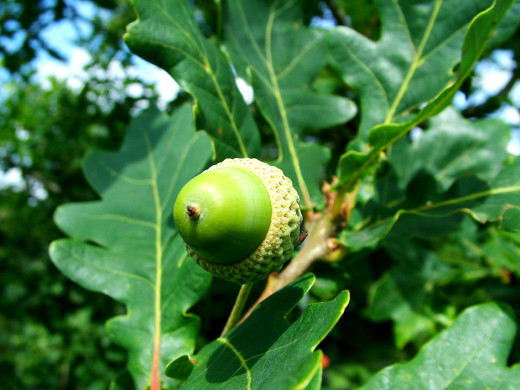 Can you think of a person who planted positive seeds during their time on the planet? They may have been somebody you knew or somebody you have heard about.
What did the person do to give people hope? Here are some answers that people give to this question.
The person who I believe
planted positive seeds was:
My grandma who spread love all around her … A teacher at school who helped me to believe in myself … The surgeon who treated me and many others for life-threatening illnesses. 
Kahlil Gibran who inspired many people with his books … Dame Cecily Saunders who helped to found the modern hospice movement … Martin Luther King with his 'I have a dream' speech. 
If you wish, try tackling the exercise on this theme. This invites you to do the following things.
Describe a person you have known or have heard about who you believe planted positive seeds in their life.
Describe the specific things they did to plant these seeds.
Describe the specific benefits that resulted from them taking these steps.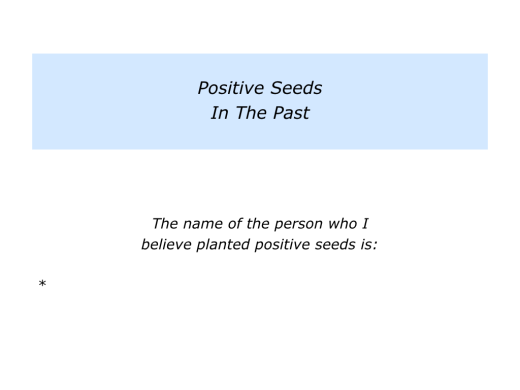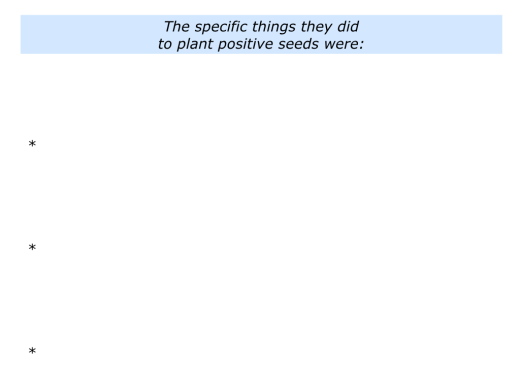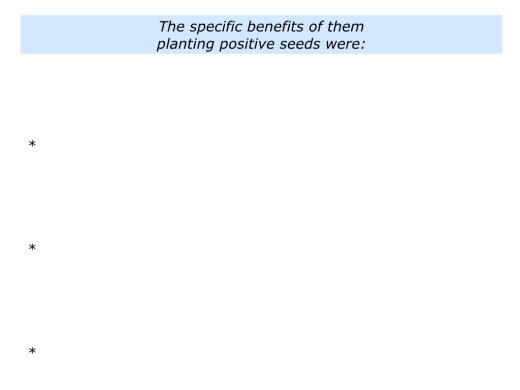 From the 1960s onwards I visited many people who pursued this path in their own ways. These included social workers, educators, writers, leaders and peace workers. During the 1970s many felt worried about the Cold War, for example, so I asked people:
"How do you manage to carry on working when there are so many challenging things happening in the world?"
Many people responded by speaking from their hearts. Whilst they each used different words, they gave a similar message. This could be summed up in the following way.
"I believe in encouraging people, so that is why I keep working. This is what I do."
Since then I have met many people who aim to encourage both present and future generations. Such people often pursue the following principles. Different people obviously use their talents to follow these in their own ways.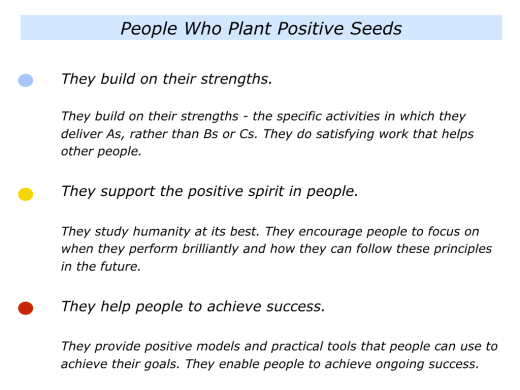 Henry Pluckrose was such a person. He was a remarkable teacher who inspired thousands of people around the world. Between 1968 and 1984 he was the head teacher of Prior Weston, a state primary school in London's Barbican.
Henry and his colleagues encouraged children to master the core learning skills and also be creative. The results were impressive. The school attracted a waiting list of students and hundreds of visitors from many countries.
I first heard about Prior Weston on the BBC radio programme The World At One. It was introduced as a school that 'everybody liked'. Students and parents were so enthusiastic that the presenter pleaded:
"Please tell me one thing that is wrong with the school."
The school's approach to education proved successful with students, parents and even governments. People from around the world flocked to see the approach and it eventually had to limit their numbers to 4,000 visitors a year.
Prior Weston was successful because the staff believed in the educational – rather than engineering – approach to running a school. The school encouraged children to build on their strengths, whilst also developing skills in other areas.
Whilst it was important to deliver certain results, these could be achieved by treating students as individuals. The school embodied the following principles of learning.
Learning must be real … Learning must relate to the individual's needs … Learning involves curiosity … Learning must encourage students to persevere at something they believe in doing … Learning must give students tools they can use to achieve success … Learning must be for today and tomorrow, not for yesterday.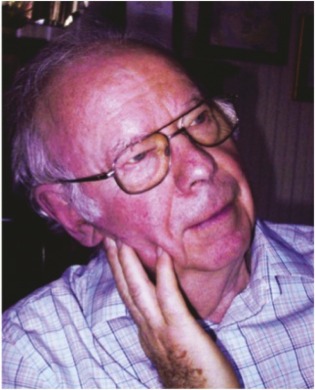 Prior Weston enabled children to master both social and educational skills. (Indeed, the second key statement on the prospectus emphasised the importance of social grace, that awareness and sensitivity for others should permeate school life.)
It also encouraged them to express their individuality through the arts – such as poetry, music and acting. Every year students went on scores of visits to local buildings, theatres, museums and work places.
Henry passed away on April 6, 2011, but his legacy continues to live on. Below is his obituary in the Guardian. Here is the introduction.
Henry Pluckrose, who has died aged 79, was one of the most inspiring teachers of his generation. He believed that children have intellectual, emotional and aesthetic capacities that few adults realise and too few schools exploit.
For more than 50 years, he made a major contribution to our understanding not only about how children learn, but about how to put that knowledge into practice. As founder headteacher, in 1968, of Prior Weston primary school in London, he established a model that aroused international interest and admiration.
http://www.guardian.co.uk/education/2011/may/03/henry-pluckrose-obituary
During the 60s, 70s and 80s I met many people who were using their strengths to help other people. These included the following.
Alec Dickson who founded Voluntary Service Overseas and Community Service Volunteers. The Foresight Group who gave me the chance to teach at the world's first School For Intrapreneurs. Jakob von Uexkull who created the Right Livelihood Foundation. This gave birth to what has become known as The Alternative Nobel Prize.
Since then advances in technology has made it possible to connect with many other people. Here are some of the people from whom I have learned.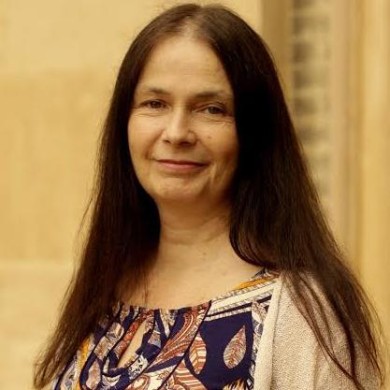 Jo Berry is somebody I contacted after hearing her talk about how her father was killed by a bomb planted by the IRA. Below is an introduction to her story that is taken directly from the Building Bridges For Peace website. You can discover more via the following link.
http://www.buildingbridgesforpeace.org/
On October 12th 1984 my father, Sir Anthony Berry and 4 others were killed in the bombing of the Grand Hotel, Brighton as they attended the Conservative Party Conference.
I made a personal decision just two days later, to bring something positive out of this emotionally shattering trauma and to try and understand those who had killed him.  
I chose to give up blame and revenge, instead taking responsibility for my pain and feelings, transforming them into passion for peace. The journey of healing began with my intention and I trusted that life would then bring me the opportunities to heal and grow.  
Jo went on to actively seek Pat Magee, one of the people who had helped to plant the bomb. They now tour the world together showing how it is possible to build bridges for peace. 
David Cooperrider and Diane Whitney are people I sought out after hearing about their work with Appreciative Inquiry. AI is a positive approach to helping people to develop. Here is an overview of the approach.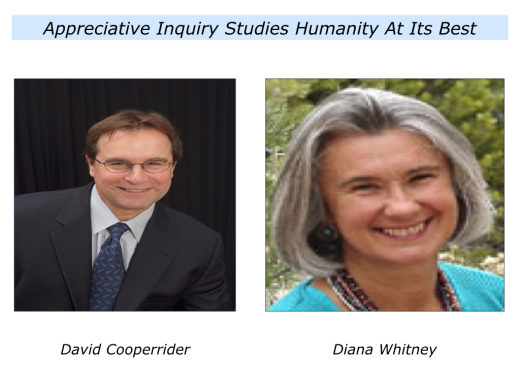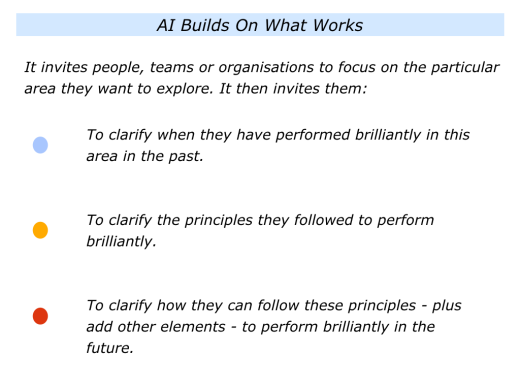 AI has been used by people in all walks of life to tackle challenges in their daily lives, work and communities. People like the approach. They build on when they have performed brilliantly and aim to keep developing.
In my own work I have used elements of it when working with organisations in business. Every time people have applied the approach properly they have delivered success.
As mentioned earlier, David Cooperrider is one of the founders of Appreciative Inquiry. The video below is an excerpt from his contribution to the USAID's Thought Leaders in Learning Speakers Series.
David explains how AI is translated into action. He focuses on how it can help people, teams and organisations to build on their strengths and achieve their picture of success. You can discover more about his work via the following link.
http://www.davidcooperrider.com/
Amanda Mackenzie is somebody I have known for since 1990s. Two years ago she was seconded from her role at Aviva to help set up and run Project Everyone. This culminated in launching The Global Goals for sustainable development. You can discover more via the following link.
http://www.project-everyone.org/
Her employers Aviva issued the following press release when she took up the post.
Amanda Mackenzie to lead global education programme
for UN's Sustainable Development Goals
Aviva announces that it will be a founding partner of a new initiative by Richard Curtis, film director and founder of Red Nose Day and Make Poverty History, which will aim to bring the UN's Sustainable Development Goals to every person around the world in 2015.
The UN's Goals will aim to end extreme poverty and arrest the problems caused by climate change. 
To help meet this challenge, Aviva's Chief Marketing Officer, Amanda Mackenzie, has been invited to work with Richard on this project for the next two years and has been specially seconded for this purpose. 
Amanda will lead a global education programme around the Goals and a legacy programme to see the eventual fulfilment of the goals.
Amanda has now moved to being the Chief Executive for Business In The Community. This organisation works with businesses of all sizes that are committed to having a positive impact on people and the planet. She continues to encourage both present and future generations.
Different people choose different ways to plant positive seeds during their lives. As mentioned earlier, sometimes they pursue the following principles.
They build on their strengths. They support the positive spirit in people. They help people to achieve success.
Looking ahead, are there any things you would like to do to continue to plant positive seeds? This could be in your personal or professional life.
If you wish, try tackling the exercise on this theme. This invites you to do the following things.
Describe the specific things you can do to plant positive seeds during your times on the planet.
Describe the specific benefits of planting these positive seeds.