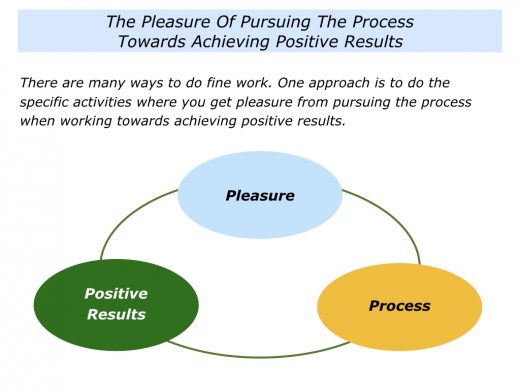 There are many ways to do fine work. One approach is to do the specific activities where you get pleasure from pursuing the process when working towards achieving positive results.
There are several definitions for the word process. The one we are exploring here is:
A process is a series of actions or steps you take in order to achieve a particular result.
A chef gets pleasure from choosing the ingredients, cooking delicious food and serving the meal. A vet gets pleasure from caring for animals, helping them to heal and seeing them regain their health.
Great workers also take a perverse pleasure in doing the grunt work required to do the great work. They may actually enjoy pushing themselves when training to run a marathon, climb a mountain or deliver a product by a deadline.
Such workers take certain steps when pursuing their chosen process. The starting point is the pleasure principle. They focus on doing something they love where they savour the nitty-gritty aspects of the work.
They translate their labour of love into a clear purpose. They may aim to cook a meal, renovate a house, paint a picture, run a seminar, pass on knowledge or do another activity. They often visualise the aim and also the benefits it will bring to people.
Great workers follow their chosen principles when doing the work. Some build on their strengths and aim to do work that is simple – in a profound way – satisfying and successful. They do their best to achieve positive results.
Looking at your own life and work, can you think of a specific activity where you get pleasure from many aspects of the process? This could be in your personal or professional life.
You may experience this when encouraging a person, running a workshop, nurturing a garden, solving a technical problem or doing another activity. You may experience it when acting in your role as a parent, educator, singer, nurse, fire fighter, leader, trusted advisor or in another role.
If you wish, try tackling the exercise on this theme. This invites you to do the following things.
Describe a specific activity where you get pleasure from pursuing the process when working towards achieving positive results. 
Describe the specific things you get pleasure from when pursuing this process.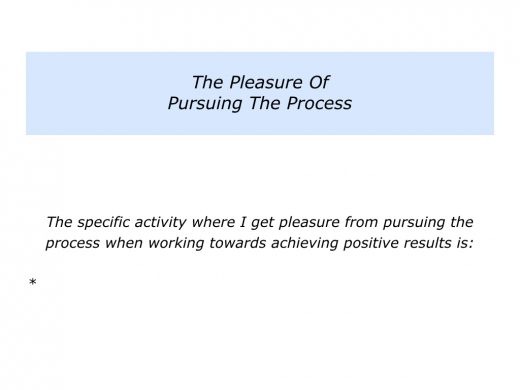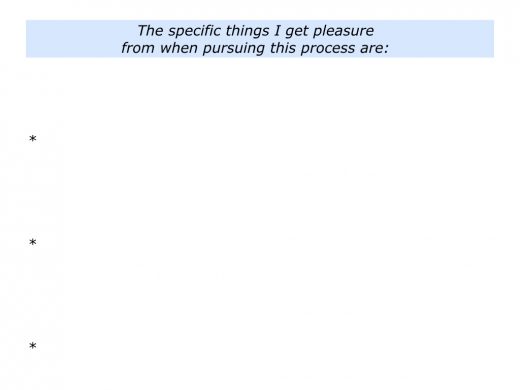 Different people follow this approach in different ways. Let's explore some of the steps they take when aiming to do superb work.
Pleasure
Great workers often follow the pleasure principle. They aim to do work that is satisfying and fascinating. They sometimes even find the struggles to be stimulating and use the learning to develop as people and professionals. They love to do what Cal Newport called Deep Work.
Richard Sheridan, who leads Menlo Innovations, has created a company that encourages people to take this step and find joy in their work. Below is an excerpt from their website and a video that explains their approach. You can discover move via the following link.
Our CEO and Chief Storyteller, Richard Sheridan, has recently written a book called Joy, Inc. about how he created a joyful culture at Menlo Innovations. 
The book describes how any organization can follow similar methods for a more passionate team. Last year, 2,197 people came from around the world to visit us.
They made the trek not to learn about technology, but to witness a radically different approach to workplace culture — one intentionally designed to produce joy.
At Menlo, we have built a culture that removes the fear and ambiguity that traditionally makes a workplace miserable.
With joy as the explicit goal, we've changed everything about how our company is run, and have brought that joy into the lives of our clients and their end users.
Joy, Inc. offers readers an inside look at our belief system and how it influences our physical environment, embraces making mistakes, and eliminates stereotypical meetings all while fostering dignity and respect for each other.
Joy, Inc. is for readers in any field who want tangible examples for a healthier, happier atmosphere at work – and the sustainable business results required for growth.  
Readers will come away with an inspirational blueprint for how to create a corporate culture centered on joy in their own workplace.
Process
Great workers often go through the stages of absorption, adventure and achievement. They absorb themselves fully in the work. They adventure, explore and learn. They then keep working to reach their goals and gain a sense of achievement.
Such workers also follow their chosen process. Sometimes they may appear not to follow a structured route, but they actually do. They follow a process that is logical for them but may not be transferable to other people. Whichever route they take, they often focus on the following themes.
Purpose
Great workers translate their passion into a clear purpose. They may aim to write an inspiring article, help a patient to heal, create pioneering software or achieve another goal. They may aim to use their talents to help people or the planet.
People who are service givers often pursue a similar purpose. They aim to use their strengths to do superb work that helps their stakeholders to achieve success. Different service givers then translate this purpose into working to achieve specific goals.
Principles
Great workers often follow the eternal principles in their chosen field. They then choose to build on and express these principles in their own way. Different people do this in different ways.
An educator, for example, aims to encourage, educate and enable their students to achieve success. They do this by clarifying what a person wants to learn. They then pass on knowledge that is personal – it relates to the person's agenda – practical and, in the widest sense, profitable.
People who do superb work follow the principles they believe in. They keep doing the basics and, when appropriate, add they brilliance. They aim to produce benefits for all their stakeholders and help them to achieve success.
Process
Great workers love to throw themselves into the process of doing the actual work. Their heart wants to do the work. Their head makes sense of the strategy to pursue. They then use their 'hands' – in the sense of their whole being – to work towards achieving the goals.
Such workers often balance what appear to be paradoxes when doing the work. They helicopter above the process to see the recurring patterns whilst also being hands-on. They focus on the big picture whilst also having attention to detail.
Anita Roddick, who founded The Body Shop, was somebody who embodied these qualities. She loved retail but also believed in building an ethical and successful business.
She may have come across as an idealist, but Anita was savvy. She learned the can do attitude from her Italian parents. They ran an American-style Diner café in in Littlehampton, Sussex, during the 1950s.
Opening the café at 5.00 am to cater for the fishermen's breakfast, they kept serving throughout the day until the last customer was satisfied. Anita served in the café from an early age and felt what it was like to handle money.
Her apprenticeship proved invaluable when starting the first shop in Brighton in 1976. Gilly Mckay and Alison Cork describe what happened in their book The Body Shop. Below are some quotes from Anita that outline her approach.
When I opened the doors, I was not thinking about changing the world. I simply had to take £1000 in the first week to feed the baby and pay the bills. 
With £4000 borrowed from the bank I could only afford to spend £700 on products. But the 20 products we formulated looked pretty pathetic all standing on one shelf. So to make the shop look busy and full I produced them in five sizes of bottles. 
I couldn't afford fancy packaging so I bought the cheapest bottles available and the labels were handwritten.
We painted the ceiling of our tiny shop green to cover the damp patches and put garden fencing on the walls to stop rain splashing the products.  
The first day we opened was a Saturday and we took £100. The other retailers in the street were laying odds of 10-1 against our surviving six months, but we were on our way.
Below is an early video of Anita in action. It shows how, like many practitioners, she loved the hands-on part of her work. You can learn more about her legacy via the following link to The Roddick Foundation.
Positive Results
Great workers love to immerse themselves in the process of doing the actual work. They also love to produce positive results.
Sometimes the results are tangible. They may take the form of a book, house, film or other product. Sometimes the results take the form of helping people to improve their health, hope or happiness.
Jürgen Griesbeck has produced results on many levels since founding streetfootballworld. Starting in 1996, he created Fútbol por la Paz (Football for Peace) as a project using football to combat violence and drugs on the streets of Medellín, Colombia.
Based on this experience, he created Straßenfußball für Toleranz (Street Football for Tolerance) in Brandenburg, Germany, which led to birth of streetfootballworld in 2002. This supports a worldwide network of organisations that uses football as a tool to empower disadvantaged young people.
Below is an excerpt from the organisation's website. You can discover more via the following link.
We want to change the world through
football. And we want to do it by 2030.
Our work started in 2002, driven by the belief that football can be an effective tool to transform our societies.
When we started, we knew that there were community organisations using football to catalyse change in their societies. We based our action on the belief that, to achieve global change, we needed to connect the dots, we needed to create the team, and we needed to act as a collective.

We created the streetfootballworld network to identify, connect and empower community organisations that have demonstrated to have a sustainable social impact in their communities, and enable them to do more. Our network currently includes 131 network members that, together, reach over two million people in 86 countries.
For over 15 years, we have been implementing social impact strategies in cooperation with our network members and a wide range of partners – from FIFA and UEFA to sponsors, governments and private partners, who believe in the quality standards that underpin the work of our network.
We want to maximise the power of football for good. That is why we also work develop, incubate and impulse social enterprises – such as Common Goal or the third half – that can contribute to advancing and leveraging the field of football for good, make it sustainable and amplify its global impact.
Our contribution to the 2030
Agenda for Sustainable Development
In 2015, for the first time representatives from all layers of society came together to align behind a shared vision of how a better world should look, and put together an action plan to achieve it: the 2030 Sustainable Development Agenda.
Our contribution to the 2030 Agenda is multi-fold. We work to amplify the impact of football as a catalyst to tackle social change. 
We work to connect the world of football and coordinate collective action to support the Sustainable Development Agenda. And, we use football as the universal language to unite the global community to overcome the greatest challenges of our times.
Let's return to your own life and work. Looking ahead, how can you continue to pursue the activity where you love doing the actual work?
You may love the process of coaching, mentoring, singing, gardening, solving a technical problem or doing another activity. You may love the process of working as an educator, nurse, carer, leader, mediator, vet, designer, retailer or in another role.
If you wish, try tackling the exercise on this theme. This invites you to do the following things.
Describe a specific activity where you get pleasure from pursuing the process when working towards achieving positive results.
Describe the specific things you can do to pursue this activity in the future.
Describe the specific benefits – for you and maybe for other people – of you pursuing this activity in the future.