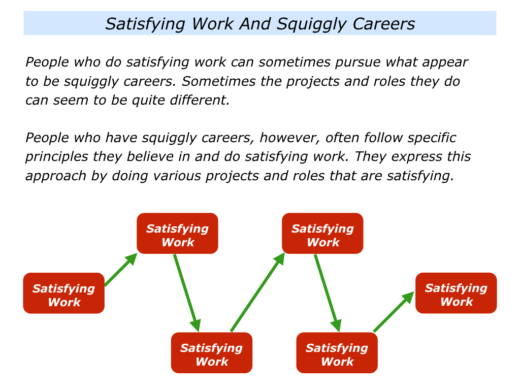 There are many ways to develop a satisfying career. One approach is to follow a specific profession and follow a relatively straight career path. Certainly this is a path that is followed by many people.
Some people pursue squiggly careers, however, where they move from project to project and role to role. Sometimes the projects and roles they do can appear quite different.
People who have squiggly careers often pursue two themes. They aim to follow specific principles they believe in and do satisfying work. They express this approach by doing various projects and roles that are satisfying.
Mitch Joel talked about this concept in his book CTRL ALT Delete. Here is a short introduction to his view of squiggly careers. You can discover more about his work on various topics via the following link.
http://www.twistimage.com/blog/
 Embrace The Squiggle
In the second half of the book (called Reboot: You), I talk about the value of having a squiggly career.
How the most interesting and successful people I know didn't have a very linear trajectory.
How it will not be uncommon for many of us to have 4-5 different careers in our lifetime (as opposed to 4-5 different jobs in our careers).
Too many people feel trapped and compelled to stay the course. Too many people think that a linear career is the prudent and true path.
Squiggly is interesting. Squiggly is better.
Looking around, can you think of somebody who has followed this approach? What have been the roles or projects they have done in such a squiggly career? This could be somebody you know or somebody you have heard about.
The person may have started out in one profession but is now do something that appears quite different. Or they may have moved from project to project in several different fields. They may have moved from nursing to hospitality to running a café to running their own business or whatever.
The things they have done may not appear to have much in common. Looking at these, however, can you see any recurring themes? They may have involved encouraging people, creating enriching environments, building new things or whatever.
If you wish, try tackling the exercise on this theme. This invites you to do the following things.
Describe a person who has had what appears to be a squiggly career.
Describe the specific jobs or projects they have done that make it look like they have had such a career.
Describe the specific common themes in some of these jobs or projects.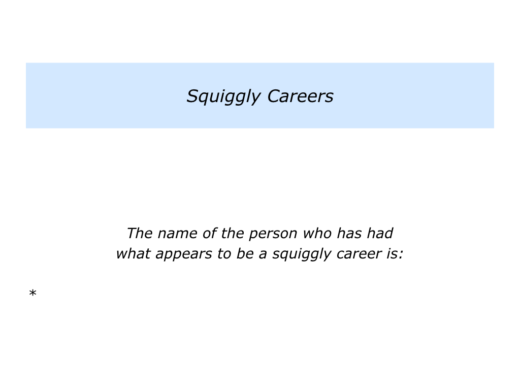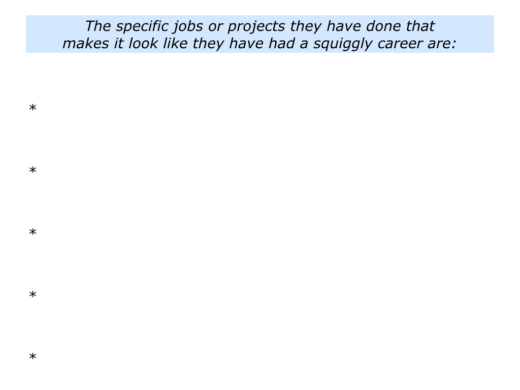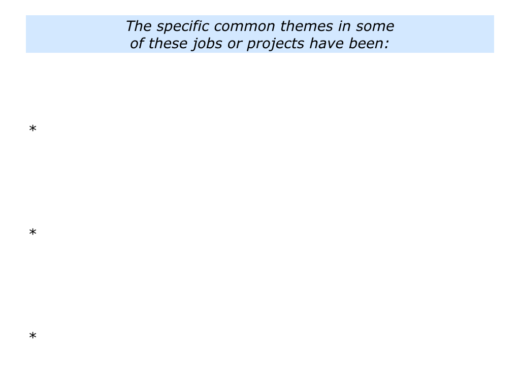 Geoff is somebody who has had such a career. One of his common themes has been focusing how to make things work better. This later expressed itself in helping people to fulfill their potential.
A promising young athlete, he suffered a severe injury during his teens. The recovery process was long, but it fuelled his interest in studying how the human body has the capacity for healing.
Geoff studied a science subject at college, but he found himself gravitating towards coaching young athletes in the local schools. At that stage he thought of going on to teach physical education. But the first job he got was something totally different.
Visiting a career fair, he was attracted to a software company that helped organisations to be more effective. The salary was also enticing and would give him some independence. Starting as a trainee, he soon moved on to visiting customers to install the software.
The customers began asking him to solve certain problems. Geoff proved to be good at getting to the heart of the matter and making thing work effectively. He began building a network of good relationships with customers.
Spotting this talent, his company asked him to move into sales. Reluctant at first, Geoff redefined the role as helping customers to succeed. This resulted in him landing several big contracts and eventually leading the sales team.
Around the same time Geoff rekindled his interest in sports. Backed by his company, he helped to develop software that athletes could use to improve their performance. This led to him taking a qualification in sports science.
Serendipity then took over. Meeting a former boss at a conference, Geoff was invited to lead an intrapreneurship programme for their company. Like many such initiatives, it was inspired by the work of Art Fry, the inventor of Post-it Notes at 3M.
The intrapreneur approach encouraged individuals to develop new products and services whilst remaining as paid employees. The company did not want to lose talented people, so it provided a platform for them to implement their ideas.
Geoff stayed in the role for five years. The programme produced some notable successes but then ran into trouble. The leader who hired him moved on and the new leader embarked on cost cutting. Fed up with fighting the system, Geoff looked for other opportunities.
At this point he contacted me through a friend. Bearing in mind his overall life goals, we looked at how he could find or create satisfying work. We focused on how he could continue:
To build on his strengths.
To find sponsors – employers or customers – who would pay him for what he did best. 
To help these sponsors to achieve success.
If you are interested, you can discover more about this approach via the following link.
Geoff then looked at his options. He could try to find a full-time role, do freelance work or build a small business with some former colleagues. Choosing to go the freelance route, he aimed to do project work where he could deliver something substantial to customers.
Bearing in mind that Geoff's network would be the most likely place to find work, we began exploring possibilities. This led to him doing the classic exercise Find A Need And Fill It. Looking at the people he knew, Geoff focused on the following things.
The needs they may have at the moment.
The needs they may have in the future.
The specific things he could do to use his strengths to fulfil these needs.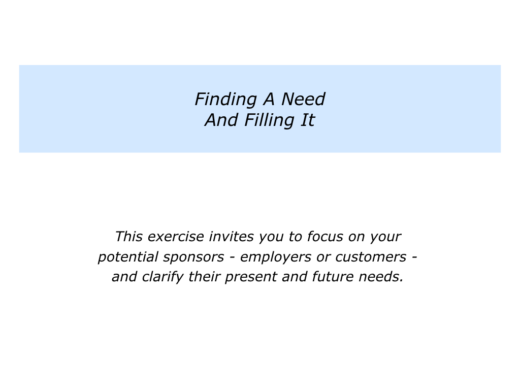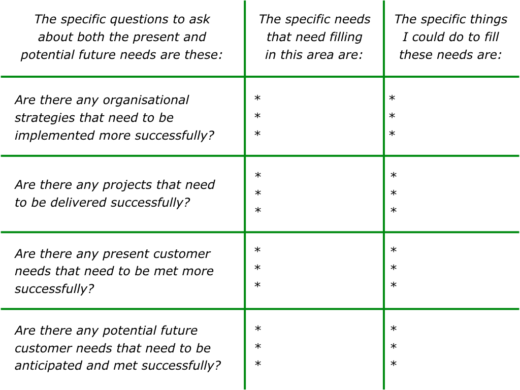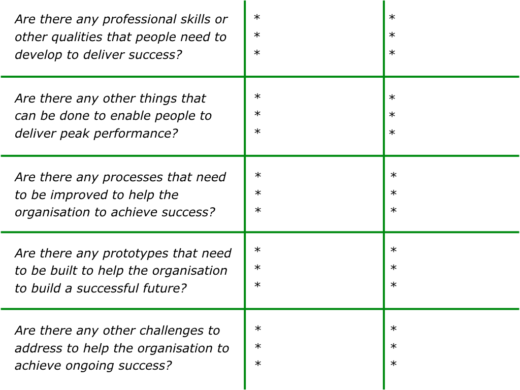 Geoff clarified the specific results he could deliver for several people in his network. These included several of his former bosses. He then began meeting these people for informal chats.
After the first few minutes of these meetings, he asked about some of the challenges facing their organisations. Geoff then shared practical ideas they might use to tackle the challenges.
He aimed to do five such meetings a week. These eventually led to him leading two projects. One was a talent management programme. The other involved building a prototype for delivering better customer service and producing success stories.
Geoff now works as a trusted advisor to both business and sports organisations. He helps people and teams to deliver high performance.
Because of his background, Geoff goes beyond talking about concepts. He gives people practical tools they can use to fulfil their potential. This has been a theme throughout his squiggly career.
Different people do many different jobs when pursuing such careers. One key factor, however, is that they pursue the theme of doing satisfying work. This can take them to many different places during their careers.
Looking at your own life, what are the kinds of work that you find satisfying to do? You may enjoy developing technology, helping customers to succeed, nurturing future leaders, designing beautiful things, giving people hope or whatever. How can you do this satisfying work in the future?
One person I worked with found her present role this way. When going for interviews, she was often asked the old career questions:
"What are your career aspirations? Where do you want to be in five years time?"
She answered in the following way.
"The world of work is changing rapidly, so I cannot tell you exactly what the role will be. Whatever the role is it, however, it will have the following qualities. It will be one where:
1) I am working with a company that is developing pioneering technology.
2) The technology helps people to take more control of their lives.
3) I have the opportunity to develop future leaders for the company.
"I will then do my best to help the company to achieve ongoing success."
You will, of course, have your own approach to finding or creating satisfying work. The way you express this could lead to you developing a straight line or squiggly career.
If you wish, try tackling the final exercise on this theme. This invites you to do the following things.
Describe the specific kinds of work that you find satisfying to do. 
Describe the specific things you can do to find or create such satisfying work – such as by doing certain kinds of projects or jobs – in the future.
Describe the specific benefits – both for yourself and for the people you work for – of doing such satisfying work.