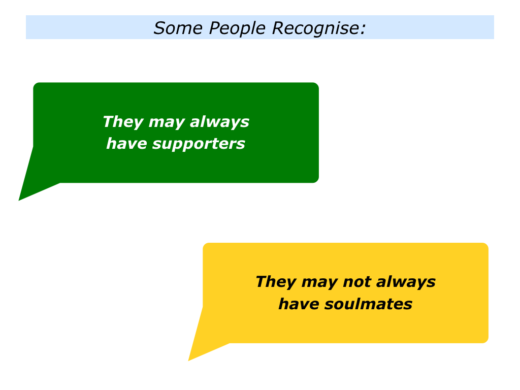 People who do creative things may find lots of supporters. They may find it challenging, however, to find many creative soulmates. They may get lots of encouragement, but they may also have a feeling of aloneness. Let's explore the difference between supporters and soulmates.
Supporters
They are people who will support you because they believe in some of the things you are doing. They may also help you to do these things in ways that benefit you or other people – perhaps including themselves. 
Soulmates 
They are people who see, feel and experience the world from the same point of view as you. They may sit alongside you, reassure you and provide insights you can use on the journey you are pursuing.
The word soulmate is often used in a romantic sense, but here we are talking about creative soulmates. These are people who seem able to understand and walk beside you on your particular journey.
Looking back, can you recall people who have been supporters or soulmates in your personal or professional life? They may have been parents, teachers, loved ones, friends or other people who supported your efforts.
These may have been people you have known for many years. You may get stimulation, however, from soulmates you have never met. You may learn from writers, artists, pioneers and other who seem to have been on similar journeys.
If you wish, try tackling the exercise on this theme. This invites you to do the following things.
Describe some of the people who have acted as supporters or soulmates for you in the past. 
Describe the specific things that some of these people did to act as supporters or soulmates.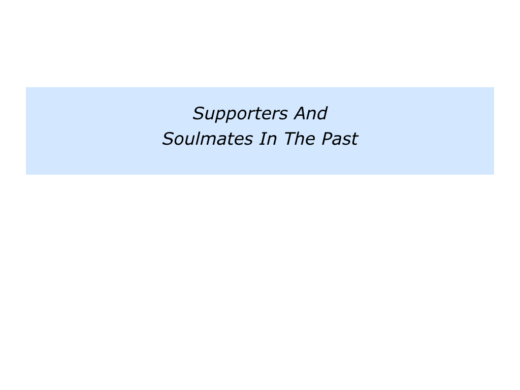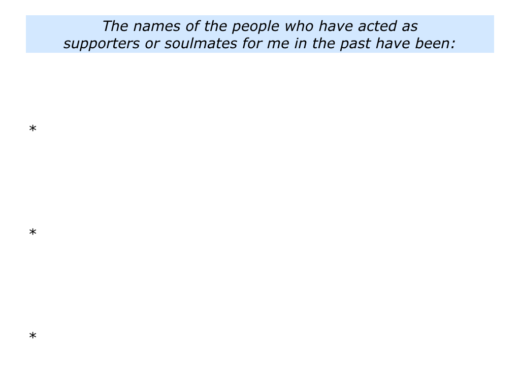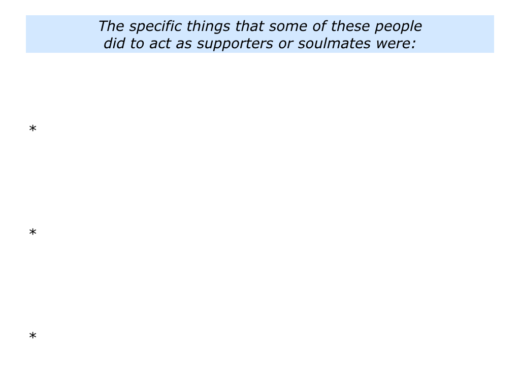 People who want to do creative work may find lots of supporters, but it can be harder to find creative soulmates. Everybody is different, of course, but there are degrees of difference.
A person who is creative may take the role of being a deviant, an outlier or even an outsider. Writing in The Outsider, Colin Wilson quoted Henri Barbusse as saying that sometimes such an individual:
"Sees too deep and too much."
There is, of course, a positive side to such aloneness. John Weiss described some aspects of this in an article he wrote called If You Want to be an Artist, Understand Loneliness. In it he quotes Voltaire, who wrote:
"The happiest of all lives is a busy solitude."
Below are some excerpts from John's article. You can discover more via the following link.
Canadian artist Robert Genn was famous for his twice weekly letters. He sent them, via email, to a legion of subscribers who enjoyed his insights and wisdom on creative issues, art and life in general.
Genn weighed in once on the topic of loneliness. He wrote, "The art of effective aloneness includes the understanding that solitude is necessary for the creative gain."
Robert Genn understood that if you wanted to be an artist, you better understand loneliness. Because like it or not, a good deal of painting, writing, sculpting, music and such comes down to independent effort. 
Late nights of sustained creation. Early morning epiphanies. Private frustrations and repetitive rituals. Long stretches of weekends and canvas time where you are deep in the thick of it.  
Navigating the whispers of inspiration, personal expression and tortured execution. This is a big part of what it means to be an artist.

In my own life I am immersed in a constant onslaught of interaction and public exposure.
My day job as a police chief requires regular communication with the public, co-workers, politicians, vendors and more. It's challenging, rewarding and exhausting.  
Exhausting because at heart I am an introvert, most happy in the solitude of my home. 
My best creative work seems to flow late at night or early in the morning. When no-one is around and I am free to access my deepest, artistic compulsions.
For me, a degree of loneliness and solitude amplifies my creative juices and results in some of my best work. It seems I require abject quiet and no disruptions to tap into the deepest veins of creativity.
We all crave some degree of companionship and human interaction. But many artists also require a measure of solitude. Perhaps even loneliness. To harvest the deepest of our creative proclivities and innermost expressions.
As mentioned earlier, some people get stimulation and solace from people they have never met. They may draw strength from artists, musicians, scientists, educators and others who have taken a similar path in life.
How to find such potential soulmates? One approach is to focus on your tradition. Looking at the work you are doing, you can ask the following questions.
Who are the people I admire that have taken a similar path in the past? Who has had a similar philosophy? What did they do to translate this philosophy into action? How can I follow a similar path in my own way?
Imagine you care for people in a hospice. You may draw strength from the path taken by Dame Cicely Saunders and Sheila Cassidy. They showed how it was possible to fully care for individuals and their families.
You may also admire the present work done by BJ Miller and his colleagues at The Zen Hospice in San Francisco. This helps people to feel human until the end of their lives.
Below is a TED talk in which BJ describes this approach. You can discover more via the following link.
Imagine you are working in education. You may draw inspiration from the work done by people such as John Dewey and Maria Montessori. They helped to pioneer the way for the humanistic approach to education.
You may also admire the current work of Kiran Bir Sethi. She created the remarkable programme called Design For Change. You can discover more via the following link.
Let's return to your own life and work. Looking ahead, are there any things you can do to spend time with supporters or soulmates? How can you encourage these people? What may be the benefits?
If you wish, try tackling the exercise on this theme. This invites you to do the following things.
Describe the specific things you can do to spend time with or work with supporters or soulmates in the future.
Describe the specific things you can do to encourage these supporters or soulmates.