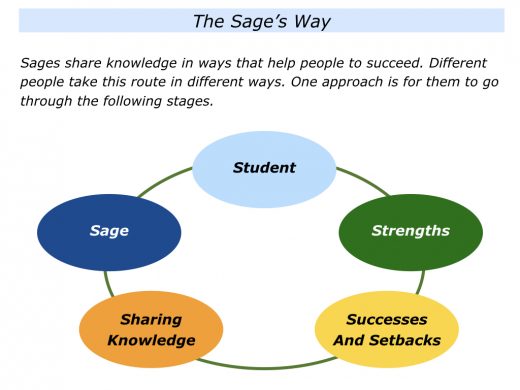 Sages are generous and like to share knowledge with people. They are often like good educators. They love to encourage and enable people to succeed.
They are many ways to be a sage. One approach is for them to always be a student. It is to remain humble, keep learning and develop. It is then to use that learning to help other people.
Some sages maintain the ability to be both skipping and serious. They seem to skip with joy because they are positive, grateful and appreciate life. They are curious and can be playful but also see things in perspective.
Sages often have a guiding philosophy and are serious about certain things in life. They reflect deeply, learn from eternal wisdom and study what works. They then move from the concept to the concrete and offer people practical tools they can use in their lives and work.
Different people take different routes on this journey. Some start by exploring many activities before settling on studying a particular topic that plays to their strengths.
They then set specific goals. They may aim to pursue a project, develop as a professional or achieve their view of success. The journey brings both successes and setbacks but – being a student – the learn from both.
Such people are a mixture of both explorers and educators. They love to study what works, simplify what works – in a profound way – and share what works.
Different people pass on this knowledge in different ways. They may do so through writing, educating, coaching, mentoring or developing another way to help people.
Sages are often approached by people who want to learn. When this happens, they make the person feel welcome and clarify their aims. When appropriate, they then pass on knowledge in a way the person can use to achieve their goals.
The journey does not end there. Sages recognise that, on the circle of ongoing development, the sage is next to the student. It is vital for them to continue to be humble, learn and develop.
Sages are often seen by others as wise, but they don't see themselves this way. They see themselves as lifetime students who still have much to learn. The sweep of history is so large and they are so small.
They aim to learn what they can about life and, when appropriate, share it with others. Sages aim to do their best to encourage both present and future generations.
Looking back on your life, can you think of somebody who demonstrated some of the qualities shown by a sage? This could have been a parent, friend, teacher, coach, mentor or another person.
How did they demonstrate these qualities? What happened as a result? They may, for example, have encouraged and enabled people to shape their future lives.
If you wish, try tackling the exercise on this theme. This invites you to do the following things.
Describe the person who demonstrated some of the qualities shown by a sage.
Describe the specific things they did to demonstrate these qualities.
Describe the specific things that happened as a result.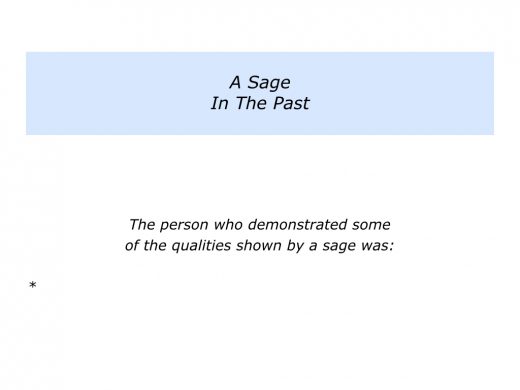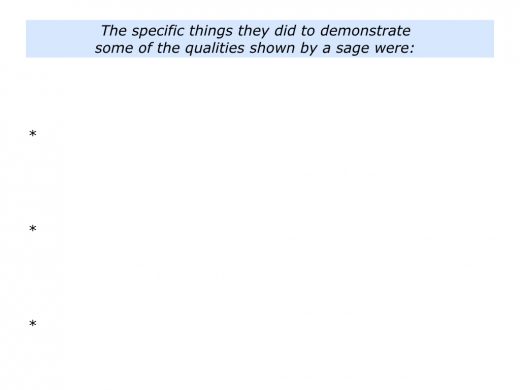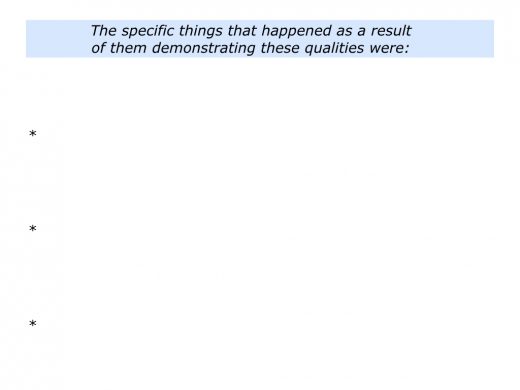 As mentioned earlier, there are many ways to develop the qualities shown by sages. Let's explore some of these.
Student 
Sages are lifelong learners when focusing on the areas they find fascinating. They want to make sense of things and pass on this knowledge to help others succeed.
Such people continue to have a student mindset when exploring their chosen themes. They also maintain the ability to educate themselves.
Different people do this in different ways. One approach is for them to focus on enjoyment, effectiveness and excellence.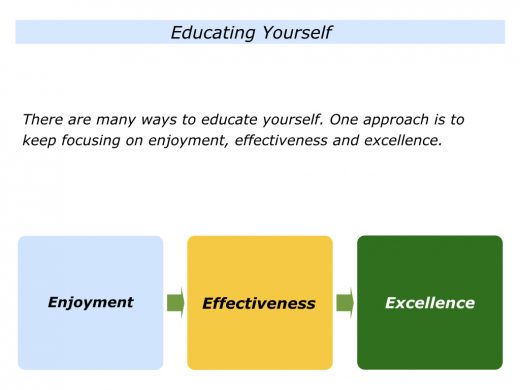 Enjoyment
Lifetime learners often start by focusing on something they will enjoy learning. They may aim to pursue a passion, explore a fascinating topic or develop a specific skill.
Whilst focusing on doing something they enjoy, they apply themselves fully. They are prepared to sweat and tackle challenges along the way. They see this as being a necessary part of pursuing the activity or working to achieve a specific goal.
Effectiveness 
Sages focus on what works. When developing a skill, they learn from good models and study success. Building on their own strengths, they then apply these successful principles in their own way.
Being lifelong students, they keep evaluating their own efforts. They aim: a) To build on what they do well; b) To tackle areas for improvement. They embody Kaizen – the concept of constant improvement – and keep developing.
Excellence
They may continue to develop a skill, for example, and aim to achieve excellence. Providing they have a certain talent, the journey from 0/10 to 7/10 can be relatively simple. The hard part is the exponential climb from 7/10 to 10/10.
This calls for focusing on a specific niche where they have the ability to do superb work. They aim to maintain the habit of delivering excellence and sometimes do work that is extraordinary.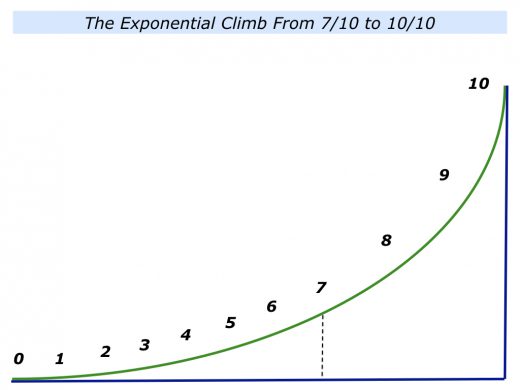 Strengths 
Sages often have a history of exploring many different areas before settling on their chosen field. Exploring this field further, they focus on a specific aspect they find fascinating. They choose:
To build on their strengths;
To focus on a specific niche and become specialists; 
To do superb work and aim to achieve specific goals.
George Lyward was one such person who took this route. He was a charismatic educationalist best known for achieving outstanding results at Finchden Manor, a therapeutic community for disturbed boys. He had ability to immediately reach young people, especially those who he said were:
Fighting themselves or fighting the world.
Meeting George at a conference, I asked if I could visit him and explore how to help young people. He immediately agreed and invited me to spend two days as a guest.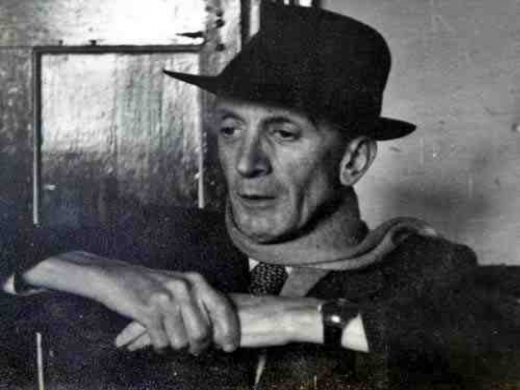 Finchden provided a sanctuary where the boys realised there was little point in fighting anybody. Once they experienced this realisation – and the feeling of others caring for them – they could get on with their lives.
Tom Robinson, the musician and radio presenter, was somebody who found a sanctuary at Finchden. Here he explains his first visit there and how George Lyward immediately connected with him.
One night in the winter of 1966 I swallowed a handful of pills in a boarding school dorm to try and end my life, having fallen hopelessly and unrequitedly in love with another boy.
Back then homosexuality was still punishable by four years in prison and at 16, awash with hormones and self-loathing, I'd rather have died than admit to anyone who and what I truly was.  
My subsequent spell in a clinic with tests, sedatives, antidepressants and psychoanalysis did little to improve my frame of mind. Today my despairing father was driving me through the Weald of Kent towards my last hope – an interview at Finchden Manor.  
At the very edge of Tenterden a curving gravel drive hedged in with overgrown yew gave suddenly onto the courtyard of a battered Jacobean manor house.  
Even as we parked, several unshaven faces stared out through dirty leaded windows that had been broken and mended again and again. They were framed with hair like – not Beatles or even Rolling Stones – but like, well, girls. It was January 1967.
As George Lyward stepped forward to take my hand in both of his, and hold it for longer than felt comfortable, I became aware of a formidable charisma.
'Hello,' he said, looking at me piercingly for a moment over his glasses before adding softly 'You're very lonely aren't you? I practically burst into tears on the spot.
After all the drugs and psychiatric nonsense, here at last was someone who understood, saw at once where I was hurting and knew how to make the hurting stop. I instinctively trusted him with my life. 
At the end of my visit, Mr Lyward told me Finchden was currently full with a long waiting list, and in any case didn't normally take boys as 'sick' as me. Then he asked quite suddenly: 'Do you want to come?' I seized the lifeline, and stayed six years.
The boys at Finchden referred to George at 'The Chief'. They saw him as compassionate but also tough. Many felt they owed him a great debt. They epitomised his approach in a sketch they performed during one of their regular theatrical events.
Here is part of a script they wrote and performed. In it one boy played George Lyward and another a boy applying to come to Finchden.
GL: And what can we do for you, my boy?

Boy: Please … I want to come to Finchden.

GL: And what is the matter with you, my boy?

Boy: I've got schizophrenia. (Bursts into tears.)

GL: There, there, my boy. (Pats Boy vaguely on head.) You shall come to us.

Boy: Oh, thank you, sir! What shall I bring?

GL: Bring? Bring nothing.

Boy: Nothing, sir?

GL: Well – ah – my boy – bring a toothbrush. And – ah – if you have one, bring a dream.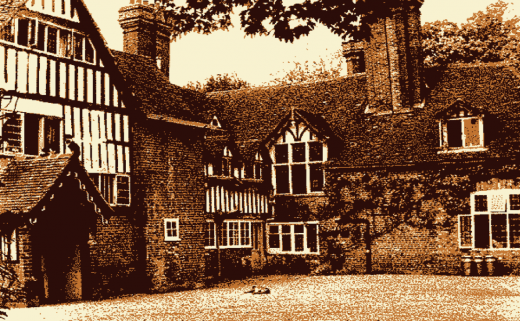 Different people take different routes to becoming sages. Many focus on the things that give them positive energy. Sometimes, however, it can take serendipity to discover their true strengths.
George Lyward was always good at working with difficult people. As a prefect at school, for example, he was asked to take care of both troubled children and the boys who bullied others.
Winning a choral scholarship to university, he played lead roles in student musicals. Studying to become a parson, he changed his mind two weeks before his planned ordination.
Going on to a series of teaching posts, he suffered a serious breakdown following the breaking of an engagement to marry. George then spent some time recovering in a nursing home.
John Prickett, who gave the Memorial Address at St. Martin's in The Field, in October 1973, described what happened next.
It was while he was recovering at this nursing home that Dr Crichton-Miller (who was treating George) asked him to help some boy patients of his.
He was so successful in this that eventually, as the demand for his help increased, he moved, at the suggestion of Dr Rees, to the farm of one of Rees's old patients known as the Guildables, in Edenbridge, Kent.
That was in 1930. By 1935 he had 20 boys there and was looking out for better and bigger accommodation.  
And so it was that he eventually moved to Finchden Manor, where (including a break for evacuation to the Welsh border during the war) he worked for 38 years.
George taught me many things during my visit to Finchden. One key lesson was to look for when a person comes alive and then to help them to pursue this path.
This was a route he took in his own life. Like many sages, George chose to build on his strengths and aimed to do superb work. This can lead to the next stage.
Successes And Setbacks
Many sages have had both successes and setbacks. The successes can bring highs, but they also recognise that vulnerability can be a great teacher.
During the early 1970s I attended a session run by Viktor Frankl who wrote Man's Search For Meaning. Looking back on his experiences in the concentration camps, he described the following approach.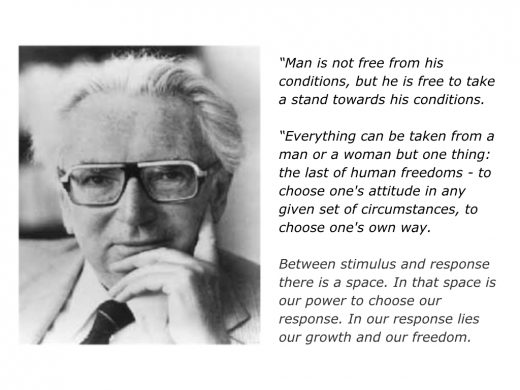 Sages are sensitive to things that are happening in a certain field. They aim to manage these feelings, however, rather than let their feelings manage them. How to take this step? One approach is summed up in the following view of using feelings in a positive way.
Feelings are a gift. Depending on what you see or experience in the world, sometimes you may feel up and sometimes you may feel down. It can then be useful to ask the following questions: 
What am I feeling? How can I use this feeling to help other people? How can I use it to build a better world?
The Elders are a group of people who use their knowledge to help others. They draw on the experience of people such as Mary Robinson, Gro Harlem Brundtland, Grace Machel, Ban Ki-Moon and Desmond Tutu.
Here is an introduction to the Elders given by Nelson Mandela. This is followed by an excerpt from their website. You can discover more via the following link.
The Elders are an independent group of global leaders working together for peace, justice and human rights.
Our vision is of a world where people live in peace, conscious of their common humanity and their shared responsibilities for each other, for the planet and for future generations.
We envisage a world in which there is universal respect for human rights; in which poverty has been eliminated; in which people are free from fear and oppression and are able to fulfil their true potential.
Here is a video in which Mary Robinson explains the Elders' desire to give voice to those who may not be heard.
Sharing Knowledge
Sages are like good educators. Generous and kind, they want to encourage and enable people succeed. Bearing in mind their strengths, they may share knowledge in ways that connect with people.
They may write articles, publish books, run workshops, give lectures, make films, curate a website or use another media. They may help others by acting as a mentor, coach, counsellor, educator, trusted advisor or in another role.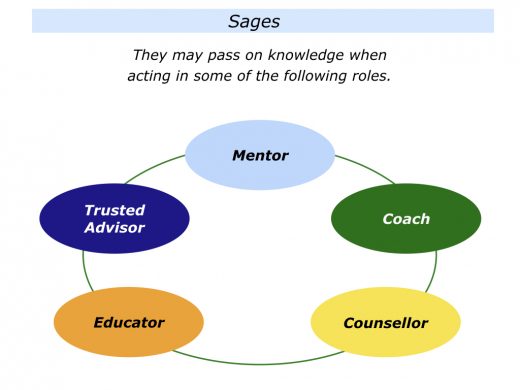 Good mentors, for example, sometimes demonstrate sage-like qualities. They create a stimulating sanctuary in which a person can feel safe and at ease. They then pass on knowledge that helps the person to tackle challenges and achieve their picture of success.
Such mentors build on their strengths. They know their areas of expertise and also the kind of mentees with whom they work best. At the same time, they are committed to continuous learning. This means that they keep developing as professionals and people.
Many successful people use mentors. Why? They sometimes like to meet with a third party who helps them to get an overview of a situation. They can then explore their possible options, make decisions and chart their route forwards.
Good mentors prepare properly before meeting a person. The following pages show some of the themes they explore before a session. These are also the qualities that are sometimes demonstrated by sages. They focus on how they can pass on knowledge in a way that helps a person to succeed.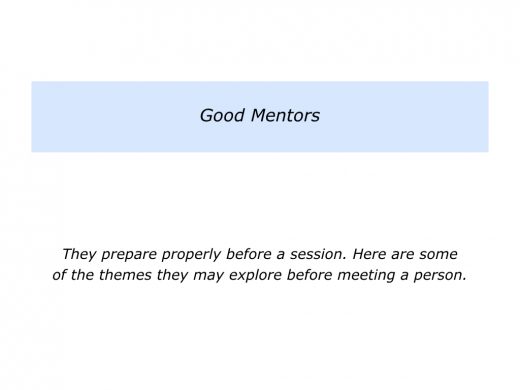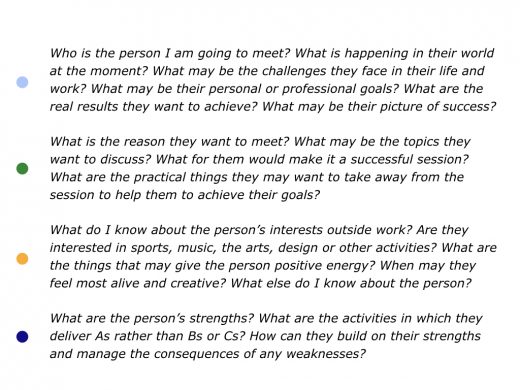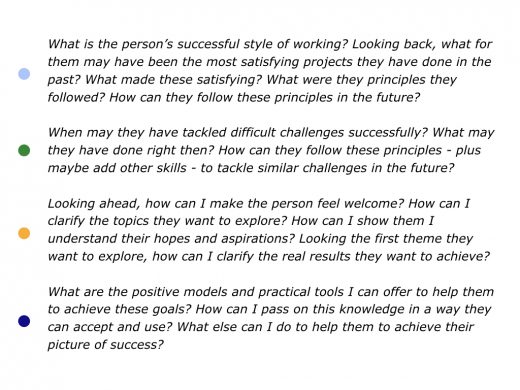 Sages sometimes act like good educators. When asked for advice, they start by clarifying what the person aims to achieve. They then aim to share knowledge that is personal, practical and profitable.
Personal: It must relate to the person and their goals. 
Practical: It must be practical and provide tools that help the person to achieve their goals.  
Profitable: It must be – in the widest sense – profitable and help the person to achieve their goals.
There are many ways to help people. One approach is to study what works and become a superb worker. It is then to share knowledge that helps people to succeed.
Sometimes this can bring temptations. Some people may be tempted to become gurus who attract followers, but this is not the sage's way. Let's explore more of the qualities they demonstrate.
Sage
Sages sometimes demonstrate what appear to be paradoxes. They can be both humble and strong; visionary and detailed; focused and flexible. They believe the work they are doing is important but do not see themselves as important.
Although considered wise by other people, they do not see themselves as wise. They see themselves as lifetime students who have much to learn. This helps them to maintain a sense of perspective.
Sages who are invited to give lectures often have a conversational style rather than aim to be charismatic. They communicate in a profound way rather than leap around the stage. Sometimes they speak in a way that reaches people's souls.
Sometimes they may be approached by people who want their advice on particular issues. They listen carefully to what the person is saying. After making sure they understand what the person is asking, they sometimes ask:
Is it okay if I share some ideas?
This ensures the person has given psychological permission to be open to ideas. The sage may begin their answer by talking about concepts but then quickly move on to giving concrete examples. They try to offer practical tools that the person can use to achieve their goals.
Sages appreciate life and have a sense of gratitude. Some seem to be skipping with joy and yet can also be serious. They can be a bit mischievous and have a generous sense of humour. Whilst sometimes switching to being serious, they don't take themselves too seriously.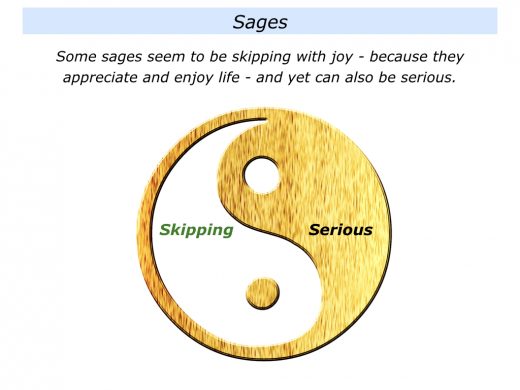 Such people seem to recognise both their significance and insignificance in the great order of things. They recognise the need to be kind, encouraging and generous during their time on Earth.
At the same time, they recognise their own life is short. There have been billions of people before them and there will be billions after them. All they can do is try to contribute to life during their time on the planet.
The Dalai Lama and Archbishop Desmond Tutu, for example, show some of these qualities. Here is a video they made when launching their book The Book Of Joy.
As mentioned earlier, Sage-like people often balance characteristics that appear to be opposites. They balance serenity with steel. They can be calm yet also display massive commitment.
Maya Angelou demonstrated many of these qualities. She had wisdom, charm and mischievousness. Below are some of the things she said. These are followed by her reciting her famous poem And Still I Rise.
I've learned that people will forget what you said, people will forget what you did, but people will never forget how you made them feel. 
Life is pure adventure, and the sooner we realize that, the quicker we will be able to treat life as art.
Love recognizes no barriers. It jumps hurdles, leaps fences, penetrates walls to arrive at its destination full of hope. 
You may not control all the events that happen to you, but you can decide not to be reduced by them. 
My mission in life is not merely to survive, but to thrive; and to do so with some passion, some compassion, some humor, and some style. 
Hate, it has caused a lot of problems in the world, but has not solved one yet. 
Some sages become seen as elders who are wise. Rabbi Zalman Schachter-Shalomi and Ronald Miller described this approach in their book From Age-ing To Sage-ing.  
Below is an excerpt from The Sage-ing International website that describes how people can serve as elders. You can discover more via the following link.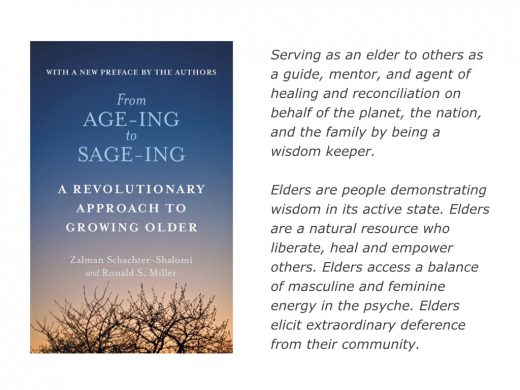 Serving as an elder to others as a guide, mentor, and agent of healing and reconciliation on behalf of the planet, the nation, and the family by being a wisdom keeper.
Elder Roles Include:
Celebrants
Elders celebrate life by maintaining a sense of humour, taking care of themselves and taking pride in their good health. Elders harvest what they have sown over a long lifetime. Elders are a source of blessing. Elders initiate others and affirm them through unconditional positive regard. 
Wisdom keepers 
Elders are still learning, still growing. Elders have come to terms with their mortality. Elders share their long life experience by being accessible to the young. 
Conservationists
Elders are stewards, caretakers of both man and the Earth. Elders view all life as interconnected, as one. 
Sages And The
Second Simplicity
Sages sometimes embody the second simplicity. They get to the heart of the matter and say things that are simple yet profound. Here is one view of how they may go through the stages of simplicity, complexity and then profound simplicity.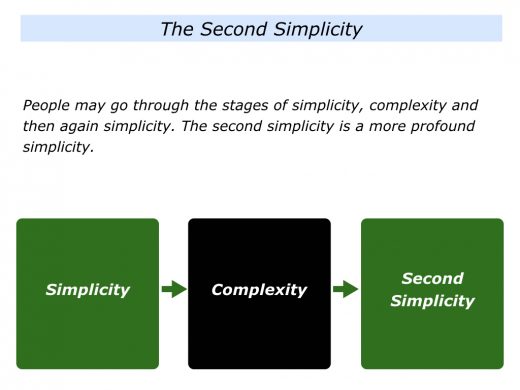 Simplicity
Life can appear simple when you are young. One person expressed this in the following way.
As a teenager I believed in love, peace, beauty and building a better world. Powered by idealism, I threw myself into voluntary work, protested against racism and studied the great philosophies.
Many thinkers reinforced my beliefs. There seemed obvious answers to solving the world's problems. My ideals kept me going into my early twenties.
Complexity
People go to work, enter university and graduate into the professions. They become experts, speak in strange languages and write in long sentences.
They join big companies and get lost in matrix organisations. They get married, incur debts, suffer setbacks, make compromises and bury their dreams. They say:
Life is not that simple.
Not everybody dives into complexity, but it can be tempting. Looking back at my work, for example, I was given a tough message when I worked in a therapeutic community.
Soon after joining I wrote a detailed report that was full of analysis about one of the patients. Showing it to the staff member, I expected him to compliment me, but he responded in the following way.
Your intention is good, but I can't understand your message. You seem to have swallowed a psychiatric dictionary.  
It is vital to go deep. But write your recommendations in words that people can understand. We are human beings who are trying to help other human beings.
Different people experience different wake up calls during the years of complexity. Those who are faced by life threatening illnesses, for example, quickly reassess their priorities. They rise above the daily habits and focus on what is really important in life.
Second Simplicity
The second simplicity is a profound simplicity. A person may return to their original philosophy but experience brings wisdom. The pains and pleasures of life bring an extra timbre to their voice.
Speaking from the depths of their being, their words resonate more deeply. Making sense of their experience, they make complicated things simple – but in a profound way.
Sages often embrace life's lessons and have wisdom in their bones. They embody the second simplicity and pass on knowledge that people can use in their own ways.
Let's return to your own life and work. Looking ahead, would you like to demonstrate some of the sage-like qualities? If so, how can you do this in your own way? How can you also continue to be a student?
If you wish, try tackling the exercise on this theme. This invites you to do the following things. 
Describe the specific things you can do to demonstrate some of the qualities shown by a sage. 
Describe the specific things that may happen as a result of taking these steps.