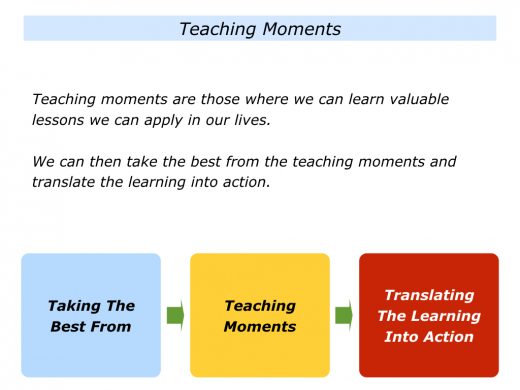 Teaching moments are those where we can learn valuable lessons we can apply in our lives. Such moments can occur in different situations. They may happen when, for example:
We make a mistake … We feel vulnerable … We have regrets about hurting someone … We see things in perspective … We recognise what is really important in life … We come to a crossroads.
We experience a sense of gratitude … We are moved by somebody's kindness … We feel compassion … We have a profound insight … We see positive possibilities … We recognise our mortality.
We can choose to be open and learn from such moments. Alternatively, we can choose to overlook the possible lessons. The choice we make may have consequences, both for ourselves and other people.
Teaching moments are different from what are known as teachable moments. The latter term is used to describe situations when we may be able to help another person – such as a child, student or colleague – to learn something from a particular experience.
Educators had previously used different terms to describe such teachable moments, but the phrase was popularised by Robert Havighurst. Writing in his 1952 book, Human Development and Education, he explained these in the following way.
A developmental task is a task which is learned at a specific point and which makes achievement of succeeding tasks possible.  
When the timing is right, the ability to learn a particular task will be possible. This is referred to as a 'teachable moment.'
It is important to keep in mind that unless the time is right, learning will not occur.
Hence, it is important to repeat important points whenever possible so that when a student's teachable moment occurs, s/he can benefit from the knowledge.
Some educators say that such moments come about unexpectedly. It is then vital to take advantage of these situations. Others say that it is possible to create and make the most of such moments.
There is another difference between teaching moments and teachable moments. The former depends on our willingness and ability to learn from the teaching moment that is provided for us. The latter depends on the ability of the teacher to impart knowledge to us at the appropriate time.
Some learning may come about, of course, through a combination of the two experiences.
Looking back, can you think of a teaching moment you have had in your life? This may have been when you felt vulnerable, made a mistake or had another experience. It could have been in your personal or professional life.
If you wish, try tackling the exercise on this theme. This invites you to do the following things.
Describe a specific situation in the past when you learned from a teaching moment.  
Describe the specific things that you learned from the experience.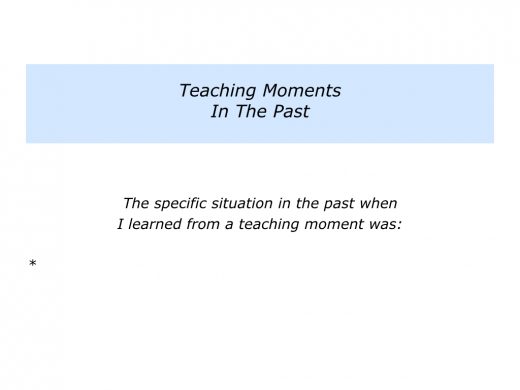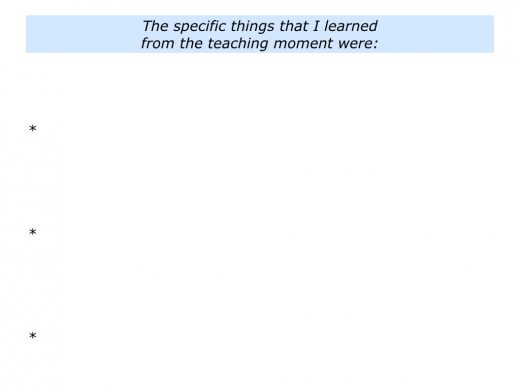 Different people learn different things from teaching moments. Looking at my own life, there has often been a common theme from such experiences. Frequently the message has been to be kinder.
During the past 50 years most of my work has involved encouraging people, but like all people I have made mistakes. This has often reminded me of the well-known acronym THINK.
There is some doubt about the origin of the acronym, but many people have found it helpful. Today it is often used in courses on digital citizenship to remind people to pause before they post something on social media.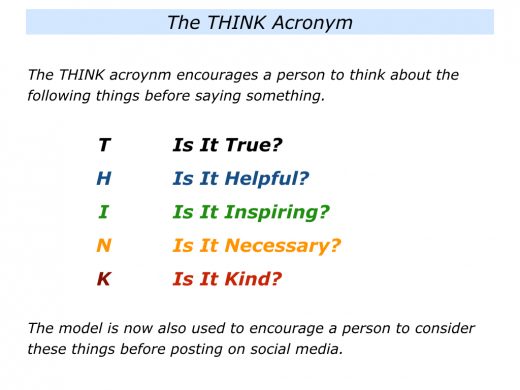 As mentioned earlier, such teaching moments can take different forms. They may come when experiencing a sense of grief, feeling remorse after hurting a person or after making a mistake. They may also involve having a Road To Damascus experience.
There are different reasons why people feel motivated to do something after such experiences. The decisions they take then often take place on: a) An emotional level; b) An intellectual level. They may feel moved to do something and then pursue their chosen strategy to reach their goals.
What is it that triggers a person into action? Bearing in mind what they have experienced or witnessed, they often focus on choices and consequences. 
They see how they – or other people – have behaved and they also see the consequences.
They see how they – or other people – can behave in a way that will bring about more beneficial consequences. 
They then choose to behave in a way that brings more beneficial consequences – both for themselves and other people.
Many people have such moments, but then comes the crucial test. How do they translate their insights into action? Let's look at some people who have taken this step.
Chad Varah and The Samaritans
Chad was an Anglican clergyman who founded the Samaritans in 1953. Suicide was illegal at the time and he felt something could be done to help people in distress.
Below is some background from the official website about the experience that shocked Chad into action. You can discover more via the following link.
The first funeral Chad Varah took as a curate prompted his lifelong commitment to suicide prevention and education.
The funeral was for a 13-year-old girl who had taken her own life because she feared she was seriously ill; in fact she had started to menstruate. 
Chad vowed at her graveside to devote himself to helping other people overcome the sort of ignorance and isolation that had ultimately caused the young girl's death. 
In the early 1950s, three suicides a day were officially recorded in Greater London; suicide was still an illegal act and sex education hardly existed. 
Chad advertised in the press for people to help – not as trained counsellors, but as ordinary human beings offering a listening ear and emotional support.
Inundated with offers of help, he opened the first drop-in centre where emotionally isolated and distressed people could go to find a sympathetic ear – and Samaritans was born.
Chad continued to run Samaritans until 1987, thereafter remaining an active member of the organisation and retaining a watchful eye over it even after his retirement. 
The movement now has 202 branches in UK and Ireland, with 15,500 volunteers providing emotional support around the clock. Its international arm, Befrienders Worldwide, works in more than 40 countries.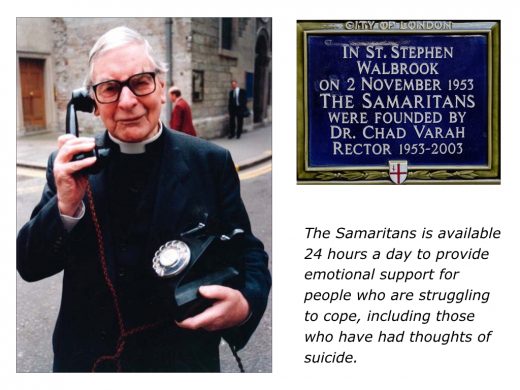 Jo Berry and Patrick Magee
Building Bridges For Peace
Jo and Patrick took different paths towards their own teaching moments. This led to creating the organisation called Building Bridges For Peace.
Below is an introduction to their stories that is taken directly from the official website. We will start with Jo's words and then look at Patrick's contribution to this remarkable work. You can discover more via the following link.
http://www.buildingbridgesforpeace.org/

Jo's Story 
On October 12th 1984 my father, Sir Anthony Berry and 4 others were killed in the bombing of the Grand Hotel, Brighton as they attended the Conservative Party Conference.
I made a personal decision just two days later, to bring something positive out of this emotionally shattering trauma and to try and understand those who had killed him.  
I chose to give up blame and revenge, instead taking responsibility for my pain and feelings, transforming them into passion for peace. The journey of healing began with my intention and I trusted that life would then bring me the opportunities to heal and grow.  
Two months later I randomly shared a taxi with a young Irish man whose brother had been in the IRA and had been killed by a British soldier.
We should have been enemies but instead we talked about a world where peace was possible and where there were no enemies. As I left the taxi, I had a flash of inspiration, this was one way I could make a difference, I could build a bridge across the divide. 
The hardest bridge to build was with Patrick Magee, who was sentenced for his part in planting the Brighton bomb and released as part of the Good Friday Peace Agreement in 1999.  
I made enquiries from mutual friends and finally met Pat for the first time in November 2000 at a friend's house in Dublin.  
My intention was to hear his story so that I could experience him as a human being rather than a faceless enemy. I was scared and had doubts, but the strongest part of me needed to see him and speak to him.  
I asked him many questions and shared a little about my Dad. At first he began to express his political perspective, which though I was familiar with was hard to hear but I could see he was a sensitive and intelligent person. 
Then something changed. He stopped talking and said he didn't know who he was any more, he wanted to hear my anger, my pain and what could he do to help.
It was as if he had taken off his political hat and had now opened up and became vulnerable. The conversation was very different after that and a new journey started, one which we are still on.  
He now had a need to meet me and rediscover his lost humanity. When he planted the bomb he was not seeing human beings in the hotel, they were just a means to an end.  
During our meetings, he began to develop the awareness that he had killed a human being with a soul, someone he could have sat down and had a cup of tea with.  
He would later say that he was disarmed by the empathy I gave him, that he would have found it easier if I had met him shouting, blaming and defending my position.
I wasn't there to argue my point; I was there to listen and experience his humanity.
After three hours I could not talk any more and ended our meeting by thanking him for his willingness to engage with me so honestly and he said he was sorry he had killed my Dad.
Patrick brings courage and humility to the process of building bridges for peace. Here is an extract from his story. You can discover more via the following link.
Patrick's Story
I was released from prison in 1999, having served 14 years under the terms of the Good Friday Agreement. Whilst in prison I completed a PhD examining the representation of Irish Republicans in 'Troubles' fiction.
It was important for me as part of the peace process in North of Ireland to recognise that now we should engage with former enemies and political opponents, addressing the needs and grievances of victims, helping to break down differences by explaining ourselves to the other. 
For 27 years I was a committed member of the IRA, whether on active service, on the run or in prison. I spent a total of 17 years either interned or sentenced because of my involvement.  
A crucial part of that legacy is the need to look back over the conflict and to understand it in terms of the many conflicting perspectives. That will entail ensuring that many voices previously excluded or misrepresented must now be heard, including the voices of the victims.  
In that light, as an individual, I agreed to meet Jo. Her father, Sir Anthony Berry had been killed, along with four others, in the IRA's attack on the Grand Hotel. I had planted the bomb. 
So, on the day, I was there to explain, in essence to justify, the armed struggle; and specifically 'Why Brighton'. I was wearing a political hat. We talked for three hours. But something happened during that first encounter.
Jo's openness, calmness; her apparent lack of hostility – in fact her willingness to listen and to try to understand, disarmed me. Had Jo instead shown anger, however justifiable, it would for me have been easier to cope with.  
The political hat would have remained firmly attached. But in the presence of such composure and decency, as I said, I felt disarmed. It was a cathartic moment.  
It didn't matter that as a former member of the IRA I could politically justify my past actions in terms of the legitimacy of the struggle.
As an individual I carried the heavy weight of knowing I had caused profound hurt to this woman. I expressed a need to really hear what she had to say and to help her come to terms with her loss, if that were possible:
'I want to hear your anger, to hear your pain.'
A political obligation henceforth became a personal obligation. I now realised more fully that I was guilty of something I had attributed to the other: that our enemies demonised, dehumanised, marginalised, reduced us.
In agreeing to meet me that first occasion and in continuing to meet me she has demonstrated a truly admirable, strength and purpose in her endeavour to try to make sense of her loss and her preparedness to listen to my perspective.
No matter what we can achieve as two human beings meeting after a terrible event, the loss remains. Neither forgiveness nor understanding can fully embrace that loss.
The hope lies in the fact we continue to meet in order to further this mutual process towards understanding. 
Teaching moments often seem to occur as the result of unexpected events. You can then choose to learn from a mistake, an insight or another experience.
Sometimes it is possible, however, to set up a situation in which you may be able to experience potential teaching moments. This can happen if you are aiming to tackle a particular challenge.
A mountaineer can plan ahead, for example, and aim to pursue a predictable course. They can anticipate and, if possible, prevent potential problems.
They may also realise, however, that there will be moments when they will need to use their wits and find solutions. Mountaineers therefore need to develop a strategy for staying calm, being clear and finding creative solutions in such situations.
Imagine that you want to follow a similar rule in your life. You may want to look ahead and focus on a particular challenge that you want to tackle.
This may involve making a transition, taking care of your health, building a business, leading a team or tackling another issue. Looking ahead, you can ask the following questions.
What is the challenge I want to tackle? What are the real results I want to achieve? What is the picture of success? What are the key strategies I can follow to give myself the greatest chance of success?  
What the potential problems I may face along the way? How can I prevent some of these problems happening? What can I do to manage the specific problems if, despite my best efforts, they do happen? 
What may be the potential teaching moments on the journey? What are the specific things I can do to learn from such moments? What can I do to translate the learning into action?
Looking ahead, can you think of a challenge or another situation in which you may be able to learn from a potential teaching moment. Bearing this in mind, consider the practical things you can do to learn and apply the lessons from such a moment.
If you wish, try tackling the exercise on this theme. This invites you to do the following things.
Describe a specific situation in the future when you may be able to learn from a potential teaching moment. 
Describe the specific things you can do then to learn from the potential teaching moment.