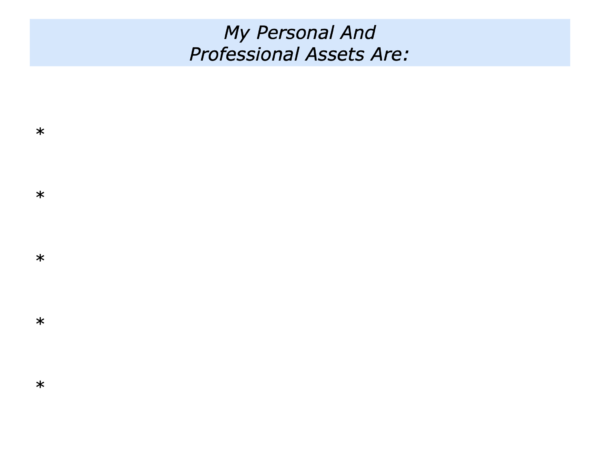 Looking at your life and work, what are your personal and professional assets? How can you build on those assets in the future? Alexander Calder, the sculptor, said:
"I had the good fortune to be born happy."
That is a great start in life, but each of us have many kinds of assets. People who are happy often have a sense of gratitude. They count their blessings rather than count their burdens.
Brother David Steindl-Rast is known for his work on gratefulness. He writes:
People want joy, they don't want things. The root of joy is gratefulness. It is not joy that makes us grateful; it is gratitude that makes us joyful.
Gratefulness is the key to a happy life that we hold in our hands, because if we are not grateful, then no matter how much we have we will not be happy – because we will always want to have something else or something more.
Let's explore some aspects of counting our blessings rather than counting our burdens.
Personal Assets
Some time ago I held a mentoring session with Dave, a manager who was normally positive. But on that occasion he felt depressed in his job. Feeling the world was dark, he had fallen into a negative spiral.
Fifteen minutes into the session Dave decided to change tack and count his blessings. Within half-an-hour he had turned himself around. He aimed to tackle the challenges at work, but also appreciate his true wealth every day. He explained this in the following way.
"Recently it has been tough at work, but I need to keep things in perspective.
"I have good health, a fantastic wife and two lovely children. We have loyal friends, a home, a garden and some money in the bank.
"During the past thirty years I have overcome many setbacks. That strength will carry me forward in the future."
Looking at your own life, what are your personal assets? You may have a positive attitude, strong personal drive, imagination, appreciation of life, caring family, reasonable health, encouraging friends and some finances.
If you wish, try tackling the exercise on this theme. This invites you to describe your personal assets.
Professional Assets
Looking at your work, what are your professional assets? You may have certain talents, a strong work ethic and the desire to help other people to succeed.
What are your strengths? What are the specific activities in which you deliver As, rather than Bs or Cs? When are you in your element – at ease and yet able to excel?
What are the activities in which see the destination quickly? When do you go 'A, B … and then leap to Z'? Where do you have a track record of delivering Z?
What is your successful style of working? Looking back, can you think of two projects – in the broadest sense of the word – that were deeply satisfying?
What made each of these projects satisfying? What did you do right then to perform superb work? What were the principles you followed?
Looking at these projects, can you see any recurring patterns? These can give clues to your successful style of working. How can you follow these principles to do satisfying work in the future?
Looking at your professional life, who are the kinds of people with whom you work with best? What are the characteristics these people?
Who is your ideal employer, manager or customer? What are the challenges facing these people? How can you use your strengths to help these people succeed?
What do you want to give to people? Over the years you will have built a vast repertoire of strengths, strategies and skills that you can use to help others.
How can you pass on your knowledge? How can you translate this into practical tools that people can use in their daily lives and work?
If you wish, try tackling the exercise on this theme. This invites you to describe your professional assets.
Building On Your Assets
Dave explored how he could build on his assets. He explained this in the following way.
"Certainly I must tackle the issue at work. That is solvable, however, even if it may mean moving to a new job.
"Sometimes I have the occasional sulk but I can limit that to 10 minutes. Then I can get my act together and try to succeed.
"Today has been a bit of a reality check. It has been good to recognise all things I have going for me in life.
"Maybe it would be good to sit down with my wife, look at what we do have and plan the next move forward."
Looking at your own life and work, how would you like to build on your assets? How can you make use of these gifts? How can you use them to help other people?
Kathleen Taylor, for example, says that we can learn many lessons about living from people who are dying. She has spent more than 20 years working as a counsellor in hospices. When asked about her work, she says she loves her job.
Why? She enables people to tackle this final chapter. At the same time, she learns from them about what does and does not matter in life.
Kathleen says that, when facing death, a person is able to be who they really are. They become courageous and honest. They find joy in the smallest moments.
They are authentic and able to be their true self;
They talk about things they have never expressed before;
They look back on and make sense of the body of work in their life.
Kathleen says that, whilst there are many stages in our lives, three stand out.
When we are young we are fearless and set our course.
When we are in mid-life we question and maybe readjust our course.
When we are at the end of our life we find answers about our course.
Kathleen believes that we can take a hint from people who are living their last days. She says:
"I would like to hope it is never too soon to learn these lessons."
Maybe we can take some of these steps earlier in our lives. We can be who we truly are and express our uniqueness. One way to do this is to build on our assets.
If you wish, try tackling the exercise on this theme. This invites you to do the following things.
Describe the specific things you can do to build on and make use of your assets.
Describe the specific benefits of doing these things – both for yourself and other people.