Robert has devoted much of his research to studying gratitude and thankfulness. He is the author of Thanks: How the new science of gratitude can make you happier.
The video above can be found on the Greater Good web site, which is based at the University of California in Berkeley. Here is an introduction to its mission, which can be found on its web site.
The Greater Good Science Center studies the psychology, sociology, and neuroscience of well-being, and teaches skills that foster a thriving, resilient, and compassionate society.
In this video Robert explores the theme What Good is Gratitude? He focuses on the following themes.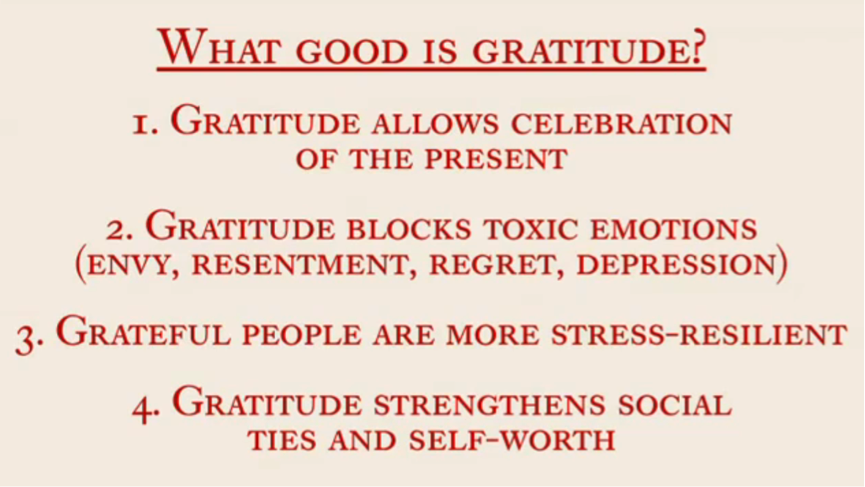 Here is a little more about Robert's research. This is taken from his biographical page at the University of California, Davis, where is a Professor. This can be found at:
http://psychology.ucdavis.edu/labs/emmons/PWT/index.cfm
Gratitude and Thankfulness
Gratitude is the "forgotten factor" in happiness research. 
We are engaged in a long-term research project designed to create and disseminate a large body of novel scientific data on the nature of gratitude, its causes, and its potential consequences for human health and well-being.
Scientists are latecomers to the concept of gratitude. Religions and philosophies have long embraced gratitude as an indispensable manifestation of virtue, and an integral component of health, wholeness, and well-being. 
Through conducting highly focused, cutting-edge studies on the nature of gratitude, its causes, and its consequences, we hope to shed important scientific light on this important concept. 
We continue to be engaged in two main lines of inquiry at the present time:
(1) developing methods to cultivate gratitude in daily life and assess gratitude's effect on well-being, and;
(2) developing a measure to reliably assess individual differences in dispositional gratefulness.
Here is another excerpt from the same talk where Robert talks about the benefits of gratitude.
Finally, here is an hour long lecture by Robert in which he focuses on Gratitude as the Lynchpin Between Adversity and Delight.