http://www.nzonscreen.com/title/three-new-zealanders-sylvia-ashton-warner-1978
The link above takes you to one of the few interviews with Sylvia Ashton-Warner.
Sylvia was a gifted but complex teacher who worked with Māori children in New Zealand from the 1940s onwards.
Experts flocked to study her methods for helping children to learn to read and write.
She produced excellent results, but had the reputation of being somewhat difficult. So what was the secret of her success?
Philosophy and background
Sylvia believed in organic reading and writing. Learning must be real. It must start from a person's experience and relate to their world.
Children were then able to learn quickly and, in the process, develop their inner strength.
Let's explore how this worked in practice, starting with an example from her best-known book Teacher.
Bringing learning to life
Sylvia calls the children to attention each morning by playing the first eight notes of Beethoven's Fifth Symphony.
She asks the class to tackle their work, then invites each child to her in turn. Gay is the first child to come to her desk.
Sylvia asks: "What word do you want today?"
Gay replies: "House."
Sylvia writes the word on a piece of cardboard. She then asks Gay to trace the word with her finger and say it out loud.
Gay 'owns' the word, it comes from her guts. Sylvia makes sure that Gay says the word, sees the word and feels it in her body.
She gives Gay the cardboard and asks her to keep her 'word' for the day.
Sylvia repeats the process with each child. When the class finishes, she collects all the words on the separate pieces of cardboard.
The next morning Sylvia starts the class by tipping the cardboard words onto the floor. She tells the children:
"Find your word."
Gay leaps from the chair and rummages in the pile.
"House," she shouts, "I have found my word."
Children have two visions, an inner vision and an outer vision, says Sylvia, and it is the inner vision which burns brightest.
Gay grasps the word which she spoke from her inner vision.
Sylvia asks each child to choose a partner, speak their words and hear their partner's words.
While the children teach each other, she repeats the process of inviting each child to choose their word for today. They build up what Sylvia calls their Key Vocabulary.
What happens if Gay fails to find her word? Sylvia rips-up the piece of cardboard.
The word has failed the 'one look' test and cannot have any great meaning for Gay.
Classrooms often display Jack and Jill illustrations for introducing the reading vocabulary to five-year-olds, says Sylvia, but it is a vocabulary chosen by educationalists in Auckland or London.
Gay owns only those words that come from deep within herself. She is more likely to love these words and want to write them on paper.
Shouldn't these Māori children be learning Oxbridge English?
Once they know the joy of creating their own words, says Sylvia, they reach out longingly to learn about other cultures. She believes that:
Reaching out for a book
must become an organic action.
Sylvia's methods were controversial at the time – as was some of her behaviour.
But her work enabled many people to develop their inner strength and believe in their own experience.
Nowadays we see it as vital that people keep alive their traditions through language – as well as go out to discover other cultures.
Sylvia pioneered a trail that was admired by many in education, but she generated criticism.
She displayed what some considered unprofessional behaviour – such as long absences from school, cancelling appointments and heavy drinking.
She also published several novels, one of which was made into a Hollywood film. Like her teaching, however, her novels received a mixed reception.
Sylvia was a troubled soul, but she made a key contribution to education. She often fought the New Zealand Educational Authorities and, in some cases, the antipathy was mutual.
Many years later, however, the University of Auckland dedicated one of its libraries to her name.
Sylvia led a tempestuous life, so let's explore it in more detail. The following pages draw heavily on an overview of her life written by Emily Dobson.
You can find her complete text at:
Emily Dobson's Overview of Sylvia's Life
Lynley Hood has written a much acclaimed book called: Sylvia! The Biography of Sylvia Ashton-Warner. You can find more details on Lynley's home page at:
Growing up
Sylvia Constance Ashton-Warner was born in 1908 in Stratford, Taranaki, located on the Western side of New Zealand's North Island. She was the fifth of eight children.
Emily Dobson describes how the family had another child named Sylvia, who was born 3 years earlier, but unfortunately she only lived for 4 days.
Sylvia Constance may have felt she was a replacement for the first Sylvia.
Francis Ashton-Warner, her father, was 16 when he arrived in New Zealand from England in 1877. His family had a history of links to nobility, but he had no money.
He worked as a labourer across the islands, eventually taking a book-keeping job in Auckland.
He then met his future wife, Margaret Maxwell, a teacher whose family originated from Scotland. Francis suffered from deteriorating health and, by 1904, Margaret was left to provide for the family.
She was a tough woman and a strict teacher, reports Emily Dobson, which often resulted in conflict with the educational authorities.
Combined with accumulated debts, this meant the family kept moving from place to place.
Margaret was ambitious for Sylvia, however, and drove her to succeed. Emily describes how this sometimes produced odd results.
"When (Sylvia) was learning to write, under her mother's instruction, she was forced to use her right hand against her natural left-handedness.
The practice was common at the time, but left Ashton-Warner with an ambidexterity that dazzled witnesses later in life.
She could, for example, simultaneously write a sentence from both ends and join it neatly in the middle."
Sylvia preferred her own company and had difficulty in building relationships. She was a talented artist, however, and loved playing the piano – enjoying the opportunity to give a 'performance'.
When leaving school she chose to follow in her mother's footsteps and become a student teacher. Her studies would be held in Wellington.
Tragedy struck before she departed when her father died in January 1926.
Teacher Training and Marriage
Settling into Wellington, Sylvia began to express herself. She completed the course to qualify for the actual teacher training, which would be held in Auckland, but she still wanted to pursue a career in the arts. Emily Dobson writes:
"Her classmates there remember her as daring and unconventional: she wore make-up, smoked, and wore exotic outfits to social events.
"They were charmed by Ashton-Warner's magnetic personality, and impressed by her artistic and musical talents."
During her time at the Auckland teacher training college she met Keith Henderson, a fellow student. They became romantically involved and he proposed to Sylvia just before he left to take a permanent teaching role in Taranaki.
She accepted but, as she still had to complete her training, it meant her staying and them having a long-distance relationship. They eventually married in 1932.
Keith got another teaching role in Taranaki, but economic times were hard – it was the midst of the Depression – and there were few other teaching posts available.
Sylvia spent her days at home, but preferred artistic activities to home making, so Keith also did much of the housework.
Jasmine, their daughter, was born in 1935, followed by Elliot, their son, in 1937.
Sylvia now wanted to continue her teaching career and, Emily Dobson suggests, it was probably she who urged Keith to find work in a remote Māori school.
They eventually began working together at a school on the East Coast of the North Island.
She learned to speak Māori, but did not find the teaching easy or fulfilling. Emily writes:
"She began to suffer from insomnia and in 1939 had a nervous breakdown. She saw Doctor Donald Allen in Wellington, who introduced her to the notion of there being two opposite forces at work in the world: survival of the individual and survival of the species …
"Ashton-Warner re-labelled these forces Fear and Sex, and the concept became crucial in the development of her ideas about teaching.
"Dr. Allen also encouraged Ashton-Warner to write as a form of therapy."
Sanctuaries and The
Development of Her Teaching
"She called it 'Selah', a Hebrew word from the Old Testament Psalms which meant, for Ashton-Warner, a pause or rest. Having such a space for herself was important for Ashton-Warner's internal well-being.
Wherever she happened to be, seeking out and claiming a Selah became a tradition she maintained for the rest of her life."
Sylvia was also beginning to find a sanctuary in the classroom. She began encouraging the Māori children to express their own stories in words, music and dance.
She also began to write her own 'text books' for the Māori pupils. These related to the children's experiences, rather than the conventional Westernised books.
She submitted these for publication, but her demands and inconsistent behaviour caused problems for publishers.
Her educational ideas were evolving, but she still suffered emotional difficulties, frequently staying away from school. She also increasingly sought solace in alcohol.
She and Keith moved to Fernhill, Hastings, on the North Island's East Coast in 1949. This is where her ideas, both as a teacher and as a novelist, began to bear fruit.
She would later collate her educational ideas, particularly those regarding the Key Vocabulary, in her book Teacher. Before then, however, she would become known as a novelist.
Spinster
Spinster depicted the life of Anna Vorontosov, a teacher working in a small school in New Zealand. The book was initially considered too financially risky to publish in her own country, but it was eventually published across the world.
Reviewing the book for The New Yorker in 1959, John Wain wrote:
"Everything about her (Anna) is credible, and yet one never catches oneself thinking: 'How well the author has imagined this character!' One simply responds immediately, as if it were all happening in the room where one sits reading.
"Analyzed, Mrs. Ashton-Warner's technique seems quite simple; everything goes into the present tense, the voices of the children continually chime through Miss Vorontosov's unbroken solipsism, and nothing is allowed into the picture that might suggest an author, a sensibility outside Miss Vorontosov's."
Sylvia went on to write many other novels in her life, but none matched the success of Spinster. Some say this was due to her increasingly critical observations about life in New Zealand; others say it was due to the decreasing quality of her fiction.
Her books did have their admirers, however, and in 1980 she won the New Zealand Book Award for her autobiography I Passed This Way.
Sylvia was also awarded the MBE in the Queens Honours list. This was in recognition for her services to both education and literature.
Teacher
In 1957 Keith and Sylvia moved to the largest Māori school in the country at Bethlehem, Tauranga, near the top of the North Island. By this time her methods had gained recognition.
The magazine National Education having already published her work on The Māori Infant Room – Organic Reading and the Key Vocabulary. Paradoxically, while her fame grew as an educationalist, her interest in actual teaching diminished.
Employing her writing skills, however, she compiled her notes and wrote her most famous book Teacher. This was published in 1963.
Teacher explained how she helped children to write by inviting them to draw pictures and add their own captions.
They built up their words into sentences and create books about their experiences.
Children wrote one word, then two sentences, then three, until six-year-olds were writing half a page a day and seven-year-olds a page or more a day. Sylvia explained the impact of this method.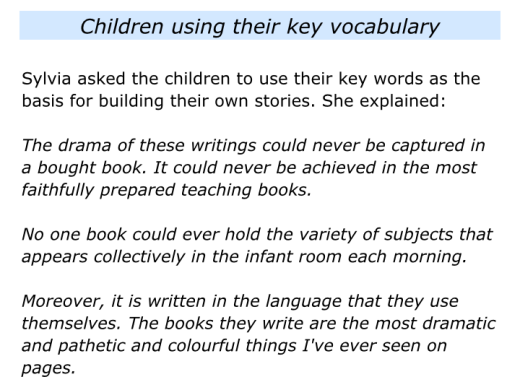 Teacher was well-received internationally, but got a lukewarm reception in her native country.
Partly due to her stated anger towards the educational authorities; partly because of her criticism of life in New Zealand.
Some people who knew Sylvia were disillusioned with her behaviour which was, in their opinion, far from the heroic picture she painted.
She was also in the habit of cancelling interviews and meetings at the last minute. Emily Dobson underlines, however, that there were many admiring visitors from abroad.
Keith, Sylvia's husband, died in 1966. Some saw him as the real driving force behind the school in Bethlehem and, by now, Sylvia was ready to escape New Zealand.
During the rest of her life she travelled to many countries. Sometimes this was to be with her son Elliot – first in Mauritius, then in London.
Sometimes it was to work on educational projects – such as in Israel, America and Canada.
Invited to work on a pioneering approach in Aspen, Colorado, Sylvia wrote a book about her experiences, called Spearpoint.
Emily Dobson points out that Sylvia was less than fair in her reporting of the work done by teachers in Aspen. The school at the centre of the project proved quite successful.
But she devoted much of her book to commenting on the 'de-sensitisation' of American children, which she attributed to watching too much television.
Sylvia planned to return to New Zealand, but remained indecisive. Emily writes:
"Although she continued to book journeys home, Ashton-Warner returned to Aspen, where she worked in a more agreeable role as a 'Teacher of Teacher-Trainers'.
"She set up her living room as a model infant room and took groups of trainees in a 'Key Vocabulary' lesson …
"As she had done in her Māori infant classrooms, Ashton-Warner encouraged her students to find the words that held the most significance for them.
"Those who took part greatly enjoyed the sessions, and Ashton-Warner soon had a social network of adoring fans."
In 1971 she was offered a position in Vancouver at the Simon Fraser University. Emily reports:
"The twice-weekly sessions (that Sylvia ran) were immensely popular; participants found them both unusual and invigorating.
"The theories were implemented in 'The Vancouver Project', which introduced the method into several Vancouver primary schools."
Sylvia again became unhappy, however, and finally returned to New Zealand.
The Return Home
Soon to be overtaken by poor health, Sylvia relied on alcohol to get her through the day.
She eventually began working on some projects, however, such as co-operating on a television documentary about her work.
She also embarked upon writing her autobiography, I Passed This Way, which took three years to complete. Published in 1979, it was well-received, winning several prizes.
Sylvia received her MBE in 1982 and, in 1983, chose Lynley Hood to be her biographer. Suffering from the effects of various operations, however, she grew weaker.
Elliot, her son, travelled over from London, spending a year helping to care for her. Jasmine and he were by her side when Sylvia died in April 1984.
Principles
Sylvia had a tumultuous life, making friends and enemies along the way. Despite her idiosyncratic behaviour – or maybe because of it – she made several key contributions to education.
Perhaps the greatest was enabling students to develop by drawing on their own experience. She applied the beliefs that learning must be real, relevant and rewarding.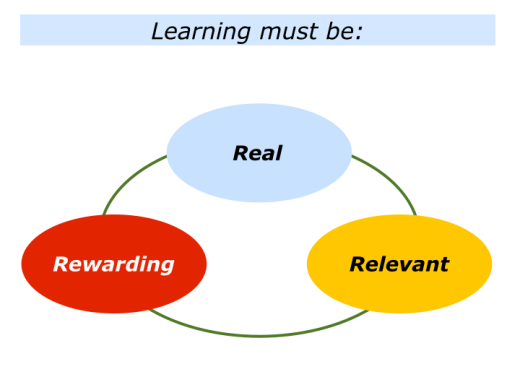 Learning must be real.
Learning must be real: it must relate to a person's experiences. The key rule is: "Start where the person is at."
Peter Senge, author of The Fifth Discipline, a scholarly yet practical treatise on the learning organisation, wrote:
The learner learns what the learner wants to learn.
Sylvia believed people developed best when giving voice to their own experiences.
This theme was pursued in later years by many people who wanted to empower individuals and communities.
Such an approach enables is more likely to help them to develop their own literacy and shape their future lives. The Talimi Haq School in Howrah-Calcutta, India, for example, uses Sylvia's approach for helping 3 year-olds to learn Urdu.
This organic approach develops what is already within; rather than imposing from outside. One of the school's blog pages quotes her as saying:
"By organic, I mean that way of growth where the strongest thing pushes up ahead of the less strong. I think of trees growing in a clump.
"The strongest get to the light. In speaking of a child's mind I mean the strongest impulses push up, irrespective of whether or not they should, at any given time …"
You can find out more about their educational approach at:
Sylvia's recognition that each person has a 'key vocabulary', a set of words with a special meaning relating to their emotional life, enabled her to develop a reading scheme for children who were otherwise failing at school.
Though she despaired of being recognised in New Zealand for her contribution to education, she enjoyed a warm response overseas.
Learning must be relevant.
Learning must be relevant: it must be able to be used today and tomorrow. Nowadays this sounds obvious, but in the 1940s the traditional approach saw children as 'empty vessels that must be filled'.
The pupils were then judged on their ability to memorise and repeat this information.
Sylvia believed it was vital for children to learn from the wisdom of others. But the best way to stoke a child's hunger to read and write was to focus on the events that made up their daily lives. She wrote:
"Back to these first words; to these first books. They must be made out of the stuff of the child itself.
"I reach a hand into the mind of the child, bring out a handful of the stuff I find there, and use that as our first working material …
"And in this dynamic material, within the familiarity and security of it, the Māori finds that words have intense meaning to him, from which cannot help but arise a love of reading."
"For it is here, right in this first word, that the love of reading is born, and the longer his reading is organic the stronger it becomes, until by the time he arrives at the books of the new culture, he receives them as another joy rather than as a labour."
Learning must be rewarding.
Learning must be rewarding: it must give a feeling of success.
Great educators take students through the stages of inspiration, implementation and integration. They create an inspiring environment, provide implementation tools that work and enable the students to integrate the learning in their own lives and work.
Great educators enable people to get a quick success. The IT teacher who is helping Adult Learners to embark on their first computer lesson, for example, encourages them to write and print something straight away. They do not ask the student to start by reading a 300 page manual.
Sylvia's approach enabled children to get short-term rewards – learning a word, writing a page, creating a book or whatever.
They then developed the appetite for achieving medium and long-term rewards – such as rehearsing and performing a play.
Much of older-style schooling was based on the idea of 'delayed gratification'.
Teachers implied: "You must learn these things by rote. You may not see the point now, but one day it will make sense."
They followed the 'factory model'. Knowledge was broken into pieces, like jobs on the production line. The pupils were expected to master each piece without seeing the whole picture.
This process increased at children got older. Peter Senge once observed: "Secondary education is a more purely industrial age institution than any business."
Sylvia recognised the key principles of effective education. Learning must be real, relevant and rewarding.
Students are then more likely to remember the learning – because they had internalised it – and use it to live fulfilling lives.
Here is a link to a video that shows these principles in action.
http://www.teara.govt.nz/en/video/33252/learning-to-read-and-write
Practice
So what have been the effects of Sylvia's work? Her methods for helping children learn through their key vocabulary have been applied across the world.
The link below, for example, takes you to a site in British Columbia that explains how teachers can apply the Key Vocabulary approach in school.
You will find that, even after 50 years of practice, it follows the methods outlined by Sylvia. (This could mean that education is 'dated' – or that the method actually works.) Here is the link.
British Columbia Teaching Guide
Sylvia may have courted controversy in New Zealand during her life, but she later gained in her home country.
In 2008, for example, the University of Auckland held a centennial conference dedicated to her work.
Not everyone agreed with how she employed her ideas, but all recognised her pioneering work.
Sylvia was gifted and, like all of us, flawed. She did, however, encourage many people.
She believed that learning must start from a child's experience. They were then able to learn quickly and, in the process, develop their inner strength.
Her approach proved successful and, as a result, has helped millions around the world.