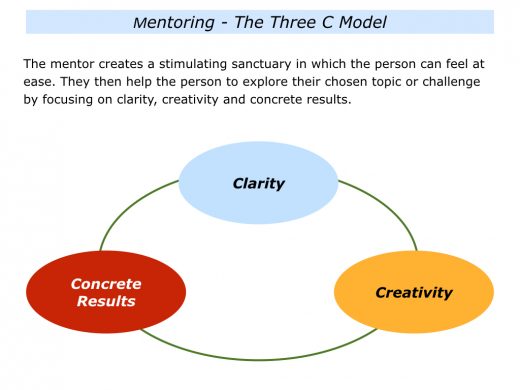 There are many ways to encourage people. One approach is to act as a mentor and pass on knowledge that helps people to succeed.
Mentoring is a huge subject. So let's start by considering some of the frequently asked questions about mentoring and coaching.
What do mentors do?
Mentors are wise and trusted advisors. They share knowledge in a way that helps the mentee to achieve their personal or professional goals.
Many successful people use mentors. Why? They sometimes like to meet with a third party who helps them to get an overview of a situation. They can then explore their possible options, make decisions and chart their route forwards.
The word mentor comes from Homer's epic poem The Iliad. When Odysseus left to do battle in Troy, he asked a man called Mentor to take care of his son, Telemachus.
Rumour has it that Mentor was not always up to the task. The Goddess Athena therefore assumed his form and made him strong and wise.
Why do organisations
use mentoring?
Mentoring plays a key role in nurturing talent. It provides benefits for the organisation, the mentees and the mentors.
The benefits for the organisation include creating an encouraging environment, passing on wisdom and helping people to make good quality decisions. It can also act as a good retention tool.
The benefits for the mentee include feeling encouraged, making good decisions and shaping their future career. They also expand their repertoire of knowledge and get practical tools they use to achieve success.
The benefits for the mentor are that they will clarify their knowledge, because the best way to learn is to teach. They will also learn more about what is happening in their organisation and may get energy from their mentees.
What is the difference between
mentoring and coaching?
There are many views on the difference between mentoring and coaching. These views can also differ in different parts of the world and different cultures.
This brings us to the important point. When introducing mentoring into a culture, it is vital that people understand the organisation's definitions. This does not mean that one view is right and another is wrong.
People simply need to be clear about what mentoring is and what it isn't in their organisation. They then know what they can and cannot expect from a mentoring session. 
This article focuses on the definitions that one organisation gave regarding mentoring and coaching. (Some organisations actually reverse the columns described below.) Everybody was clear on the differences, however, and knew how to make the best use of the sessions.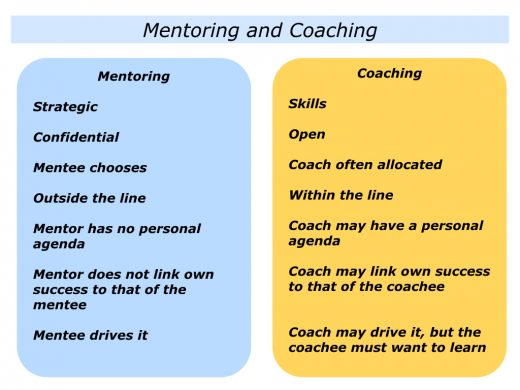 One key point is worth mentioning. The two columns outlined above come with a caveat.
The mentor's role is to pass on knowledge and practical tools the mentee could use to achieve success. This means that sometimes the sessions help the person to add to their repertoire of skills for achieving their strategic goals. The two columns can, however, prove to be a useful guide for people.
What are the responsibilities
of the mentor and the mentee?
The mentor's responsibility is, first and foremost, to make sure they really want to be a mentor. Mentoring is rewarding, but doing it properly can also be time consuming.
After familiarising themselves with the organisation's approach to mentoring, it is to facilitate the sessions and pass on their knowledge in a way that the mentee can use to achieve success.
The mentee's responsibility is to be proactive in setting-up the sessions, prepare properly and make the best use of their session with the mentor.
Here is a link to a more in depth piece that outlines how mentees can make good use of a session.
http://www.thepositiveapproach.global/m-choosing-mentor-making-good-use-mentoring-sessions/
Building on these definitions, the organisation included the following points in their mentoring charter. These helped the mentees to know what they could and could not expect from the sessions.
The mentor's role is to focus on the mentee's agenda, to act as a confidential sounding board and to pass on tools the mentee can use to achieve their goals.  
The mentor's role is not to act as a political door opener, to replace management or to communicate confidential information about people.
The charter also included both the mentor's and mentee's responsibilities. These were outlined in the following ways.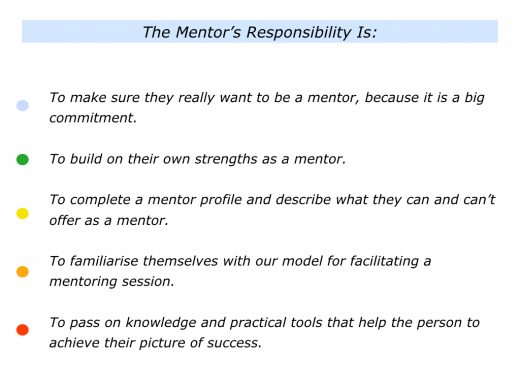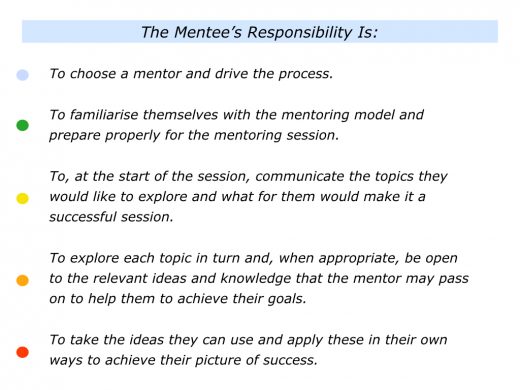 How to choose a mentor?
There are obviously many ways to choose a mentor. Imagine that you were looking for such a person. Here are some suggestions it can be useful to consider.
Choose somebody who
has credibility in your eyes
They must be somebody you respect. They must also have knowledge that you believe can help you to achieve your picture of success.
Choose somebody
who has similar values
Look for a mentor who expresses the values you believe in and seems able to express these successfully at a high level. Values fit is crucial.
Choose somebody who has the
qualities you want in a mentor
If you wish, try tackling the exercise on this theme. This invites you to describe the qualities you want in such a person. You may want them to be a good listener, creative or whatever. Then try to find somebody with these qualities.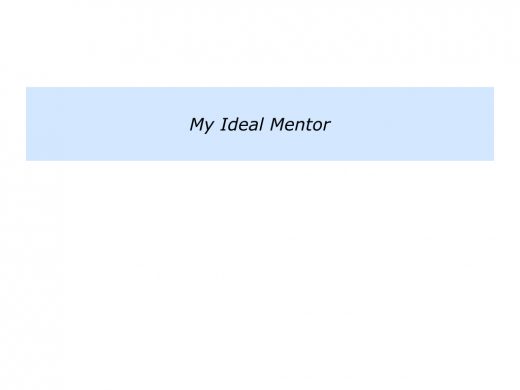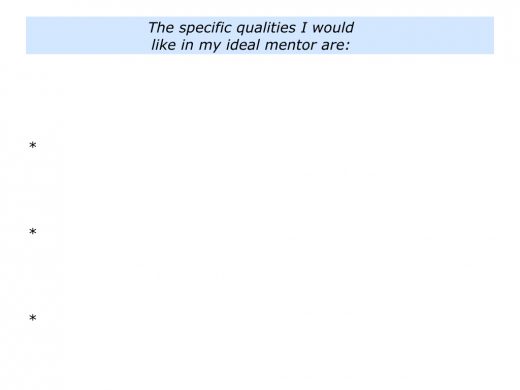 How do you facilitate
a mentoring session?
The mentor starts by creating a stimulating sanctuary. They make the person feel welcome and clarify the topics the person wants to explore. They then make clear working contracts and agree on the goals for the session.
Different mentors use different models to help a person to explore these themes. One approach is to use the Three C Model for helping people to achieve their picture of success.
The mentor encourages the person to focus on Clarity, Creativity and Concrete Results. The aim is to enable the person to take away practical tools they can use to achieve ongoing success.
Imagine you are a mentor. Here is a framework you can use in your own way to prepare for and then run a mentoring session.
The following slides provide an introduction to the approach. If you would like more information and background, contact me and I can send you a pack called The Mentor As Trusted Advisor.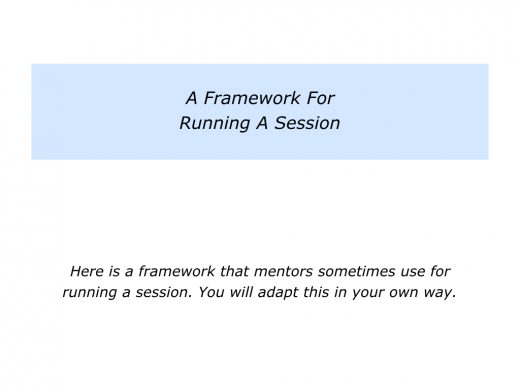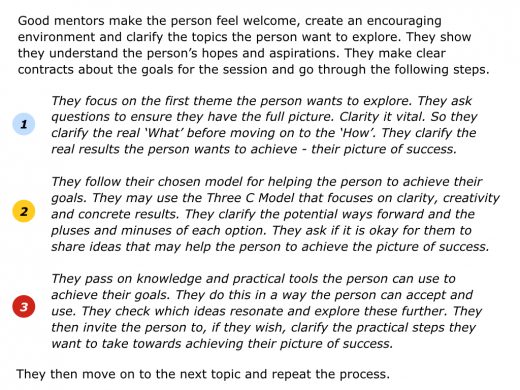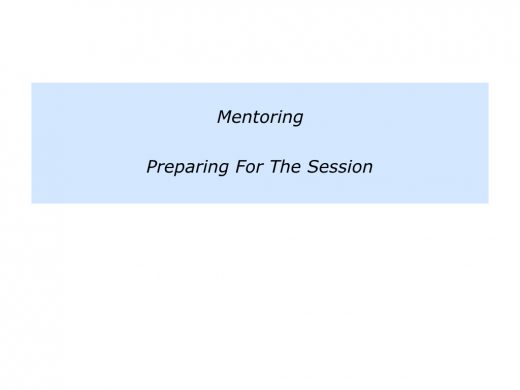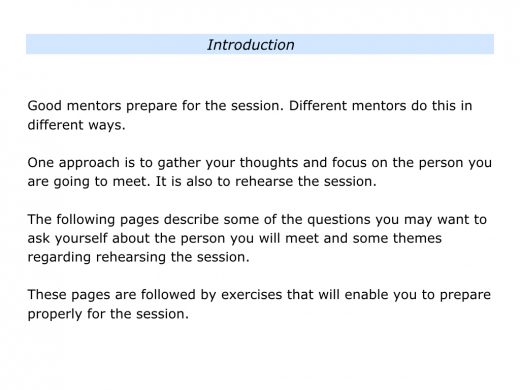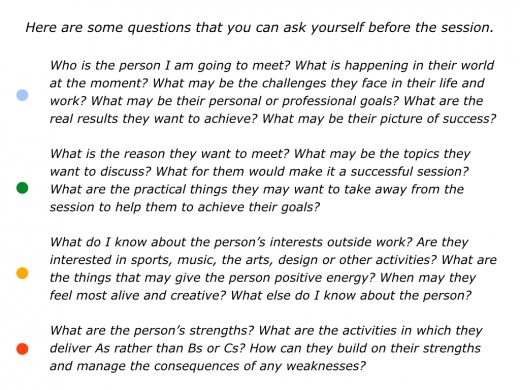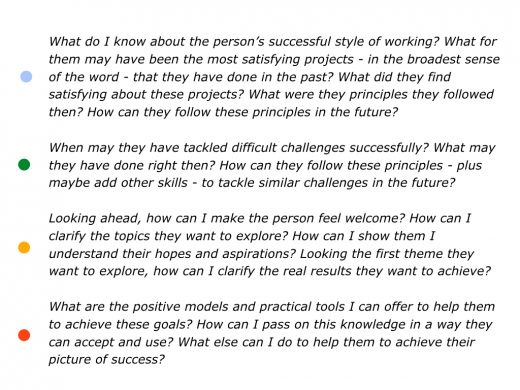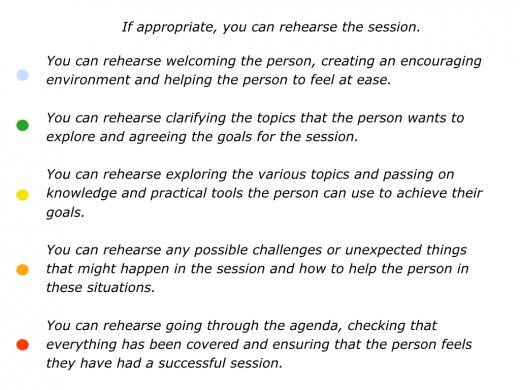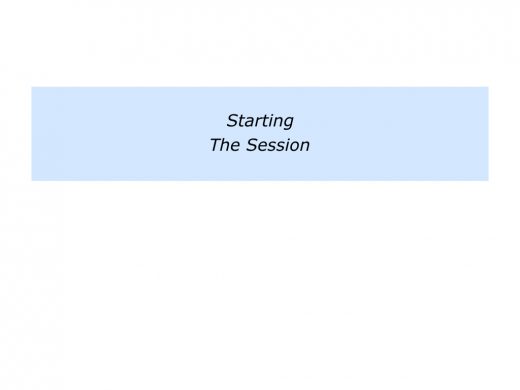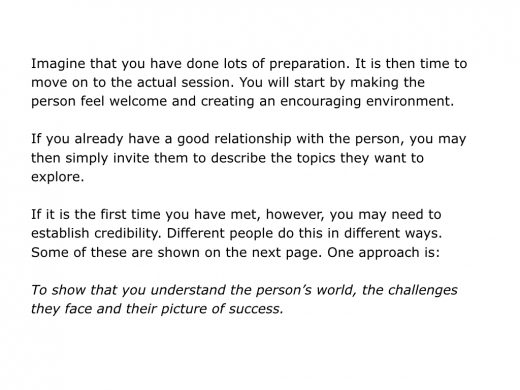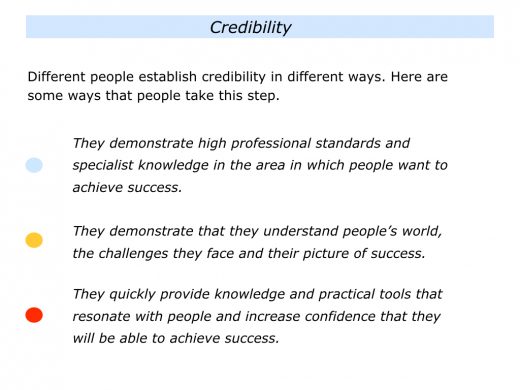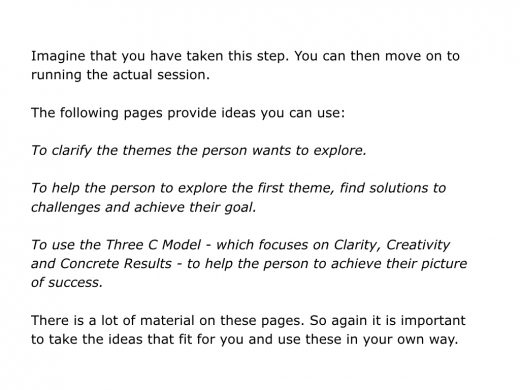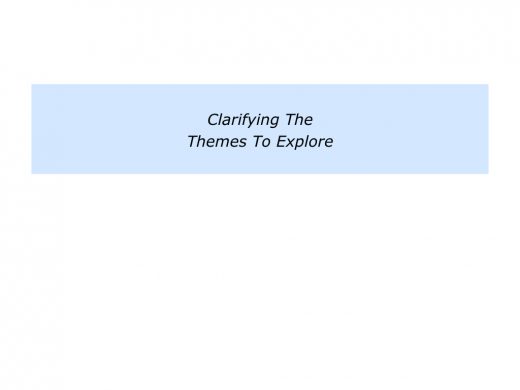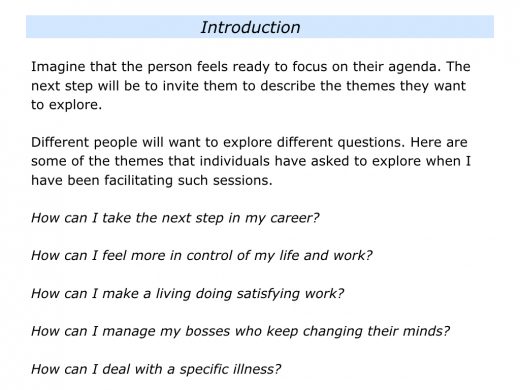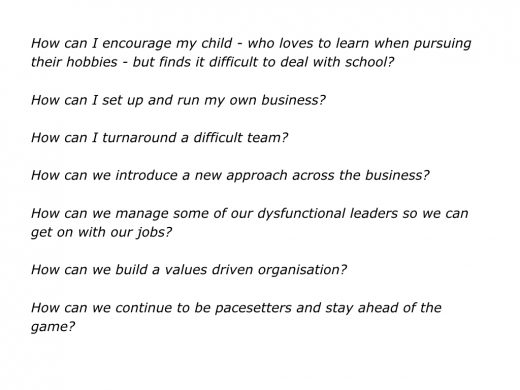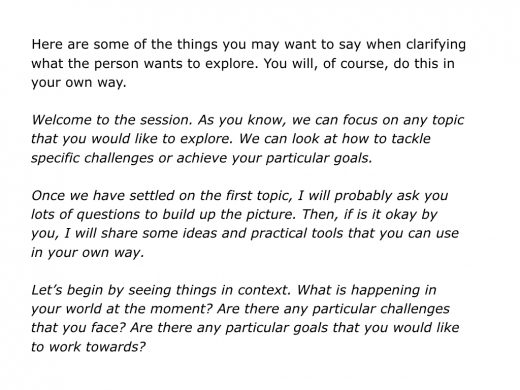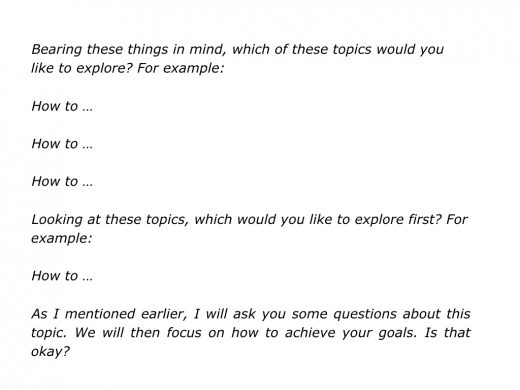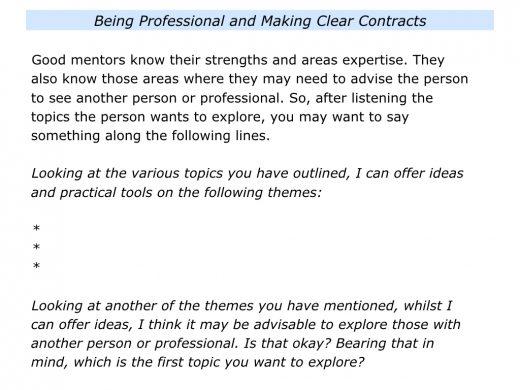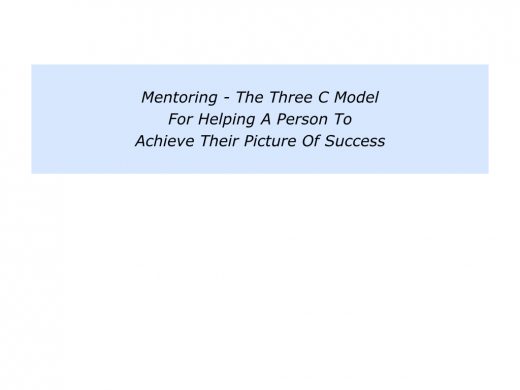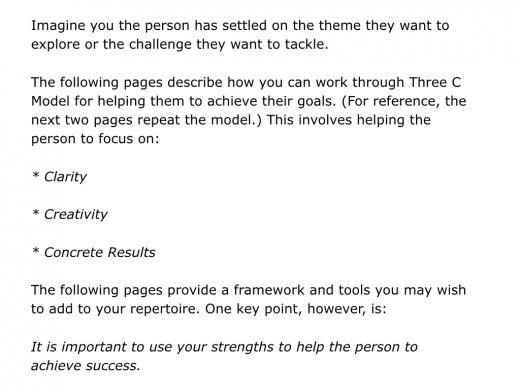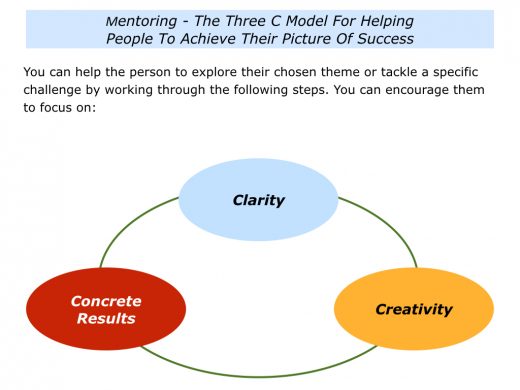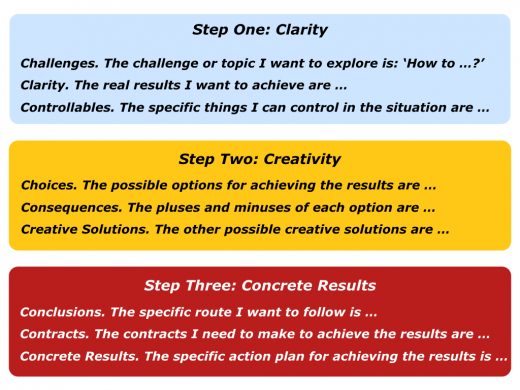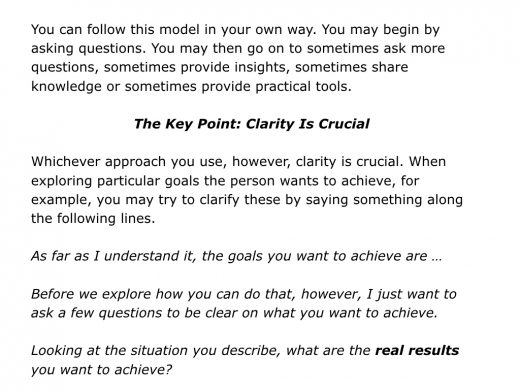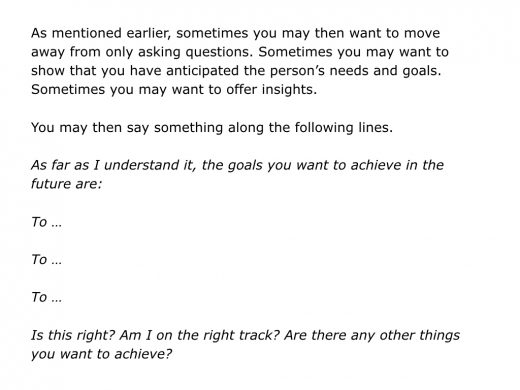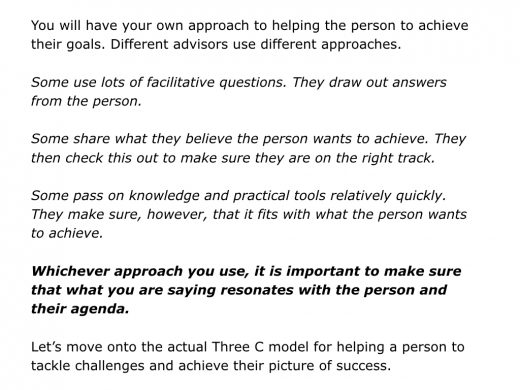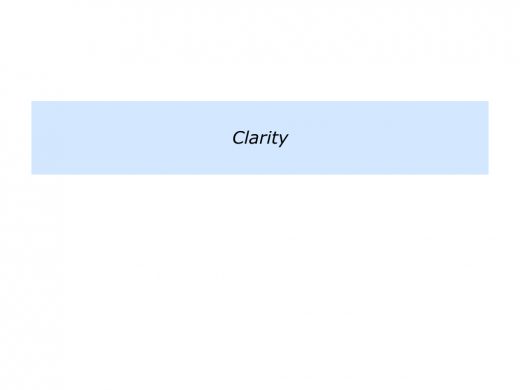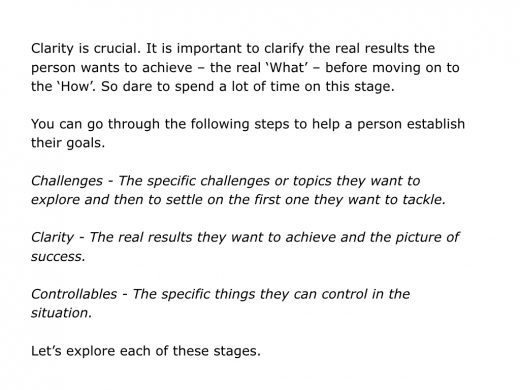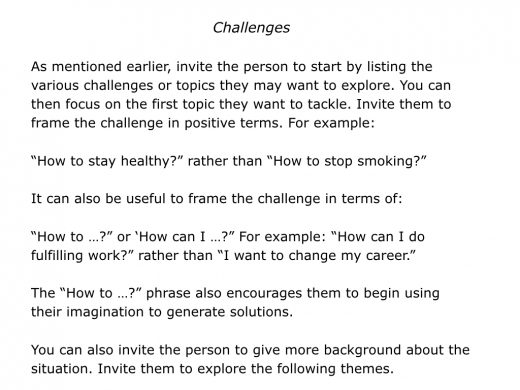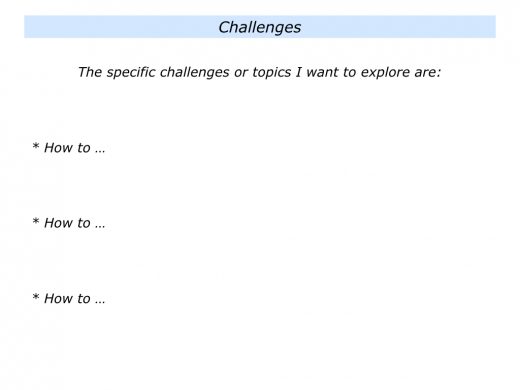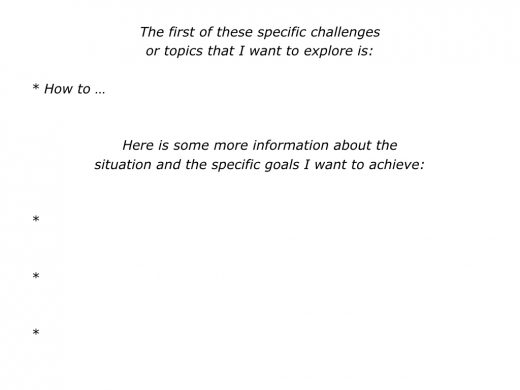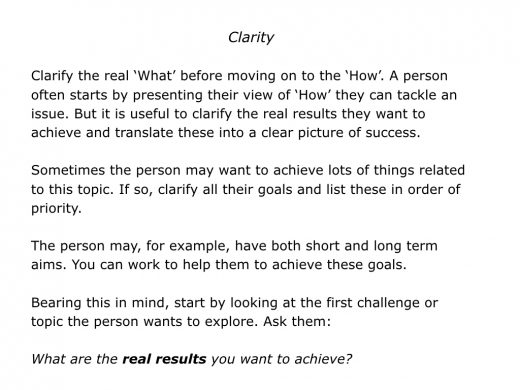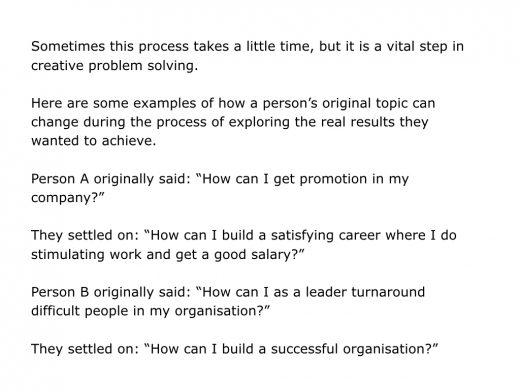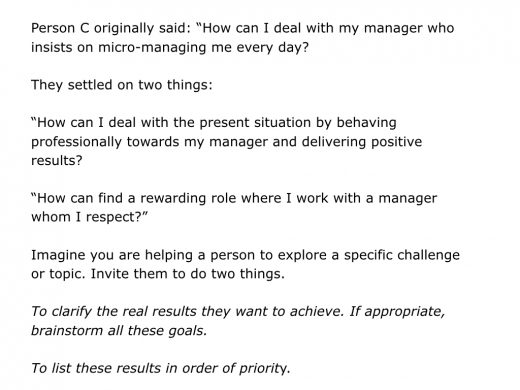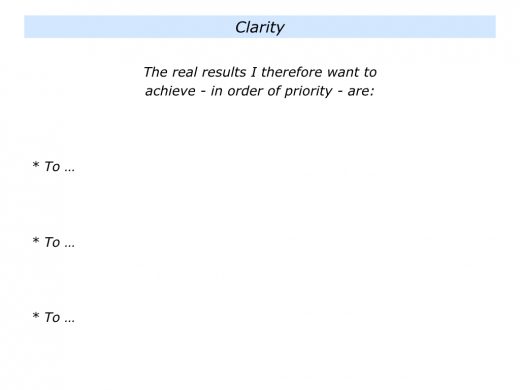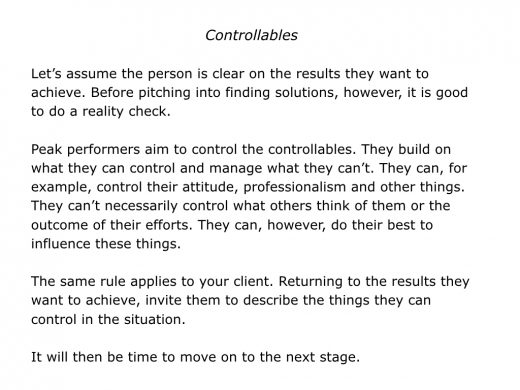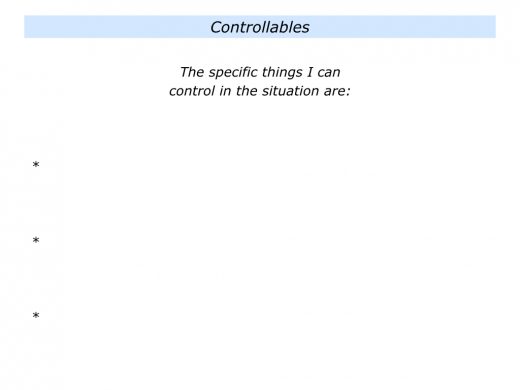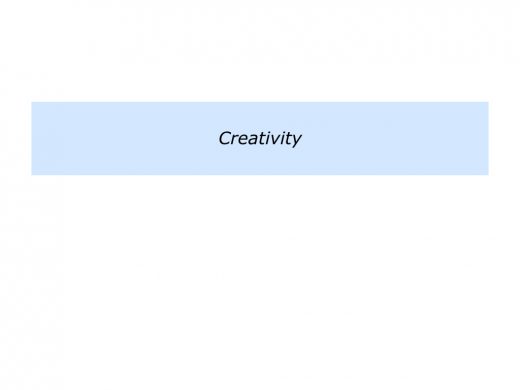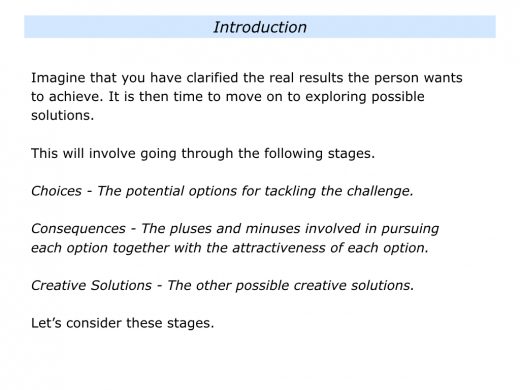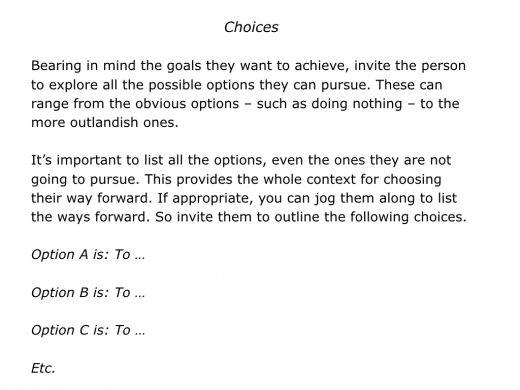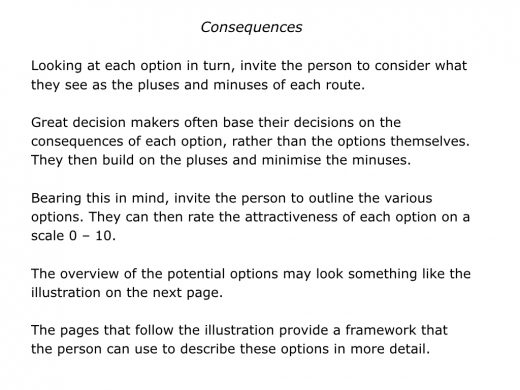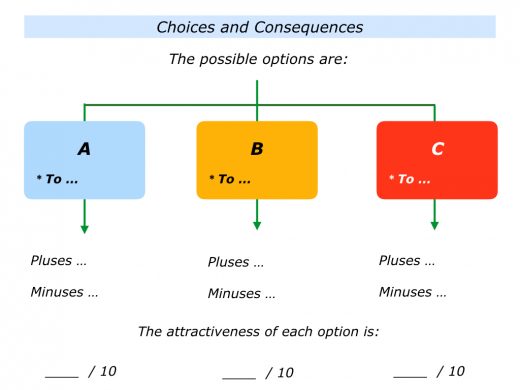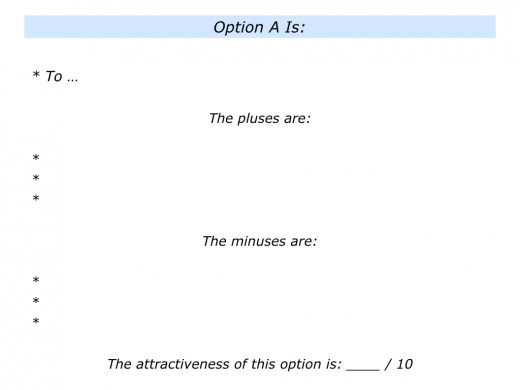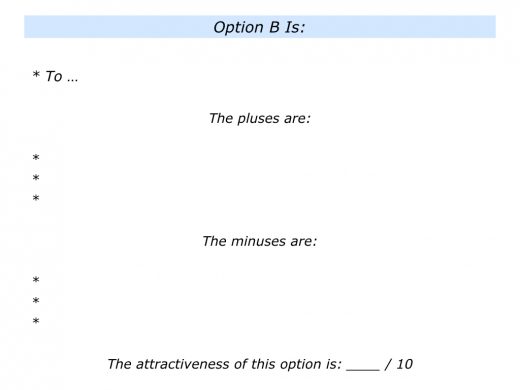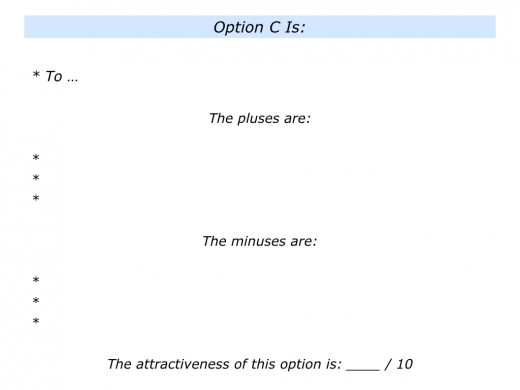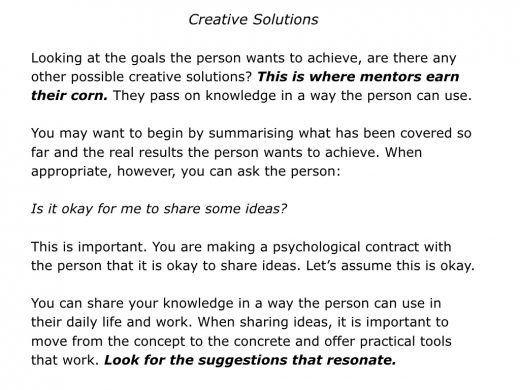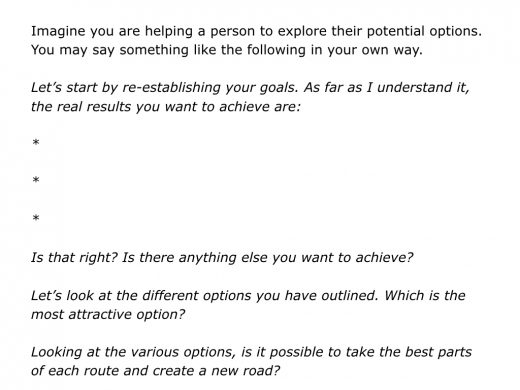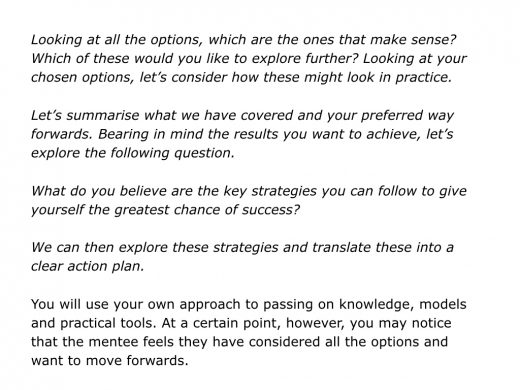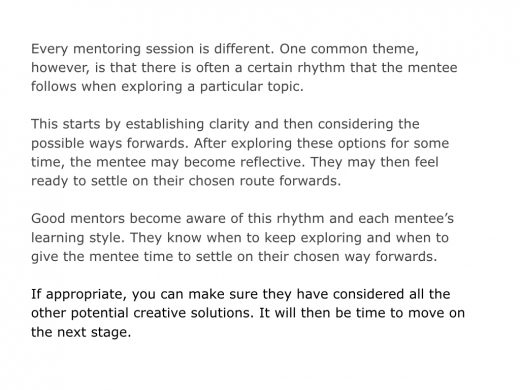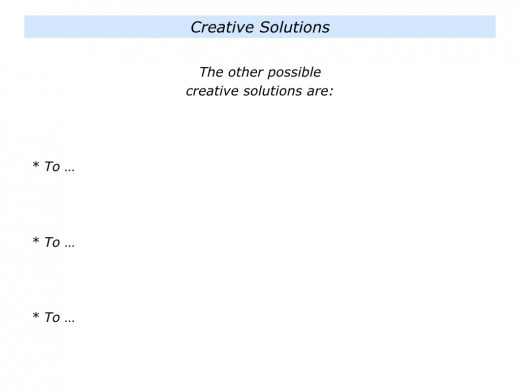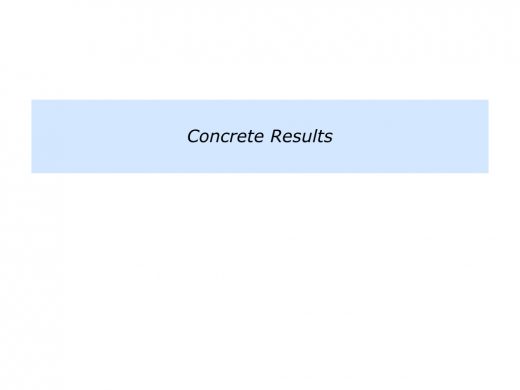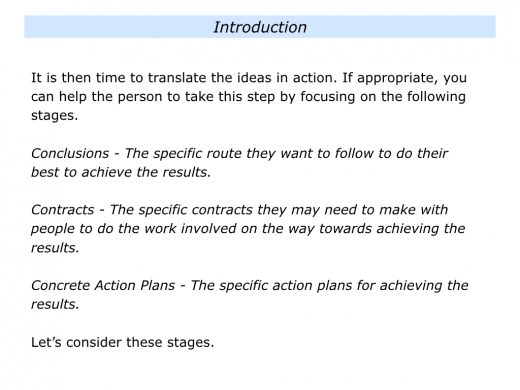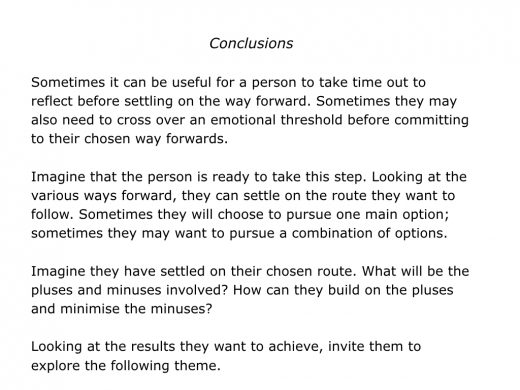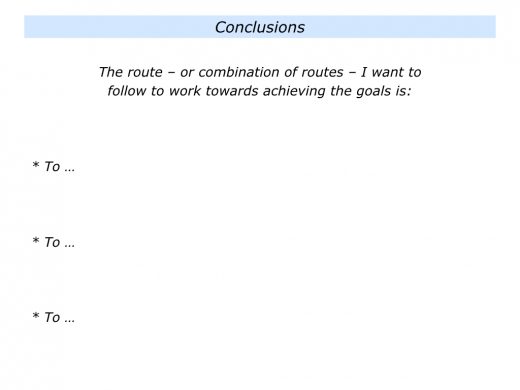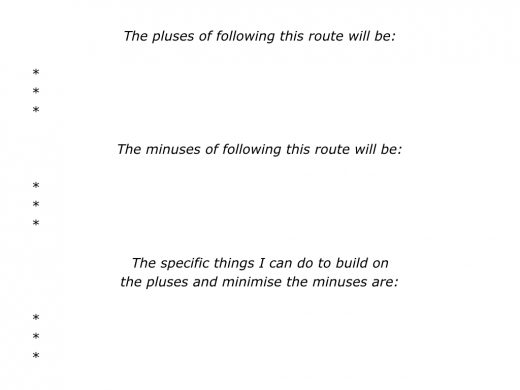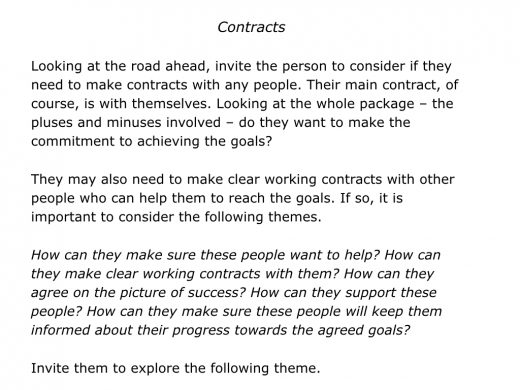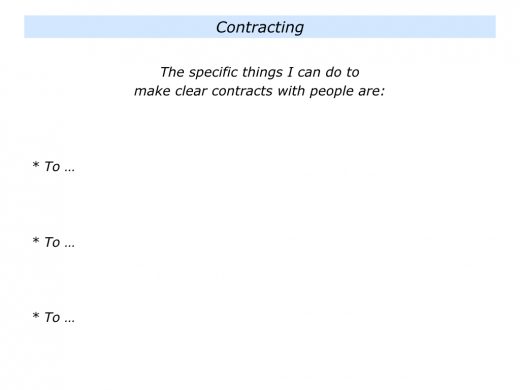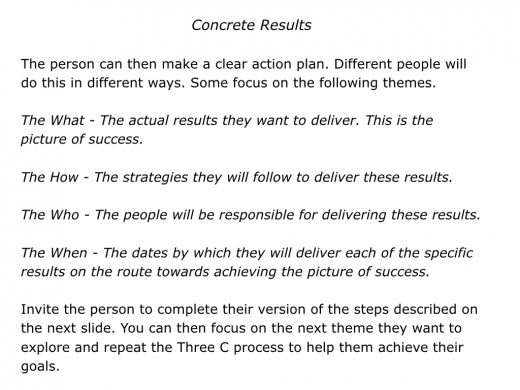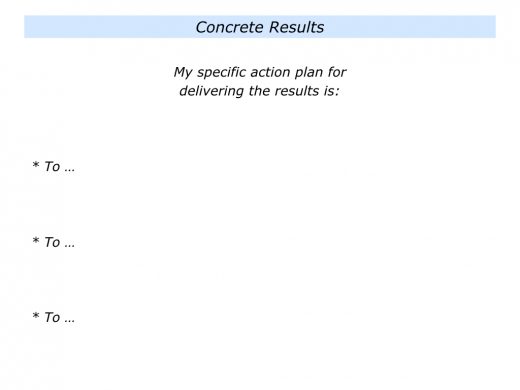 Continuing to
develop as a mentor
There are many approaches to mentoring. This article has explored one approach. One common factor amongst mentors, however, is that they are committed to constant improvement.
If you wish, try tackling the final exercise on this theme. Looking at your work as a mentor, this invites you to build on your strengths and tackle areas for improvement. You can then keep developing and helping your mentees to achieve their picture of success.