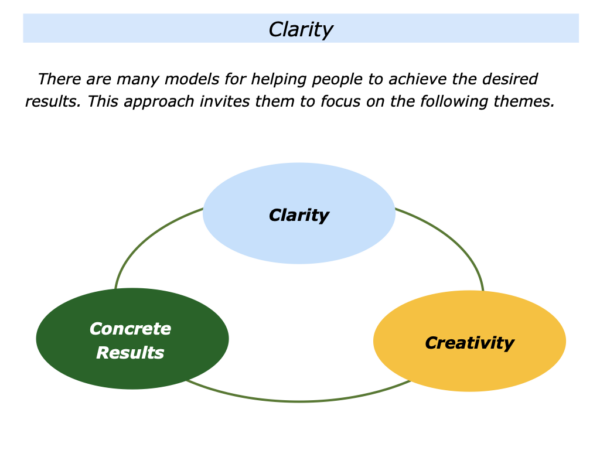 There are many models for helping people to make decisions and work towards achieving their desired results. This is an approach that can be used by individuals, teams and organisations.
Different people use this approach in different ways. When appropriate, however, it can be used to help them to focus on the following themes.
Clarity
Clarity is vital. This first step involves clarifying the 'What' – the real results or outcomes – to achieve in a situation. These can include the short and longer-term results to achieve.
This step should involve the key decision maker or a small group of decision makers. Bearing in mind what they can control, they can set the direction and focus on the destination by asking:
"What are the real results – the outcomes – to achieve? What is the picture of success."
They can agree on the 'What' and also clarify the 'Why' – the benefits of achieving the goals. They can then, when appropriate, involve other people who can make valuable contributions.
Creativity
This step focuses on the 'How'. It involves clarifying the key strategies that people can follow to give themselves the greatest chances of success.
The key decision maker or small group of decision makers can clarify these strategies. They can then, when appropriate, involve other people who can add their ideas about how to implement the strategies. This step can involve asking the following questions.
"Bearing in mind our strengths: What are the key strategies we can follow that will give us the greatest chance of success? What are the strategies that we know work? What are the other creative possibilities?"
People can then agree on the key strategies they want to follow to achieve the goals.
Concrete Results
This step involves clarifying the 'Who' and the 'When'. Bearing in mind the strategies to follow, it involves making clear contracts with people about the following things.
The specific strategies to follow for achieving the goals and then translating these into clear action plans.
The specific Mission Holders who will take responsibility for implementing the strategies and giving them the required support.
The specific steps people will take to proactively keep others informed about the progress towards achieving the results.
This step also involves focusing on getting some quick successes and maintaining the momentum towards achieving the goals.
The following pages provide a framework you can use to pass on this approach to other people. When appropriate, you can use this to help them to establish clarity, be creative and achieve the desired concrete results.