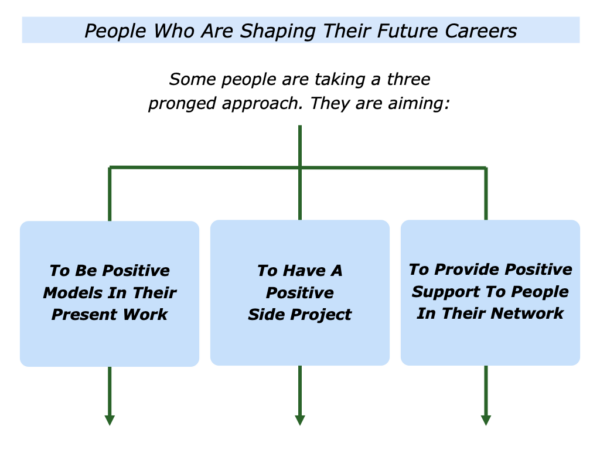 Different people shape their careers in different ways. This piece describes an approach that is being followed by some people who have relatively senior positions in companies.
Such people may have good jobs but they recognise the world of work is evolving. Their organisation could be affected by changes in the market, b taken over or encounter other challenges.
Bearing this in mind, they are taking a three pronged approach to shaping their futures. Let's explore these themes.
They are being positive
models in their present work
Such people aim to continue be positive models in their present role. They believe this to be the moral approach because the company they are working for is paying their wages. They aim:
To be professional and continue to make their best contribution to helping their company to achieve success;
To perform superb work that provides wins for their company, wins for their customers and wins for their colleagues;
To create a positive environment that enables motivated people to perform at their best and shape their future careers.
Being good professionals, they do their best to help the organisation to achieve success. They realise that things can change quickly, however, so they are also exploring the next theme.
They are pursuing a
positive side project
Such people may also be doing a positive side project. They may be developing an App, having their own web site, starting a side business or doing another activity. They make sure, however, that this does not clash with their present full-time role.
Some people see this side project as play pen that gives them positive energy. Some see it as a place where they can share knowledge. Some see it as a potential shop window. Some see it a potential source of income.
Sometimes this can lead to their work getting noticed and, in some cases, lead to them being hired or developing a new career. Several people I have worked with found this approach bore fruit.
One person wrote a regular blog that showed how people could use their company's technology in ways that simplified their lives. This led to them being asked to become the company's storyteller.
One young football coach produced articles that highlighted modern trends in football academies. This led to them getting a full-time role travelling the world passing on knowledge in this field.
One person started a side business pioneering new forms of marketing on the web. They then handed it over to a full-time managing director who built the business. This led to them getting a regular income.
One person created a website that focused on how to provide digital security in a fast changing world. This led to them getting hired by a government to provide specialist knowledge in this area.
People who develop a side project may start it as a place where they can focus on topics they find fascinating. Sometimes this can grow, however, and provide a platform for shaping their future career.
Some people also pursue the following theme. They see this as a way of helping other people.
They are providing positive
support to people in their network
Such people enjoy giving to other people. They enjoy being generous, passing on knowledge and helping people to work towards their personal or professional goals.
They love to encourage people. Sometimes this steps from them being helped by people in their own lives. They often believe in the following approach to networking:
Real networking is about helping other people to succeed. It is not about self-promotion.
Such people are not necessarily looking for anything in return. But there may be times in the future, however, when the karma works and leads to potential possibilities.
Imagine you want to follow elements of the three pronged approach in your own way. If you wish, try tackling the exercise on this theme. This invites you to complete the following sentences.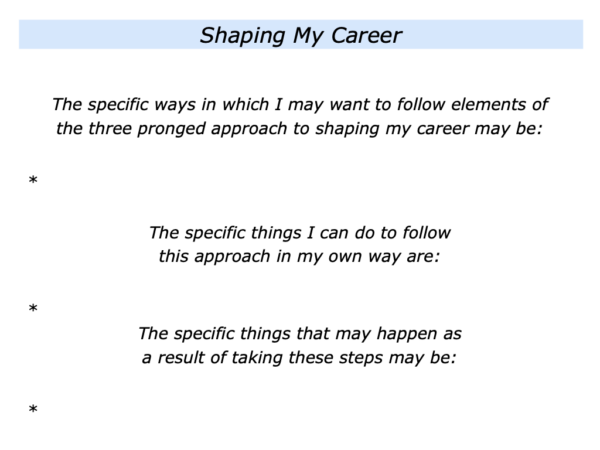 They are providing positive
support to people in their network